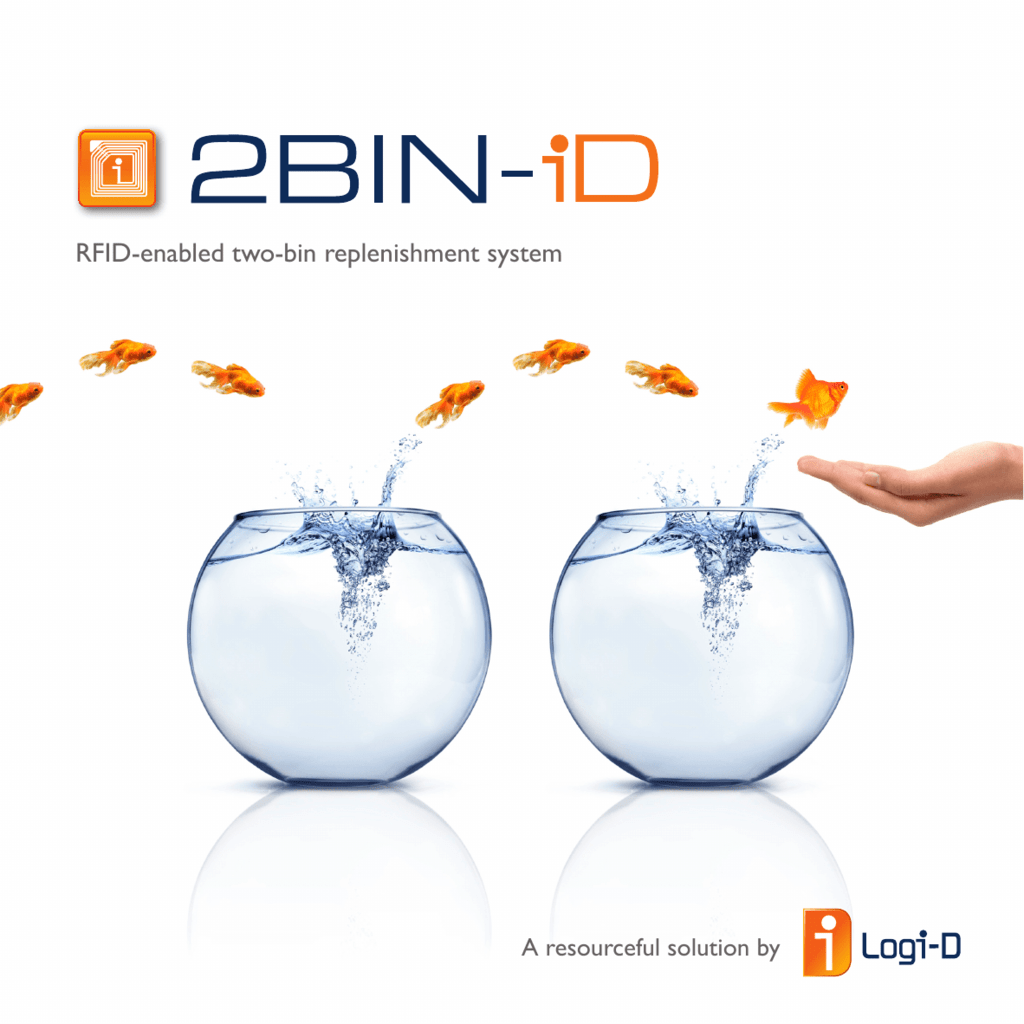 RFID-enabled two-bin replenishment system
A resourceful solution by
Resourceful knowledge
Resourceful solutions
Logi-D was originally created as a hospital supply chain
consulting group with a research affiliation with the
HEC Montréal business school. Our consulting and
research experience has provided us with an in-depth
understanding of dominant healthcare supply chain issues.
Building on this experience, we continuously expand our
knowledge by sourcing best practices, emerging technologies
and leading standards across borders and industries,
which has resulted in a comprehensive and resourceful
knowledge base.
The common denominator in any healthcare organization
around the globe is a focus on clinical services, as it should
be. But in many cases, the functions supporting the front line
are left stretched to the limit due to cumbersome manual
processes. Our focus is to create resourceful solutions that
simplify and automate both front line clinical services and
back office support functions. This not only allows the front
line more time to deliver care, but it also enables optimized
and consistent back office processes.
Resourceful ideas
However, simply knowing the sector does not distinguish
us from our peers. It is through our core competency
of innovation that we connect the dots in new ways and
convert our knowledge into resourceful solutions, just as
we have transformed ourselves into a hospital logistics
solutions integrator. We strongly believe that an end-to-end
solution generates the best results, given the dynamics of
the supply chain, and that the standard solutions available on
the market today do not always solve the issues. It is with
this in mind that we have developed our iD-SUITE, a unified
solutions platform of best-of-breed solutions designed to
interface easily to host applications.
2
Resourceful R&D philosophy
The leading practices we adopt are translated into effective,
automated solutions that ensure user compliance. Proven
technologies are integrated to optimize data capture and
communication within the supply chain. Ongoing value and
effectiveness are assured by our continuous seeking out
and adopting of leading standards.
3
Resourceful replenishment
Resourceful benefits
Our automated 2BIN-iD point-of-use material management
solution aims to optimize the replenishment process while
minimizing both clinical and back office staff involvement.
It requires no counting or data entry and only limited
involvement from clinical users. Drawing on detailed time
and motion studies performed by our consulting team, this
system controls inventory levels and turnover and helps
prevent the use of expired products. It also incorporates
an internationally recognized high-density storage system,
a proven inventory concept inspired by the Japanese
lean/kanban system, and leading-edge RFID technology.
Stock rotation assured through improved work flow
• Lowers costs incurred by expired products and
improves patient safety
Resourceful concept
Continuous par level optimization
• Optimizes inventory value and volume
• Enables clinical staff to spend less time dealing with
time-consuming stockout issues
As part of the 2BIN-iD solution, a single quota of supplies
is divided between two compartments of a storage
module. Once the first or primary compartment is
empty, the replenishment label holder, which contains
an RFID transponder, is removed and affixed to an RFID
information board.
The information is gathered through the LogiDATA-iD
software application and, based on pre-established
business rules, is transferred to the hospital's materials
management information system, which in turn can
generate a picklist of requested stock items or requisitions
for direct purchase products.
4
Counting and data entry eliminated
• Reduces the risk of overstocking and stockouts
• Reduces back office workload
Organized inventory and fixed product locations
• Enables clinical staff to spend less time searching
for supplies
Enhanced physical environment
• Improves ergonomics
• Offers a dynamic storage solution, adaptable to
changing conditions
• Reduces storage footprint
Real time information flow
• Offers a demand response based on actual consumption
• Enables a quick response to supply issues and
exception management
• Provides management information, dashboard and
report capabilities
RFID and voice-guided supply flow
• Reduces dependency on staff
• Increases productivity and reduces supply-related errors
• Provides real time information
Resourceful utilization
of RFID technology
Patents pending: 2.565.934 — 2.645.696 — 12/327401 — 2.682.561 —12/578 683
5
1. Demand capture
2. Demand response
Secondary
LogiDATA- D
Dashboard
ERP
Primary
WMS
Consumption
Ordering
Resourceful automation
Resourceful data & interfaces
Based on consumption, delivery frequency and other
criteria, the total optimal quota is established for each
supply item and then divided into two compartments of a
storage module: primary and secondary. When the primary
compartment is empty, consumption continues from the
secondary compartment.
Once a compartment is empty, clinical or support staff
remove the corresponding label holder containing the
RFID transponder and place it on our patent pending
RFID-enabled demand board next to the storage unit.
This triggers a replenishment alert. The RFID board
contains an antenna linked to a control box connected
to the hospital's IT network through a wireless or wired
connection, which provides real time data capture. When
the label containing the passive transponder (no battery)
enters the scan field of the antenna, it is activated through
short-range radio waves; communication is thus established
between the transponder and the reader, which enables
data to be exchanged. The reader transmits the unique
identifiers of all of the tags on the board, capturing the
supply demand in our advanced LogiDATA-iD application,
which links the transponder information to the database.
RFID technology significantly increases productivity,
as the demand evaluation activity is eliminated at
the point of use.
Most materials management systems used in hospitals offer
limited point of use distribution automation features. They
focus primarily on demand capture using electronic requisitioning
and barcode reading technology to support financial
transactions. 2BIN-iD is a resourceful plug-in to any materials
management application, optimizing interaction with the front
line of service and answering essential supply chain question:
who needs what, where, how much and when? And it provides
this answer through real time, automated information flow as
demands occur.
LogiDATA-iD includes a dashboard offering accurate
consumption data, a meaningful usage overview, and a decision
platform for continuous optimization. The management team
gains access to reports that are typically either unavailable or not
easily accessed via MMIS applications. The quality of actionable
data provided makes 2BIN-iD a one-of-a-kind application.
Patient charging
Using the optional PC-iD add-on module, chargeable items
can be isolated and captured with a touchscreen or ring
scanner. Identified items are then linked to a patient and may
be transferred to external applications for billing purposes.
6
The application features fully customizable automation and
business rule settings to manage response decisions and
keep human reliance to a minimum, which allows back office
resources to focus on more value-added activities.
All Logi-D solutions are designed to easily interface with and
enhance logistics processes in host applications such as ERPs,
WMS, MMIS and clinical suites. In fact, a built-in interface engine
easily and quickly customizes connectivity between applications
to enable the required data to be pushed and pulled as
needed, enriching the value stream of the organization's global
IT platform.
7
3. Order processing
4. Replenishment
ERP
WMS
Resourceful WMS and distribution
The actionable information processed through
LogiDATA-iD is automatically transferred via interface to
the hospital's host applications (ERP/WMS), which can then
generate a picklist for stock items or requisitions for direct
purchase products.
8
Optional warehouse management system
In order to support the complete automation of the
internal supply chain, Logi-D partners with key WMS
providers to optimize and automate supply chain processes,
from central stores or distribution centers to the pointof-use. Partnering with industry leaders in the warehouse
and distribution space guarantees a level of excellence
unparalleled by any single WMS provider. Through these
partners, Logi-D helps hospitals manage online receiving,
directed put-away, product picking by lot and expiry date for
specific point-of-use bins, wireless picking, directed cyclical
inventory, and the updating of data at the point-of-use by lot
number and expiry date.
Stock rotation
Replenishment and tag placement
When supplies are delivered to the point of use, the quantity
remaining in the secondary compartment is transferred to
the primary compartment.
The newly delivered quantity is then placed in the secondary
compartment. The RFID-enabled label holder is removed
from the demand board and placed back on the storage
unit, signaling to the LogiDATA-iD platform that the
replenishment cycle has been completed.
Stock rotation allows for:
• Higher process compliance
• Less stock wasted due to expired products
• Increased patient safety through a reduced risk
of expired products
• Traceability of lot numbers and expiry dates
when enabled
Optional voice-directed replenishment
To facilitate the replenishment process, the optional
VOX-iD add-on module offers voice-directed point-of-use
replenishment. VOX-iD employs voice recognition
technology to guide users through the process by querying
a database using voice prompts. Voice recognition
technology replaces manually searching for, reading and
entering information with speaking and listening, which
significantly shortens the replenishment process.
9
1. Demand capture
Consumption
Demand triggered
2. Demand response
Automated business rule engine
ERP
WMS
Cycle completed
10
Rotation and put away
4. Replenishment
Back office
Point-of-use
LogiDATA- D
Warehousing & distribution
3. Order processing
11
A proven track record
Recurring productivity gains
• Clinical Staff: 60%
• Supply staff: 15%
Supply-related gains
• Inventory reduction: 34%
• Shrinkage reduction: 50%
The system has enabled our hospital organization
to make substantial productivity gains and has
allowed nursing personnel to spend more time
with patients."
MD and CEO of the hospital
Case study
This case study focuses on a 720-bed institution comprised
of two hospitals with complementary vocations. On an
annual basis, the institution admits more than 18,000
patients and performs more than 30,000 surgeries.
Logi-D was mandated to optimize and automate the
hospital's clinical supply chain processes by implementing
the 2BIN-iD point of use replenishment system
throughout the hospital. The institution selected the Logi-D
solution because of the gains it generates through
improved logistics processes. These gains, among others,
include relieving staff of supply chain duties and more
importantly substantially reducing the unnecessary tasks
that clinical staff must perform when retrieving supplies
using inefficient replenishment systems. As a result,
they are able to focus on the hospital's primary mission:
patient care.
12
Logi-D's 2BIN-iD solution, which requires no inventory
count to identify supply needs, allows for savings on a
number of levels:
• Annual recurring increase in productivity associated
with the management of supplies
• Reduction in inventory shrinkage caused by expired,
obsolete or lost products
• Reduction in nursing staff movements and in the time
spent searching for and retrieving supplies in
storage areas
• Reduction in inventory levels and the space allotted
to storage.
Post-implementation measurements revealed the
following gains:
• Approximately 60% reduction in the time that
nursing staff spend on material-related tasks
• Approximately 15% time savings for materials
management staff
• One-time inventory reduction of 34%
• 50% reduction in recurring shrinkage costs.
13
Resourceful consulting services
Originally created as a hospital supply chain consulting group, Logi-D not only offers a
comprehensive solution platform of automation technologies, we also offer consulting
services aimed at developing solid business cases for automation. With a proven track
record of industry-leading paybacks backed by post-implementation gains, we can
clearly demonstrate and accelerate your supply chain automation gains.
Our services are three-tiered. The difference between each tier is the degree of detail
used to analyze the cost and impact of the proposed solutions and in turn the degree
of precision in the calculated impact and return-on-investment period. These tiers also
reflect the time that must be invested to generate the relevant data.
Tier 1 Potential based on comparable hospitals
The first tier consists of an analysis of the impact of Logi-D solutions based on
consumption statistics and a summarized description of the hospital/department
(number of beds, number of operating theaters, etc.).
The gains associated with inventory and process changes are presented based on the
results obtained through time and motion studies conducted in hospitals/departments
of a similar size.
Tier 2 On-site analysis
The second tier consists of an analysis of the impact of implementing the proposed
solutions based primarily on data gathered through statistics, a series of interviews
conducted with managers, and a visit to the departments in scope. As with our Tier 1
studies, this data is compared with that obtained from sites similar in size, where detailed
time and motion studies and analyses have been conducted by Logi-D.
This level of study will produce estimated costs per process and per job category for
your organization.
Tier 3 In-depth time & motion studies & analyses
Based on in-depth time and motion studies and further examination of the supply
chain, the third tier consists of a detailed analysis of the impact that implementing the
proposed solutions would have. A very high level of precision is produced by these
observations and analyses, i.e. cost per process, cost per activity and cost per job type.
14
Resourceful implementation services
Logi-D also supports the entire implementation of its solutions in order
to ensure that the results of the project are aligned to your objectives.
Our implementation support is backed by a unique and proprietary
methodology. This proven methodology is adapted to each client's needs
and context and takes into account the hospital's internal resources
assigned to the transformation project.
Pre-implementation planning
Pre-implementation begins with a meeting with the hospital to conduct
a detailed assessment of needs, understand the current processes, and
tour the storage locations. An implementation plan is then submitted to
the coordination committee for approval. Once the implementation plan
has been approved, kick-off meetings are organized to present the project,
implementation plan, role of participants throughout the implementation
process, and key success factors.
Implementation
On a physical level, we submit layout plans and can support the installation
of all storage components. Using a dynamic implementation tool and
working in close collaboration with the users, we align the placement of
supplies according to workflows and usage frequency.
On an IT level, we install the applications and RFID components and
connect everything in a test environment before interfacing with the
existing infrastructure.
On a user level, we train the various stakeholders and users, as a system is
only as effective as the compliance of its users.
Post-implementation services
At this stage, we analyze the post-implementation results and conduct
compliance measurements as needed. This step also includes the remote
monitoring of the systems.
15
1-888-628-8804
www.logi-d.net
© Logi-D 2013. All rights reserved.