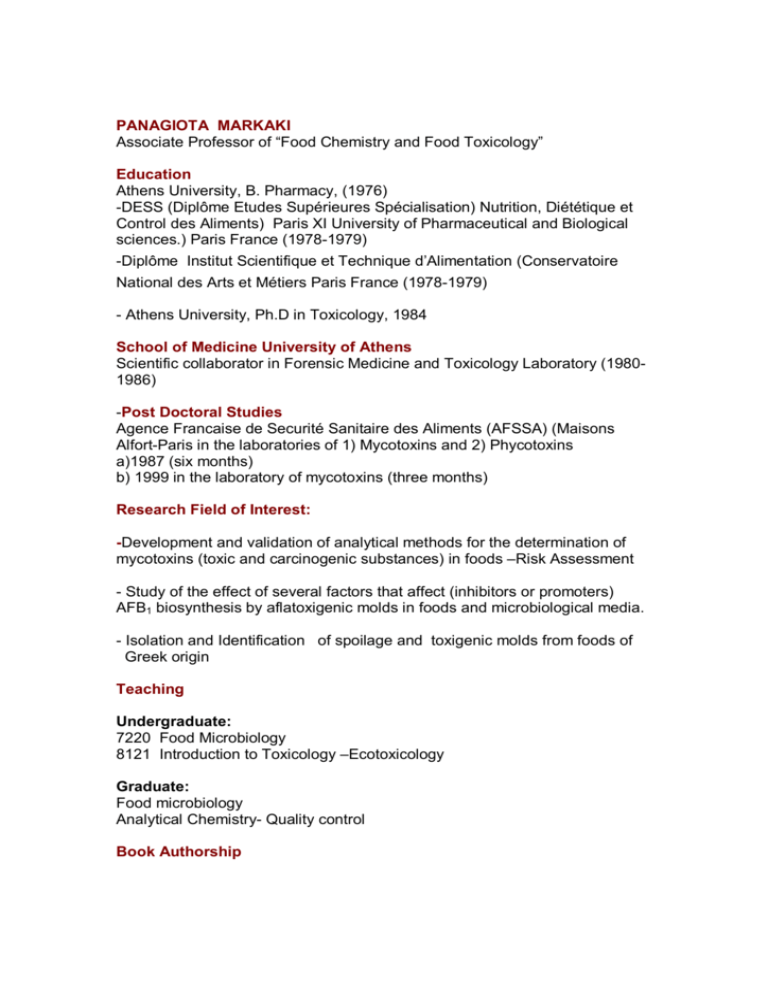 PANAGIOTA MARKAKI
Associate Professor of "Food Chemistry and Food Toxicology"
Education
Athens University, B. Pharmacy, (1976)
-DESS (Diplôme Etudes Supérieures Spécialisation) Nutrition, Diététique et
Control des Aliments) Paris XI University of Pharmaceutical and Biological
sciences.) Paris France (1978-1979)
-Diplôme Institut Scientifique et Technique d'Alimentation (Conservatoire
National des Arts et Métiers Paris France (1978-1979)
- Athens University, Ph.D in Toxicology, 1984
School of Medicine University of Athens
Scientific collaborator in Forensic Medicine and Toxicology Laboratory (19801986)
-Post Doctoral Studies
Agence Francaise de Securité Sanitaire des Aliments (AFSSA) (Maisons
Alfort-Paris in the laboratories of 1) Mycotoxins and 2) Phycotoxins
a)1987 (six months)
b) 1999 in the laboratory of mycotoxins (three months)
Research Field of Interest:
-Development and validation of analytical methods for the determination of
mycotoxins (toxic and carcinogenic substances) in foods –Risk Assessment
- Study of the effect of several factors that affect (inhibitors or promoters)
AFB1 biosynthesis by aflatoxigenic molds in foods and microbiological media.
- Isolation and Identification of spoilage and toxigenic molds from foods of
Greek origin
Teaching
Undergraduate:
7220 Food Microbiology
8121 Introduction to Toxicology –Ecotoxicology
Graduate:
Food microbiology
Analytical Chemistry- Quality control
Book Authorship
Selected papers and "book" chapters
-Panagiota Markaki.(2010) Occurrence of Aflatoxin B1
in the Greek virgin
olive oil. Estimation of the daily exposure. In: "Olives and olive oil Health and
Disease Prevention" Pr. V.R. Preedy and R.R. Watson Eds. Life Science:
Elsevier,
- D.M Meimaroglou, D.Galanopoulou P.Markaki *(2009). Study of the effect of
methyljasmonate on aflatoxin B1 biosynthesis by Aspergillus parasiticus in
yeast sucrose medium. International Journal of microbiology ID 842626, 7
pages
-P Villa, P Markaki*(2009) Aflatoxin B1 and Ochratoxin A in breakfast cereals
from Athens market: Occurrence and risk assessment. Food Control 20 (5),
pp. 455-461
-A.Moukas, V.Panagiotopoulou, P.Markaki *(2008) Determination of patulin
in fruit juices using HPLC-DAD and GC-MSD techniques. Food Chemistry
109(4):860-867
-V. Dimitrokallis, D.M.Meimaroglou, P.Markaki *(2008) Study of the
Ochratoxin A effect on Aspergillus parasiticus growth and aflatoxin B1
production. Food and Chemical Toxicology (49) 2435-2439
- K.Meletis, S.Meniades-Meimaroglou, P.Markaki*(2007) Determination of
ochratoxin A in grapes of Greek origin by immunoaffinity and highperformance liquid chromatography.Food Additives and Contaminants
24(11):1275-1282
-S.Ghitakou, K.Koutras, E.Kanellou, P.Markaki* (2006) Study of aflatoxin B1
and ochratoxin A production by natural microflora and Aspergillus parasiticus
in black and green olives of Greek origin. Food Microbiology 23(7):612-621
-
P.Markaki*,
K.Velivassaki,
D.Giannitsis,
D.Galanopoulou
(2006).
Methyljasmonate effect on aflatoxinB1 production by olives inoculated
with Aspergillus parasiticus is concentration –depended .In Mycotoxins
and Phycotoxins Advances in determination ,toxicology and exposure
management (NjapeauH.,Trujillo S van Egmond H.P, Park.D. Eds)
Wageningen Academic Publishers.pp 259-2649.
-A.Papachristou, P.Markaki* (2004)Determination of ochratoxin A in virgin
olive oils of Greek origin by immunoaffinity, Column clean-up and highperformance liquid chromatography. Food Additives and Contaminants
21(1):85-92
-D.Leontopoulos, A.Siafaka, P.Markaki* (2003)Black olives as substrate for
Aspergillus parasiticus growth and aflatoxin B1 production. Food Microbiology
20(1):119-126.
-S.Vergopoulou,
D.Galanopoulou,
P.Markaki*
(2001)Methyl
jasmonate
stimulates Aflatoxin B1 biosynthesis by A.parasiticusJ Agric. Food Chem.
49(7):3494-3498
- P.Markaki*, C.Delpont-Binet, F.Grosso, S.Dragacci (2001)Determination of
ochratoxin A in red wine and vinegar by immunoaffinity HPLC.J Food
Protection 64(4):533-537.
- E.Daradimos, P.Markaki*, M.Koupparis (2000) Evaluation and validation of
two fluorometric HPLC methods for the Determination of aflatoxin B1 in olive
oil. Food Additives and Contaminants 17(4):65-73.