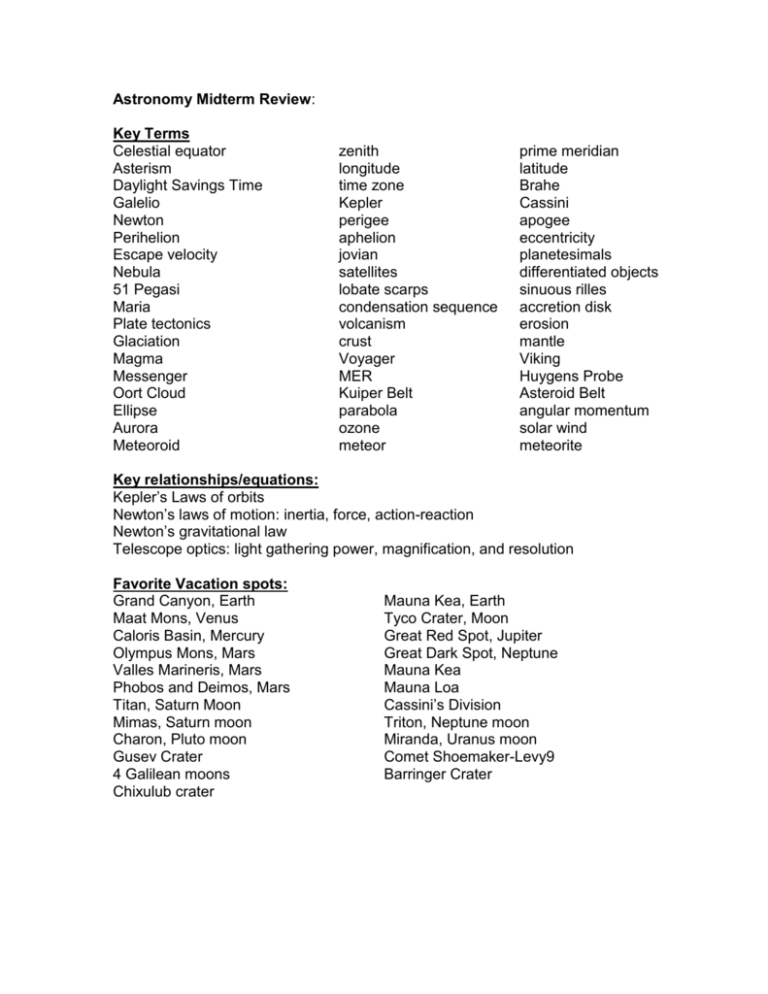 Astronomy Midterm Review:
Key Terms
Celestial equator
Asterism
Daylight Savings Time
Galelio
Newton
Perihelion
Escape velocity
Nebula
51 Pegasi
Maria
Plate tectonics
Glaciation
Magma
Messenger
Oort Cloud
Ellipse
Aurora
Meteoroid
zenith
longitude
time zone
Kepler
perigee
aphelion
jovian
satellites
lobate scarps
condensation sequence
volcanism
crust
Voyager
MER
Kuiper Belt
parabola
ozone
meteor
prime meridian
latitude
Brahe
Cassini
apogee
eccentricity
planetesimals
differentiated objects
sinuous rilles
accretion disk
erosion
mantle
Viking
Huygens Probe
Asteroid Belt
angular momentum
solar wind
meteorite
Key relationships/equations:
Kepler's Laws of orbits
Newton's laws of motion: inertia, force, action-reaction
Newton's gravitational law
Telescope optics: light gathering power, magnification, and resolution
Favorite Vacation spots:
Grand Canyon, Earth
Maat Mons, Venus
Caloris Basin, Mercury
Olympus Mons, Mars
Valles Marineris, Mars
Phobos and Deimos, Mars
Titan, Saturn Moon
Mimas, Saturn moon
Charon, Pluto moon
Gusev Crater
4 Galilean moons
Chixulub crater
Mauna Kea, Earth
Tyco Crater, Moon
Great Red Spot, Jupiter
Great Dark Spot, Neptune
Mauna Kea
Mauna Loa
Cassini's Division
Triton, Neptune moon
Miranda, Uranus moon
Comet Shoemaker-Levy9
Barringer Crater
Essay Questions (you will be need to answer one of the follow essay questions – the
question is preselected so you need to prepare for all three):
Compare and contrast the general characteristics (geology and atmosphere) of the
planets Earth and Mars. Using Earth as a laboratory, how may we better understand
the surface and atmospheric features of Mars (provide at least three examples).
Name and describe two solar system bodies (planet or moon) other than the Earth
that could be habitable for life. Defend your answer by explaining how each body
supports the three primary requirements for life.
Name and describe the two leading theories which explain the evolution of the solar
system. How did the solar system come to be so flat? How do the inner planets differ
from the gas planets? Why are they so different?