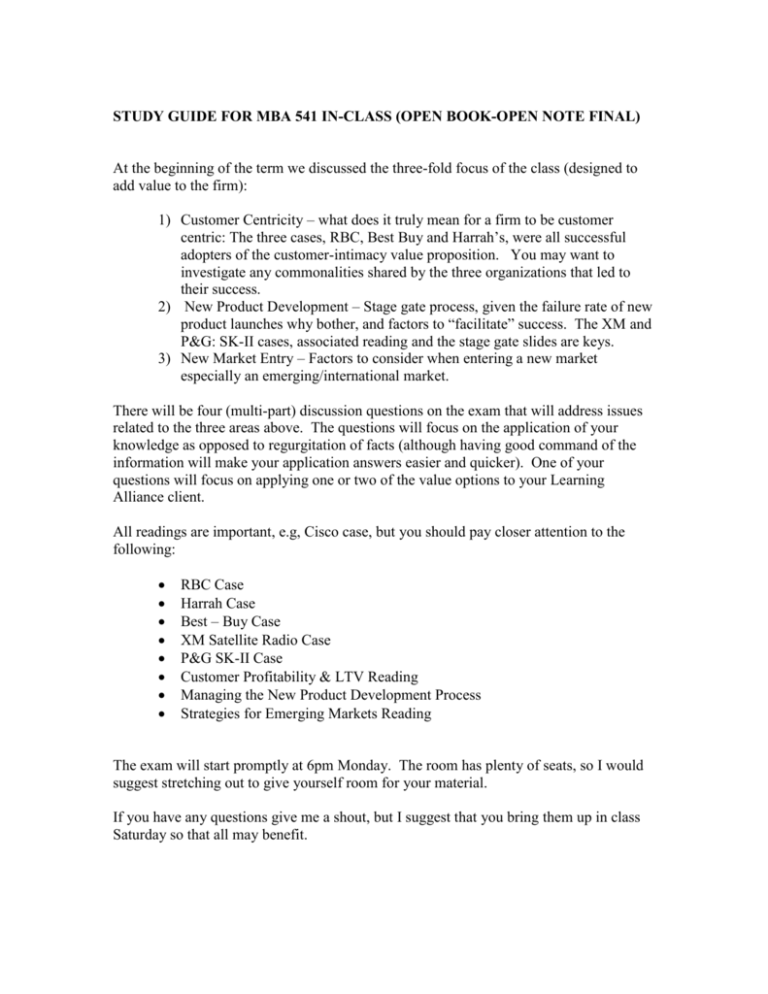 STUDY GUIDE FOR MBA 541 IN-CLASS (OPEN BOOK-OPEN NOTE FINAL)
At the beginning of the term we discussed the three-fold focus of the class (designed to
add value to the firm):
1) Customer Centricity – what does it truly mean for a firm to be customer
centric: The three cases, RBC, Best Buy and Harrah's, were all successful
adopters of the customer-intimacy value proposition. You may want to
investigate any commonalities shared by the three organizations that led to
their success.
2) New Product Development – Stage gate process, given the failure rate of new
product launches why bother, and factors to "facilitate" success. The XM and
P&G: SK-II cases, associated reading and the stage gate slides are keys.
3) New Market Entry – Factors to consider when entering a new market
especially an emerging/international market.
There will be four (multi-part) discussion questions on the exam that will address issues
related to the three areas above. The questions will focus on the application of your
knowledge as opposed to regurgitation of facts (although having good command of the
information will make your application answers easier and quicker). One of your
questions will focus on applying one or two of the value options to your Learning
Alliance client.
All readings are important, e.g, Cisco case, but you should pay closer attention to the
following:








RBC Case
Harrah Case
Best – Buy Case
XM Satellite Radio Case
P&G SK-II Case
Customer Profitability & LTV Reading
Managing the New Product Development Process
Strategies for Emerging Markets Reading
The exam will start promptly at 6pm Monday. The room has plenty of seats, so I would
suggest stretching out to give yourself room for your material.
If you have any questions give me a shout, but I suggest that you bring them up in class
Saturday so that all may benefit.