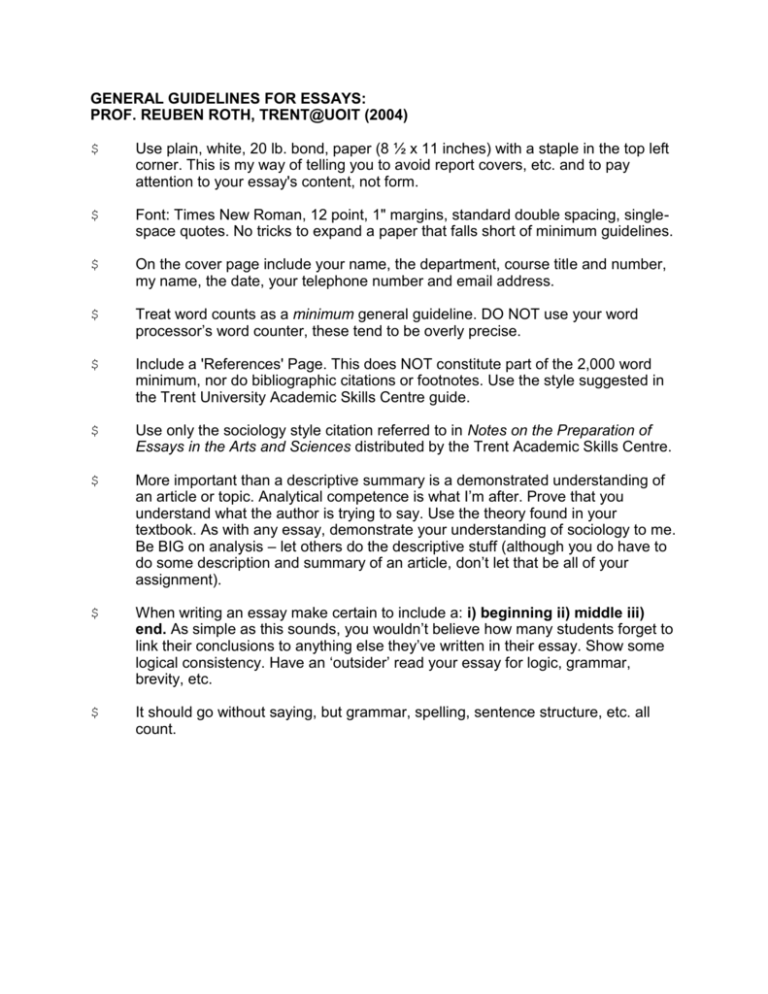 GENERAL GUIDELINES FOR ESSAYS:
PROF. REUBEN ROTH, [email protected] (2004)
$
Use plain, white, 20 lb. bond, paper (8 ½ x 11 inches) with a staple in the top left
corner. This is my way of telling you to avoid report covers, etc. and to pay
attention to your essay's content, not form.
$
Font: Times New Roman, 12 point, 1" margins, standard double spacing, singlespace quotes. No tricks to expand a paper that falls short of minimum guidelines.
$
On the cover page include your name, the department, course title and number,
my name, the date, your telephone number and email address.
$
Treat word counts as a minimum general guideline. DO NOT use your word
processor's word counter, these tend to be overly precise.
$
Include a 'References' Page. This does NOT constitute part of the 2,000 word
minimum, nor do bibliographic citations or footnotes. Use the style suggested in
the Trent University Academic Skills Centre guide.
$
Use only the sociology style citation referred to in Notes on the Preparation of
Essays in the Arts and Sciences distributed by the Trent Academic Skills Centre.
$
More important than a descriptive summary is a demonstrated understanding of
an article or topic. Analytical competence is what I'm after. Prove that you
understand what the author is trying to say. Use the theory found in your
textbook. As with any essay, demonstrate your understanding of sociology to me.
Be BIG on analysis – let others do the descriptive stuff (although you do have to
do some description and summary of an article, don't let that be all of your
assignment).
$
When writing an essay make certain to include a: i) beginning ii) middle iii)
end. As simple as this sounds, you wouldn't believe how many students forget to
link their conclusions to anything else they've written in their essay. Show some
logical consistency. Have an 'outsider' read your essay for logic, grammar,
brevity, etc.
$
It should go without saying, but grammar, spelling, sentence structure, etc. all
count.
TO INTRO SOCIOLOGY STUDENTS:
BE SURE TO SHOW ME YOUR UNDERSTANDING IN THE FOLLOWING WAYS
(ALL ARE MANDATORY):
1.
Briefly summarize of the article you're reviewing. Do not spend most of your time
doing this, it isn't the main point of this exercise. Complete the summary quickly,
because analysis is the key.
2.
Prove that you understand the structure of the author's argument. Summarize the
author's argument by citing their goal, thesis statement, controlling/subcontrolling statement(s) and their conclusion.
3.
Indicate the author's paradigm and explain why you selected it. Your choice
must be one of the following: 'Structural-Functional', 'Social-Conflict' or
'Symbolic-Interaction'. Use Macionis and Gerber to understand and explain your
choice.
4.
Give me a minimum of two points on WHY you agree or disagree with the
author. Do not make the mistake of both agreeing and disagreeing with an
author's position.
5.
Show me your competence by expressing exactly why (through argument) you
agree or disagree with the author. Use sociological fact, not opinion. Back-up
your argument with information from our textbook. Don't be afraid to take a
position for or against a reading, as long as you can back your argument with
reason, analysis and proof (surgically precise quotes).
6.
Quote with precision (i.e. do NOT quote an entire paragraph) to support your
analysis. Pay attention to the recommended style for citation. Single-space and
indent quotes over two lines. Quotes under two lines are (surrounded by
quotation marks) integrated in the narrative.