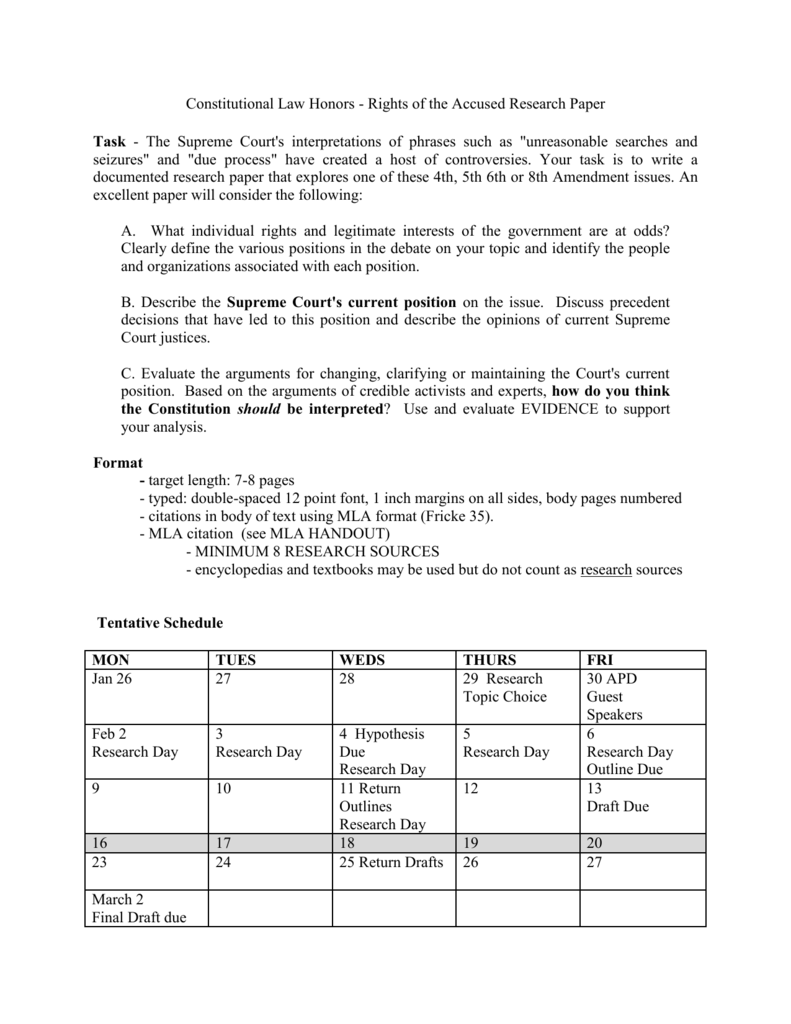 Constitutional Law Honors - Rights of the Accused Research Paper
Task - The Supreme Court's interpretations of phrases such as "unreasonable searches and
seizures" and "due process" have created a host of controversies. Your task is to write a
documented research paper that explores one of these 4th, 5th 6th or 8th Amendment issues. An
excellent paper will consider the following:
A. What individual rights and legitimate interests of the government are at odds?
Clearly define the various positions in the debate on your topic and identify the people
and organizations associated with each position.
B. Describe the Supreme Court's current position on the issue. Discuss precedent
decisions that have led to this position and describe the opinions of current Supreme
Court justices.
C. Evaluate the arguments for changing, clarifying or maintaining the Court's current
position. Based on the arguments of credible activists and experts, how do you think
the Constitution should be interpreted? Use and evaluate EVIDENCE to support
your analysis.
Format
- target length: 7-8 pages
- typed: double-spaced 12 point font, 1 inch margins on all sides, body pages numbered
- citations in body of text using MLA format (Fricke 35).
- MLA citation (see MLA HANDOUT)
- MINIMUM 8 RESEARCH SOURCES
- encyclopedias and textbooks may be used but do not count as research sources
Tentative Schedule
MON
Jan 26
TUES
27
WEDS
28
THURS
29 Research
Topic Choice
Feb 2
Research Day
3
Research Day
5
Research Day
9
10
16
23
17
24
4 Hypothesis
Due
Research Day
11 Return
Outlines
Research Day
18
25 Return Drafts
March 2
Final Draft due
12
19
26
FRI
30 APD
Guest
Speakers
6
Research Day
Outline Due
13
Draft Due
20
27
Topics - You may choose from this list of topics or bring another 4th, 5th, 6th or 8th
Amendment issue to me for approval as a research topic.
* The exclusionary rule for unconstitutionally acquired evidence. Why should the guilty ever go free? Isn't there a
better way to hold law enforcement accountable?
* Search incident to arrest. Should police be able to search an entire smart phone as a result of any kind of arrest?
What about searching an entire person (strip searches incident to arrest)? How about a DNA swab - do they need a
warrant for that?
* Search and seizure in schools. Is anything too private for school officials? What about the elementary student
who was strip searched?
* Warrantless drug testing for high school students. Can a principal order suspicionless drug test of high school
students?
* Are police practices like New York's "Stop and Frisk" policing strategy an "unreasonable" search and seizure?
* Can criminal profiling be constitutional? What attributes can add up to reasonable suspicion?
* Do you have a reasonable expectation of privacy when you use a phone? What about when you send an email?
What forms of communication should trigger the warrant clause?
* Augmented surveillance in criminal investigations. Do police a need a warrant to use any of the following: drug
sniffing dogs, aircraft or satellite surveillance, infrared cameras, microphones, GPS tracking devices on your car. XRay vision?
* Special rules for investigations "relevant" to terrorism. Are the classified Foreign Intelligence Surveillance Act
(FISA) warrants and National Security Letters (NSL) authorized by the USA PATRIOT ACT constitutional?
* Mandatory minimum sentences and "three strikes" sentencing laws.
* Preventive detention for "sexual predators"
* Detention of non-citizens and related due process rights
* The public defender system and the right to counsel. How much counsel is enough? What if your attorney isn't
very good?
* Prison conditions and the 8th A. Is solitary confinement unnecessarily cruel? Does overcrowding violate the
same constitutional right?
* Revisiting Miranda. Was the Miranda ruling an instance of judicial overreach? Do suspected terrorists really
need to hear their rights before interrogation?
* Death penalty and the 5th A. Do our current due process standards adequately protect accused murderers from
prejudice and false convictions?
* Death penalty and the 8th A. Have our national standards of decency "evolved" to the point where any execution
should be struck down as untenably cruel?
* "Death Qualified" juries and the 6th Amendment. Does restricting jury duty to people who believe in the death
penalty bias juries?