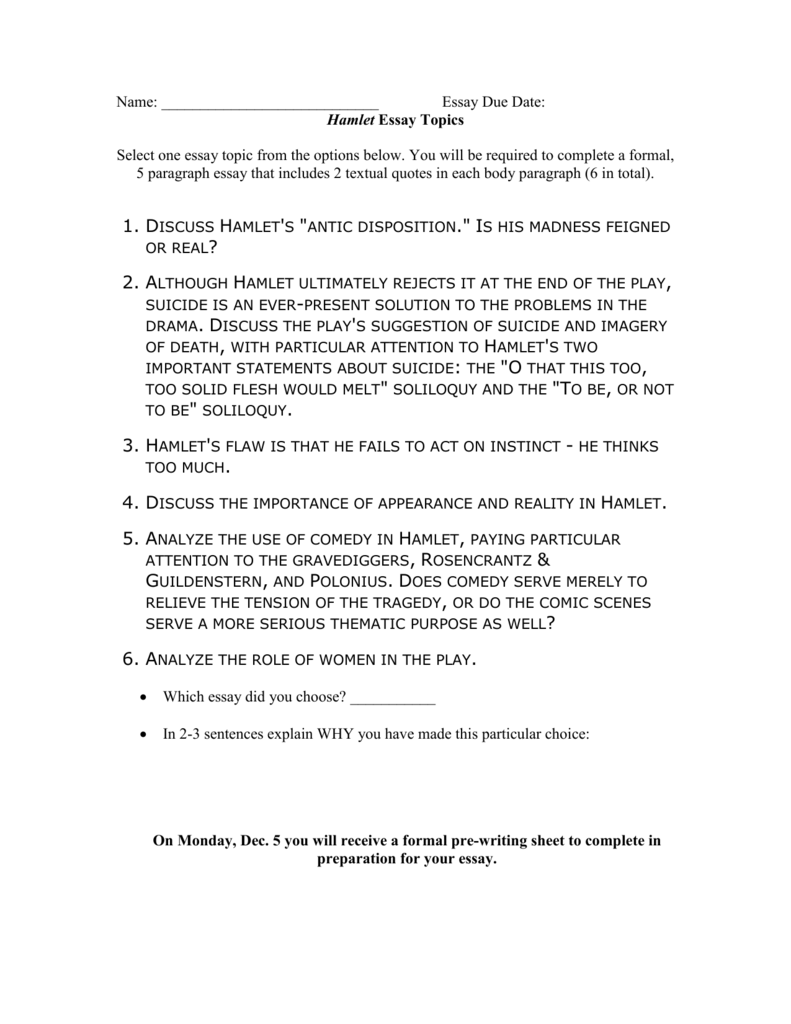 Name: ____________________________
Essay Due Date:
Hamlet Essay Topics
Select one essay topic from the options below. You will be required to complete a formal,
5 paragraph essay that includes 2 textual quotes in each body paragraph (6 in total).
1. DISCUSS HAMLET'S "ANTIC DISPOSITION." IS HIS MADNESS FEIGNED
OR REAL?
2. ALTHOUGH HAMLET ULTIMATELY REJECTS IT AT THE END OF THE PLAY,
SUICIDE IS AN EVER-PRESENT SOLUTION TO THE PROBLEMS IN THE
DRAMA. DISCUSS THE PLAY'S SUGGESTION OF SUICIDE AND IMAGERY
OF DEATH, WITH PARTICULAR ATTENTION TO HAMLET'S TWO
IMPORTANT STATEMENTS ABOUT SUICIDE: THE "O THAT THIS TOO,
TOO SOLID FLESH WOULD MELT" SOLILOQUY AND THE "TO BE, OR NOT
TO BE" SOLILOQUY.
3. HAMLET'S FLAW IS THAT HE FAILS TO ACT ON INSTINCT - HE THINKS
TOO MUCH.
4. DISCUSS THE IMPORTANCE OF APPEARANCE AND REALITY IN HAMLET.
5. ANALYZE THE USE OF COMEDY IN HAMLET, PAYING PARTICULAR
ATTENTION TO THE GRAVEDIGGERS, ROSENCRANTZ &
GUILDENSTERN, AND POLONIUS. DOES COMEDY SERVE MERELY TO
RELIEVE THE TENSION OF THE TRAGEDY, OR DO THE COMIC SCENES
SERVE A MORE SERIOUS THEMATIC PURPOSE AS WELL?
6. ANALYZE THE ROLE OF WOMEN IN THE PLAY.

Which essay did you choose? ___________

In 2-3 sentences explain WHY you have made this particular choice:
On Monday, Dec. 5 you will receive a formal pre-writing sheet to complete in
preparation for your essay.