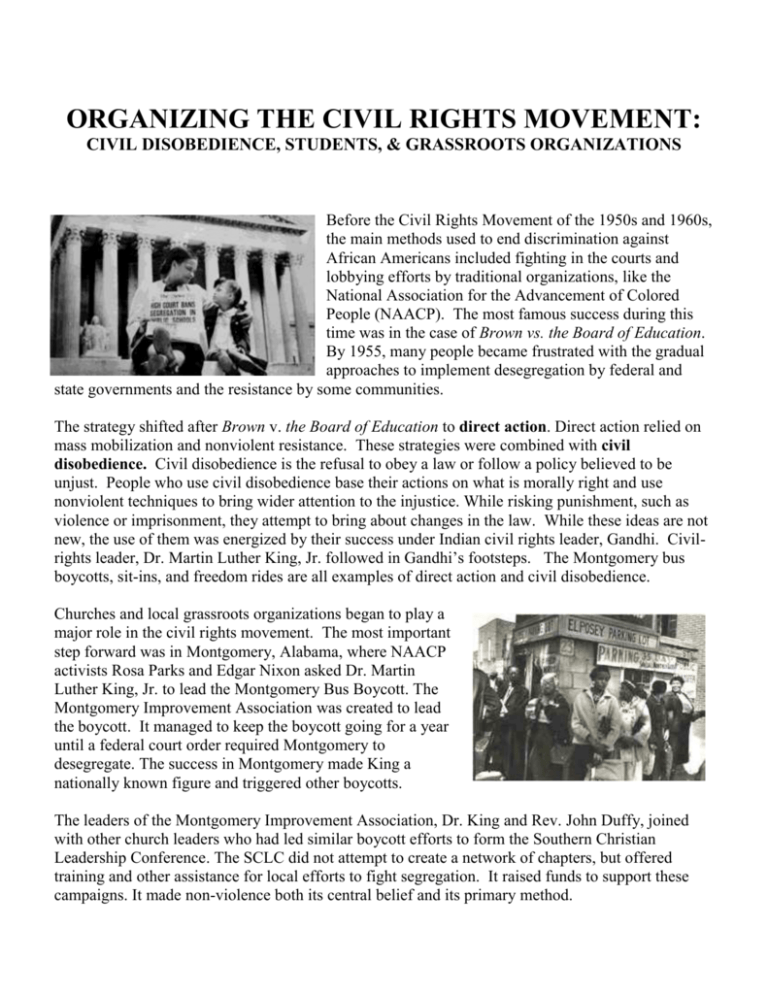 ORGANIZING THE CIVIL RIGHTS MOVEMENT:
CIVIL DISOBEDIENCE, STUDENTS, & GRASSROOTS ORGANIZATIONS
Before the Civil Rights Movement of the 1950s and 1960s,
the main methods used to end discrimination against
African Americans included fighting in the courts and
lobbying efforts by traditional organizations, like the
National Association for the Advancement of Colored
People (NAACP). The most famous success during this
time was in the case of Brown vs. the Board of Education.
By 1955, many people became frustrated with the gradual
approaches to implement desegregation by federal and
state governments and the resistance by some communities.
The strategy shifted after Brown v. the Board of Education to direct action. Direct action relied on
mass mobilization and nonviolent resistance. These strategies were combined with civil
disobedience. Civil disobedience is the refusal to obey a law or follow a policy believed to be
unjust. People who use civil disobedience base their actions on what is morally right and use
nonviolent techniques to bring wider attention to the injustice. While risking punishment, such as
violence or imprisonment, they attempt to bring about changes in the law. While these ideas are not
new, the use of them was energized by their success under Indian civil rights leader, Gandhi. Civilrights leader, Dr. Martin Luther King, Jr. followed in Gandhi's footsteps. The Montgomery bus
boycotts, sit-ins, and freedom rides are all examples of direct action and civil disobedience.
Churches and local grassroots organizations began to play a
major role in the civil rights movement. The most important
step forward was in Montgomery, Alabama, where NAACP
activists Rosa Parks and Edgar Nixon asked Dr. Martin
Luther King, Jr. to lead the Montgomery Bus Boycott. The
Montgomery Improvement Association was created to lead
the boycott. It managed to keep the boycott going for a year
until a federal court order required Montgomery to
desegregate. The success in Montgomery made King a
nationally known figure and triggered other boycotts.
The leaders of the Montgomery Improvement Association, Dr. King and Rev. John Duffy, joined
with other church leaders who had led similar boycott efforts to form the Southern Christian
Leadership Conference. The SCLC did not attempt to create a network of chapters, but offered
training and other assistance for local efforts to fight segregation. It raised funds to support these
campaigns. It made non-violence both its central belief and its primary method.
Another source of strong support and leadership for the
Civil Rights Movement came from college campuses and
students. College students in Greensboro, North Carolina
began to "sit-in" at lunch counters to protest segregation.
Protesters were encouraged to dress up, sit quietly, and
occupy every other stool so potential white sympathizers
could join in. Many of these sit-ins resulted in authority
figures physically and brutally escorting them from the
lunch facility. The success of the Greensboro sit-in led to
a rash of student campaigns throughout the South.
Probably the best organized and disciplined of these was in
Nashville, Tennessee. When they were arrested, student demonstrators made "jail-no-bail" pledges
to call attention to their cause.
The students formed the Student Nonviolent Coordinating Committee,
SNCC, in 1960 to take these tactics of nonviolent confrontation further.
Their first campaign, in 1961, was conducting freedom rides, in which
activists traveled by bus through the deep South to desegregate these
companies' bus terminals, as required by federal law. That proved to be an
enormously dangerous mission. In Anniston, Alabama, one bus was
firebombed, forcing its passengers to flee for their lives. In Birmingham, an
FBI informant reported that Public Safety Commissioner
Eugene "Bull" Connor encouraged the Ku Klux Klan to attack
an incoming group of freedom riders "until it looked like a
bulldog had got a hold of them." The riders were severely
beaten. In eerily quiet Montgomery, a mob charged another
busload of riders, knocking John Lewis unconscious with a
crate. Their organization continued successfully with
"Freedom Summer" and the Voting Rights Drive.
In the end, the new leadership of the Civil Rights Movement
from churches, colleges, and grass root organizations successfully used civil disobedience, direct
action, and nonviolence. It caused confrontations between the protesters and the government. The
authorities of federal, state, and local governments often had to act with an immediate response to
end them. The beatings, mass arrests, and even killings of civil-rights demonstrators pledged to
nonviolent civil disobedience were important factors in swaying public opinion and in the ultimate
passage of new civil-rights legislation.