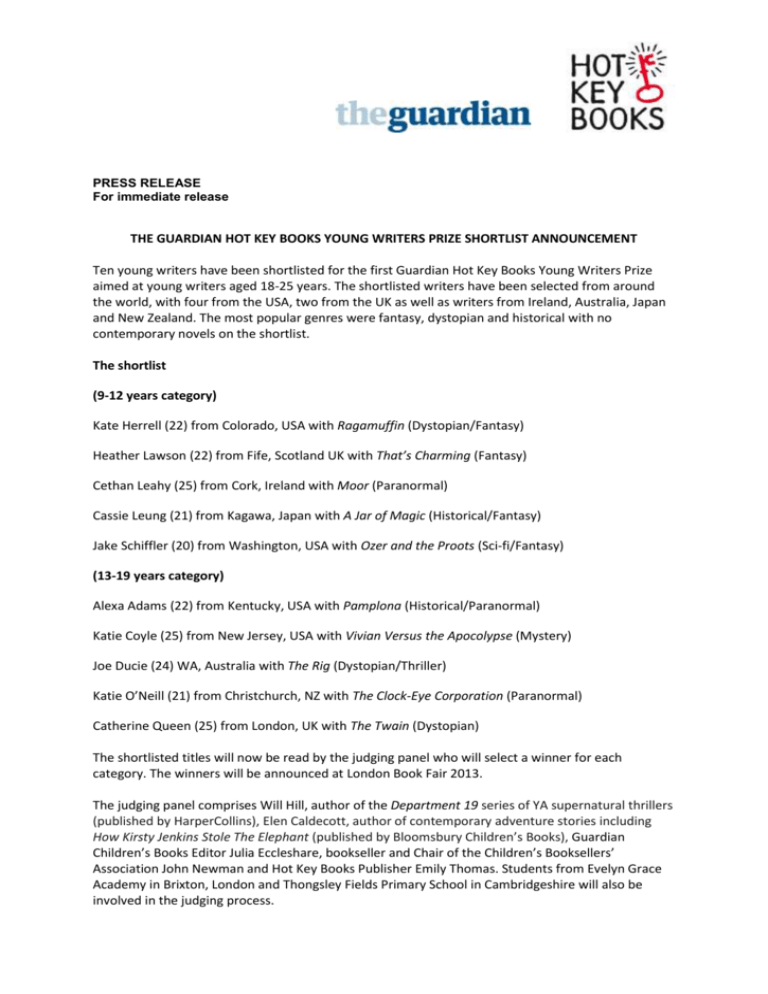 PRESS RELEASE
For immediate release
THE GUARDIAN HOT KEY BOOKS YOUNG WRITERS PRIZE SHORTLIST ANNOUNCEMENT
Ten young writers have been shortlisted for the first Guardian Hot Key Books Young Writers Prize
aimed at young writers aged 18-25 years. The shortlisted writers have been selected from around
the world, with four from the USA, two from the UK as well as writers from Ireland, Australia, Japan
and New Zealand. The most popular genres were fantasy, dystopian and historical with no
contemporary novels on the shortlist.
The shortlist
(9-12 years category)
Kate Herrell (22) from Colorado, USA with Ragamuffin (Dystopian/Fantasy)
Heather Lawson (22) from Fife, Scotland UK with That's Charming (Fantasy)
Cethan Leahy (25) from Cork, Ireland with Moor (Paranormal)
Cassie Leung (21) from Kagawa, Japan with A Jar of Magic (Historical/Fantasy)
Jake Schiffler (20) from Washington, USA with Ozer and the Proots (Sci-fi/Fantasy)
(13-19 years category)
Alexa Adams (22) from Kentucky, USA with Pamplona (Historical/Paranormal)
Katie Coyle (25) from New Jersey, USA with Vivian Versus the Apocolypse (Mystery)
Joe Ducie (24) WA, Australia with The Rig (Dystopian/Thriller)
Katie O'Neill (21) from Christchurch, NZ with The Clock-Eye Corporation (Paranormal)
Catherine Queen (25) from London, UK with The Twain (Dystopian)
The shortlisted titles will now be read by the judging panel who will select a winner for each
category. The winners will be announced at London Book Fair 2013.
The judging panel comprises Will Hill, author of the Department 19 series of YA supernatural thrillers
(published by HarperCollins), Elen Caldecott, author of contemporary adventure stories including
How Kirsty Jenkins Stole The Elephant (published by Bloomsbury Children's Books), Guardian
Children's Books Editor Julia Eccleshare, bookseller and Chair of the Children's Booksellers'
Association John Newman and Hot Key Books Publisher Emily Thomas. Students from Evelyn Grace
Academy in Brixton, London and Thongsley Fields Primary School in Cambridgeshire will also be
involved in the judging process.
The Guardian Hot Key Young Writers Prize was launched earlier this year for new young writers
between the ages of 18 and 25, who write in either of two categories: for ages 9-12 or 13-19.
Entrants should be unpublished talents new to the literary world who are passionate about writing
for children. The winners, one for each age category, will be given editorial support and the chance
to be published by Hot Key Books with the offer of a worldwide publishing contact and an advance
of £10,000.
Further details about the prize entries can be found at www.youngwritersprize.com.
…Ends…
Megan Farr
For media enquiries, please contact:
[email protected] 020 7566 5898 / 07837 983639
Notes to Editors
About the shortlist
9-12 years
Heather Lawson has been creating stories ever since she learned how to read, preferring her make
believe worlds to the real world. At the age of nine, she wrote her first 'novel' and was bitten with
the writing bug. In 2007, after learning about National Novel Writing Month (or NaNoWriMo),
Heather completed her first, full length novel and has since written three more, as well as two
novellas and several short stories. Heather currently lives in a small town in Fife, Scotland with her
parents. She works part-time at a Cash & Carry but dreams of seeing one of her novels in print one
day.
Kate Herrell was born in Denver, Colorado to two teachers. She has spent her short
life reading great literature, becoming enamored with Jane Austen, William Shakespeare,
Neil Gaiman, Christopher Moore, J.R.R. Tolkein, C.S. Lewis, and the Bronte Sisters,
among others. When Catherine discovered the theatre, she turned both her acting and
writing talents towards the stage, a practice that has grown into one of her greatest loves.
Catherine chose to try children's literature after becoming distraught with a report about a
decline in children's interest in reading. Her book, Ragamuffin, is a love story to books
and the power of a child to persevere in a world that rejects both.
Cethan Leahy has written fiction for several years. He was longlisted on the Penguin Ireland/Rte
Guide short story competition the last two years. His short story 'A Man Called Horse' was published
in Dublin based Children's Lit magazine, 'The Looking Glass' earlier this year.
He is also an avid filmmaker. Among his shorts is 'Flipping Channels' (Writer/Actor) which won the
Mutant Rooms film competition in Cork. In addition, his one act play, Stalling For Godot was staged
in the Teachers Club, Dublin.
When not held captive by the characters that only exist inside her head, Cassie Leung teaches
English in Japan. Aside from writing, she tries to catch up on the list of books that friends insist she
will love and learn Japanese so that she knows what she is buying at the supermarket. Cassie's hope
for life is that one day, other people will be held captive by the characters inside her head too,
because it is a little lonely there just by herself.
Jacob Schiffler is 20-years-old and has lived in Seattle, Washington his entire life. He currently is
attending the University of Washington and studies his two main interests: Environmental Sciences
and English. He has never attempted a project like this before, but with some practice he thinks that
he could be pretty good at it someday. The idea for Ozer and the Proots first came to him in January
of 2011, but didn't start writing it until about a year later when he got very bored. Soon after
beginning, he became wholly enveloped in the story and what started as a way to kill time became a
wild obsession that robbed him of countless hours of sleep.
13-19-years
Alexa Adams is in the process of acquiring Master of Science in Library Science from the University
of Kentucky. She works in two different libraries and spends what little free time she has reading as
many books as possible, writing, and learning how to be the best possible young adult librarian. She
has lived in Kentucky her entire life, and currently lives in Lexington with her boyfriend and two cats.
Katie Coyle grew up in a small suburban town in New Jersey. The first story she ever wrote was
about a girl with a pet dolphin—eventually the dolphin turned into a dog, and the third-person
narration unceremoniously switched over to first-person. The story was never finished. However,
since then, she has spent countless hours dreaming up tales about the weird and wonderful things
that happen to teenage girls. She has an MFA from the University of Pittsburgh, and spends her free
time buying books she doesn't need and crying at science-fiction television shows.
Joe Ducie (1987-) is a writer from Perth, Western Australia. By day, he charges a toll to cross a bridge
he doesn't own. Yet by night, in a haze of scotch-fuelled insanity, he works tirelessly on an array of
stories both short and long. Joe possesses a fierce love of a smooth finish. Under no circumstances
should you ask him just what that means. Joe was born in Barrow-in-Furness, Cumbria in November
1987, and currently resides in Perth, Western Australia. He is primarily a writer of urban fantasy and
science fiction aimed at young adults. Joe attended Edith Cowan University and graduated in 2010
with a Degree of Counterterrorism, Security and Intelligence. He went back and completed postgraduate studies in Security Science in 2011. Joe has also studied Creative and Professional Writing
at Curtin University. When not talking about himself in the third person, Joe enjoys devouring books
at an absurdly disgusting rate and sampling fine scotch.
Katie O'Neill was born in Christchurch in 1991, and has been a voracious reader ever since. She
studied Japanese and English Literature at the University of Canterbury and is passionate about
creating stories and illustrations. She currently works for a web design company, and is given over to
artistic pursuits in her free time.
Catherine Queen is a newly qualified English teacher by day, and a writer by night. She grew up in
the wilds of Penge, South-East London and spent most of her formative years reading everything and
anything, including cereal boxes. After a degree in Classics at Oxford University, she spent a year
teaching at a primary school in Attica, Greece, where she developed a severe case of Hellenophilia and finally had the courage to put her overactive imagination to work by writing her first novel. Now
she tries to get the children of Croydon to love books as much as she does! The Twain is her second
completed manuscript.
About the Judges
Elen Caldecott
Elen Caldecott writes 'contemporary capers for children aged 8-12 years' and lives in Bristol with her
husband and dog, Biff. She is the author of How Kirsty Jenkins Stole The Elephant (2009), How Ali
Ferguson Saved Houdini (2010) and Operation Eiffel Tower (2011), all published by Bloomsbury
Children's Books. How Kirsty Jenkins Stole the Elephant was shortlisted for the Waterstone's
Children's Book Prize 2009 and longlisted for the Carnegie Medal. Her latest book The Mystery of
Wickworth Manor is publishing in July.
Julia Eccleshare
Julia Eccleshare is a writer, broadcaster and lecturer, and the Guardian's children's books editor. She
is a judge of the Branford Boase first novel prize and was a judge for the Whitbread Children's Book
prize in 2001. She won the Eleanor Farjeon Award in 2000 in recognition of her outstanding
contribution to children's books. She is married with four children and lives in London.
Will Hill
Will Hill is the author of the Department 19 series of YA supernatural thrillers, published by
HarperCollins in the UK, Razorbill in the US, and in eight foreign languages around the world. Before
quitting his job in publishing to write Department 19, Will worked as a bartender, a bookseller, a
publisher and a door-to-door charity worker. He grew up in the north-east of England, is scared of
spiders, and is a big fan of cats. He lives in east London with his girlfriend.
John Newman
John Newman is a children's book buyer at the Newham Bookshop and is also the current Chair of
the Booksellers Associations Childrens' Bookselling Group. He also sits on both the IBBY UK and
World Book Day Executive Committees.
Emily Thomas
Emily Thomas is Publisher at Hot Key Books. She began her career with the esteemed children's
books editor, Pam Royds, at Andre Deutsch Children's Books, and worked as an editor at Scholastic
UK and Kingfisher Books before becoming publisher of teen fiction at Hodder Children's Books.
There she launched the publishing career of Sarra Manning and conceived of and acquired the bestselling Diary of a Chav and Diary of a Snob sequences by Grace Dent, as well as overseeing the UK
publishing of the hugely successful Vampire Diaries and Christopher Pike brands and more recently
the Dark Heart sequence by new author Lee Monroe.
About Hot Key Books
Hot Key Books, part of Bonnier Publishing, is a top quality, strongly commercial and diverse fiction
list, and a major player in children's publishing. The company name derives from the power of
stories to open doors and feed the imagination of readers. Hot Key Books seeks to unlock the power
of reading, a love of books and a joy of stories for readers of all ages. It also reflects the digital age in
which we now live through its association with 'hot key' commands – the short cut command on a
keyboard.
About Bonnier Publishing
Bonnier Publishing is a rapidly growing children's publisher based in the UK, with offices in Australia
and France. It is owned by Bonnier Books, which is a top 20 world publisher with a turnover of
£600m. Bonnier Publishing is primarily the English language arm of Bonnier Books and it currently
comprises of children's publishers Templar, Autumn, Five Mile Press, Weldon Owen, Piccolia in
France and the newly launched Hot Key Books. Bonnier Publishing was named a Top 5 Climber in The
Bookseller's Independent Children's Publisher list in 2011.