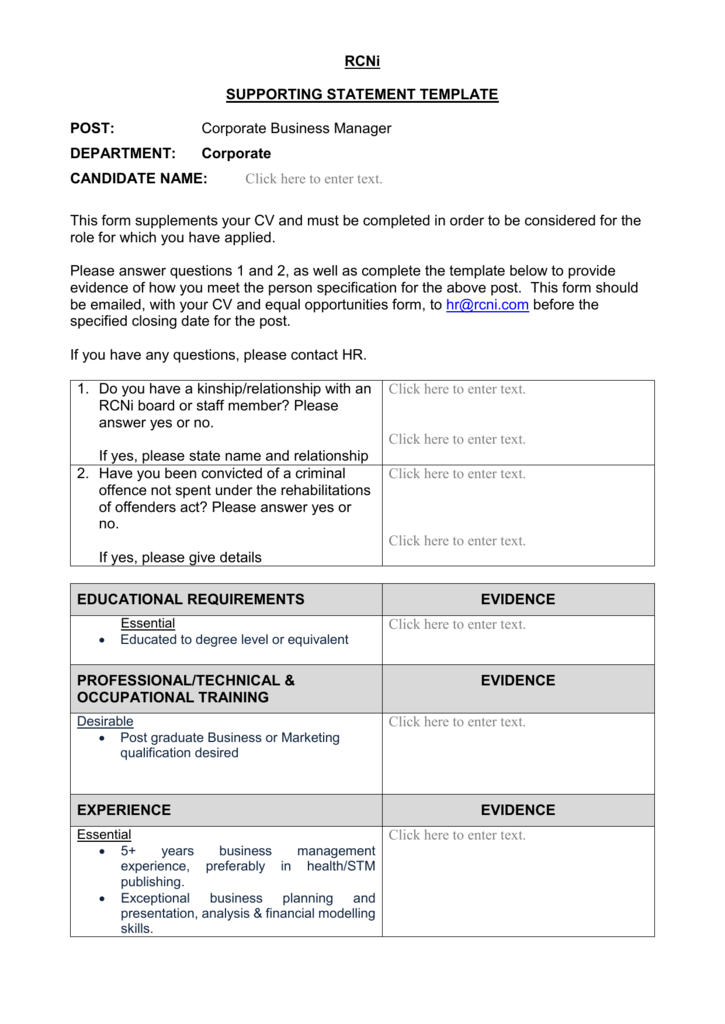 RCNi
SUPPORTING STATEMENT TEMPLATE
POST:
Corporate Business Manager
DEPARTMENT:
Corporate
CANDIDATE NAME:
Click here to enter text.
This form supplements your CV and must be completed in order to be considered for the
role for which you have applied.
Please answer questions 1 and 2, as well as complete the template below to provide
evidence of how you meet the person specification for the above post. This form should
be emailed, with your CV and equal opportunities form, to [email protected] before the
specified closing date for the post.
If you have any questions, please contact HR.
1. Do you have a kinship/relationship with an
RCNi board or staff member? Please
answer yes or no.
Click here to enter text.
Click here to enter text.
If yes, please state name and relationship
2. Have you been convicted of a criminal
offence not spent under the rehabilitations
of offenders act? Please answer yes or
no.
Click here to enter text.
Click here to enter text.
If yes, please give details
EDUCATIONAL REQUIREMENTS

Essential
Educated to degree level or equivalent
PROFESSIONAL/TECHNICAL &
OCCUPATIONAL TRAINING
Desirable
 Post graduate Business or Marketing
qualification desired
EXPERIENCE
EVIDENCE
Click here to enter text.
EVIDENCE
Click here to enter text.
EVIDENCE
Essential
Click here to enter text.
 5+
years
business
management
experience, preferably in health/STM
publishing.
 Exceptional business planning and
presentation, analysis & financial modelling
skills.






Ability to create informative briefing
documents to inform RCNi decision
making.
Mergers and acquisitions experience.
Extensive experience of program, project
and risk management.
Track record of taking products to market
for global B2C and B2B markets, and
implementation of supporting business
processes.
Excellent understanding of publishing
technologies, tools and processes to
support business management and growth.
Substantial experience of tender bid
writing, RFP documentation and pitch
development and contract negotiation.
SKILLS & KNOWLEDGE
EVIDENCE
Essential
Click here to enter text.
First class communication, diplomacy, and
negotiation skills.
Good presentation and stakeholder management
skills
OTHER REQUIREMENTS
Essential
Flexibility to travel as dictated by the requirements
of the role.
Understanding of principles of equalities and
diversity
EVIDENCE
Click here to enter text.
Declaration
By completing and returning this form, I certify that I have the right to work in the UK and
that the information provided is correct and agree that if my application is successful it
should form part of the basis of my engagement. I authorise RCNi to check the information
that I have supplied as deemed reasonable by RCNi. I understand that falsification of
qualifications or any other information may lead to my dismissal without notice. Where
applicable, I consent that the organisation can seek clarification regarding professional
registration details.