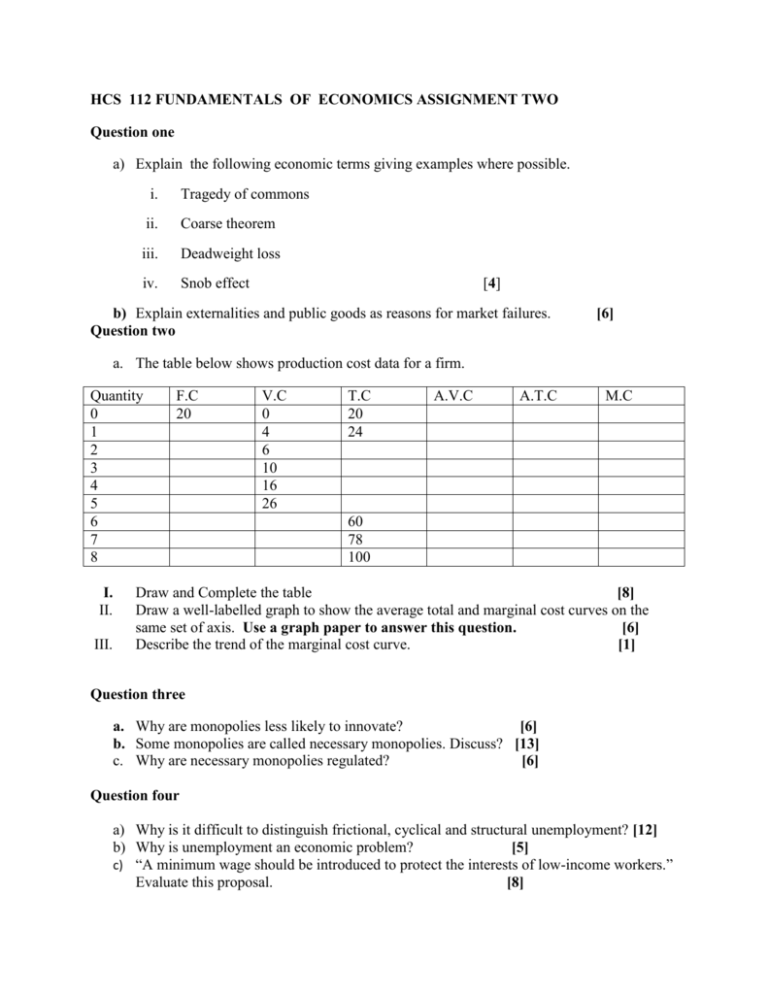 HCS 112 FUNDAMENTALS OF ECONOMICS ASSIGNMENT TWO
Question one
a) Explain the following economic terms giving examples where possible.
i.
Tragedy of commons
ii.
Coarse theorem
iii.
Deadweight loss
iv.
Snob effect
[4]
b) Explain externalities and public goods as reasons for market failures.
Question two
[6]
a. The table below shows production cost data for a firm.
Quantity
0
1
2
3
4
5
6
7
8
I.
II.
III.
F.C
20
V.C
0
4
6
10
16
26
T.C
20
24
A.V.C
A.T.C
M.C
60
78
100
Draw and Complete the table
[8]
Draw a well-labelled graph to show the average total and marginal cost curves on the
same set of axis. Use a graph paper to answer this question.
[6]
Describe the trend of the marginal cost curve.
[1]
Question three
a. Why are monopolies less likely to innovate?
[6]
b. Some monopolies are called necessary monopolies. Discuss? [13]
c. Why are necessary monopolies regulated?
[6]
Question four
a) Why is it difficult to distinguish frictional, cyclical and structural unemployment? [12]
b) Why is unemployment an economic problem?
[5]
c) "A minimum wage should be introduced to protect the interests of low-income workers."
Evaluate this proposal.
[8]