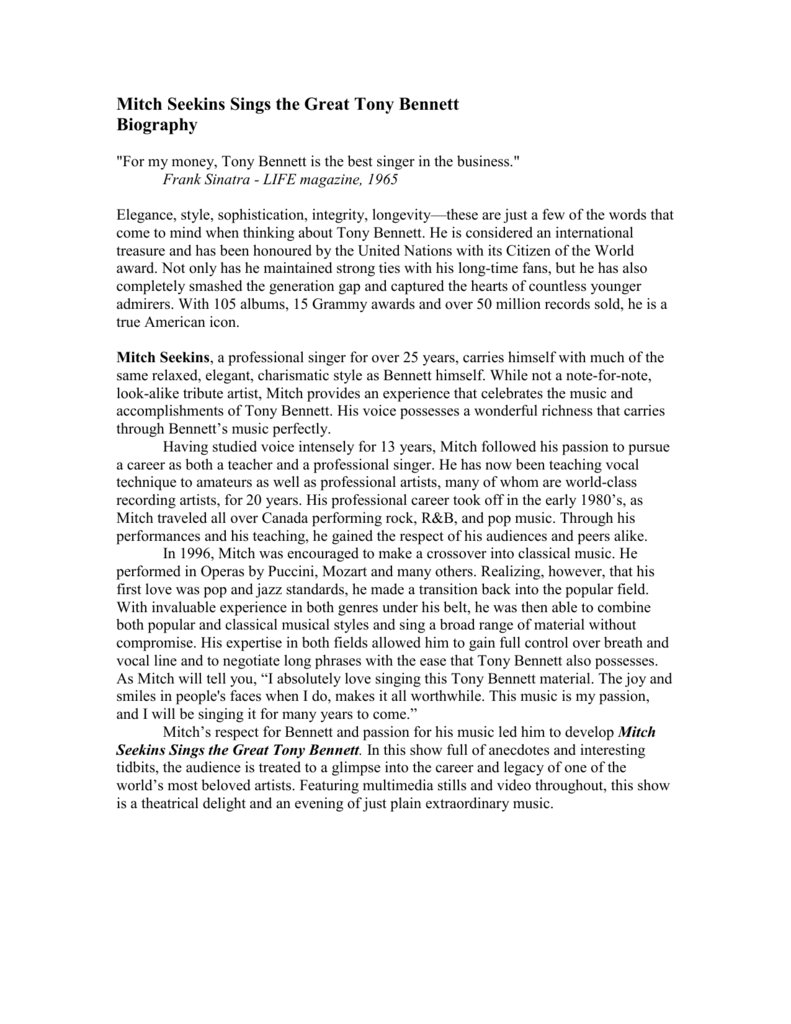 Mitch Seekins Sings the Great Tony Bennett
Biography
"For my money, Tony Bennett is the best singer in the business."
Frank Sinatra - LIFE magazine, 1965
Elegance, style, sophistication, integrity, longevity—these are just a few of the words that
come to mind when thinking about Tony Bennett. He is considered an international
treasure and has been honoured by the United Nations with its Citizen of the World
award. Not only has he maintained strong ties with his long-time fans, but he has also
completely smashed the generation gap and captured the hearts of countless younger
admirers. With 105 albums, 15 Grammy awards and over 50 million records sold, he is a
true American icon.
Mitch Seekins, a professional singer for over 25 years, carries himself with much of the
same relaxed, elegant, charismatic style as Bennett himself. While not a note-for-note,
look-alike tribute artist, Mitch provides an experience that celebrates the music and
accomplishments of Tony Bennett. His voice possesses a wonderful richness that carries
through Bennett's music perfectly.
Having studied voice intensely for 13 years, Mitch followed his passion to pursue
a career as both a teacher and a professional singer. He has now been teaching vocal
technique to amateurs as well as professional artists, many of whom are world-class
recording artists, for 20 years. His professional career took off in the early 1980's, as
Mitch traveled all over Canada performing rock, R&B, and pop music. Through his
performances and his teaching, he gained the respect of his audiences and peers alike.
In 1996, Mitch was encouraged to make a crossover into classical music. He
performed in Operas by Puccini, Mozart and many others. Realizing, however, that his
first love was pop and jazz standards, he made a transition back into the popular field.
With invaluable experience in both genres under his belt, he was then able to combine
both popular and classical musical styles and sing a broad range of material without
compromise. His expertise in both fields allowed him to gain full control over breath and
vocal line and to negotiate long phrases with the ease that Tony Bennett also possesses.
As Mitch will tell you, "I absolutely love singing this Tony Bennett material. The joy and
smiles in people's faces when I do, makes it all worthwhile. This music is my passion,
and I will be singing it for many years to come."
Mitch's respect for Bennett and passion for his music led him to develop Mitch
Seekins Sings the Great Tony Bennett. In this show full of anecdotes and interesting
tidbits, the audience is treated to a glimpse into the career and legacy of one of the
world's most beloved artists. Featuring multimedia stills and video throughout, this show
is a theatrical delight and an evening of just plain extraordinary music.