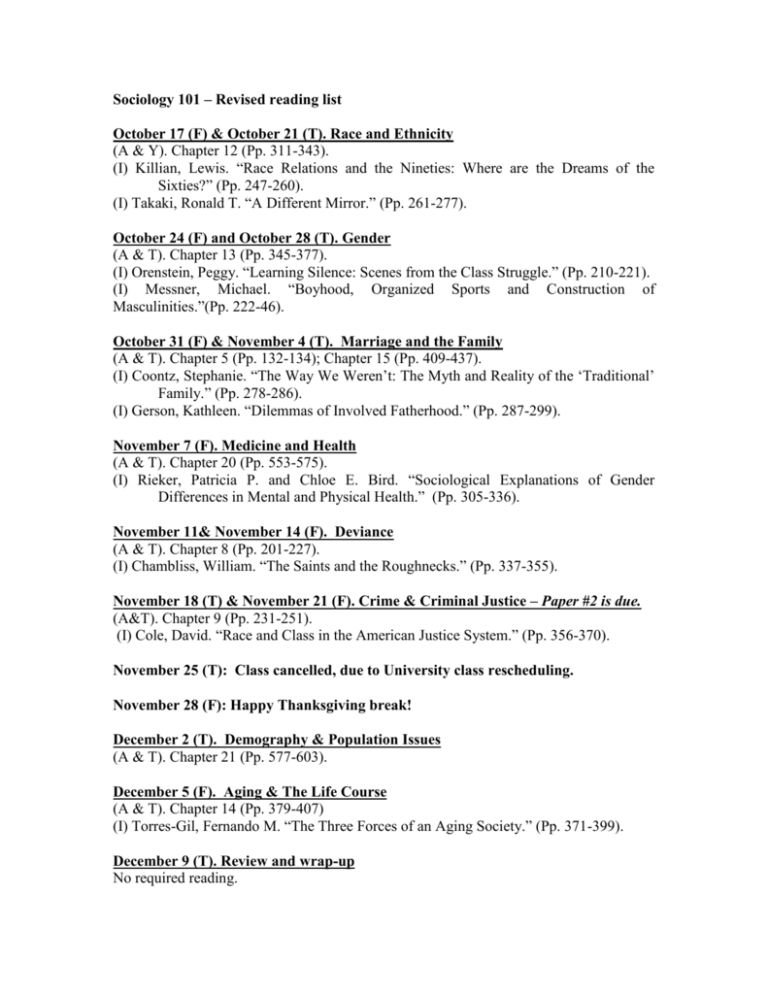 Sociology 101 – Revised reading list
October 17 (F) & October 21 (T). Race and Ethnicity
(A & Y). Chapter 12 (Pp. 311-343).
(I) Killian, Lewis. "Race Relations and the Nineties: Where are the Dreams of the
Sixties?" (Pp. 247-260).
(I) Takaki, Ronald T. "A Different Mirror." (Pp. 261-277).
October 24 (F) and October 28 (T). Gender
(A & T). Chapter 13 (Pp. 345-377).
(I) Orenstein, Peggy. "Learning Silence: Scenes from the Class Struggle." (Pp. 210-221).
(I) Messner, Michael. "Boyhood, Organized Sports and Construction of
Masculinities."(Pp. 222-46).
October 31 (F) & November 4 (T). Marriage and the Family
(A & T). Chapter 5 (Pp. 132-134); Chapter 15 (Pp. 409-437).
(I) Coontz, Stephanie. "The Way We Weren't: The Myth and Reality of the 'Traditional'
Family." (Pp. 278-286).
(I) Gerson, Kathleen. "Dilemmas of Involved Fatherhood." (Pp. 287-299).
November 7 (F). Medicine and Health
(A & T). Chapter 20 (Pp. 553-575).
(I) Rieker, Patricia P. and Chloe E. Bird. "Sociological Explanations of Gender
Differences in Mental and Physical Health." (Pp. 305-336).
November 11& November 14 (F). Deviance
(A & T). Chapter 8 (Pp. 201-227).
(I) Chambliss, William. "The Saints and the Roughnecks." (Pp. 337-355).
November 18 (T) & November 21 (F). Crime & Criminal Justice – Paper #2 is due.
(A&T). Chapter 9 (Pp. 231-251).
(I) Cole, David. "Race and Class in the American Justice System." (Pp. 356-370).
November 25 (T): Class cancelled, due to University class rescheduling.
November 28 (F): Happy Thanksgiving break!
December 2 (T). Demography & Population Issues
(A & T). Chapter 21 (Pp. 577-603).
December 5 (F). Aging & The Life Course
(A & T). Chapter 14 (Pp. 379-407)
(I) Torres-Gil, Fernando M. "The Three Forces of an Aging Society." (Pp. 371-399).
December 9 (T). Review and wrap-up
No required reading.
December 15 (Monday). Final Exam:
8 a.m. – 11 a.m. (Regular classroom, unless notified otherwise.)
Good luck with final exams and have a wonderful winter break!