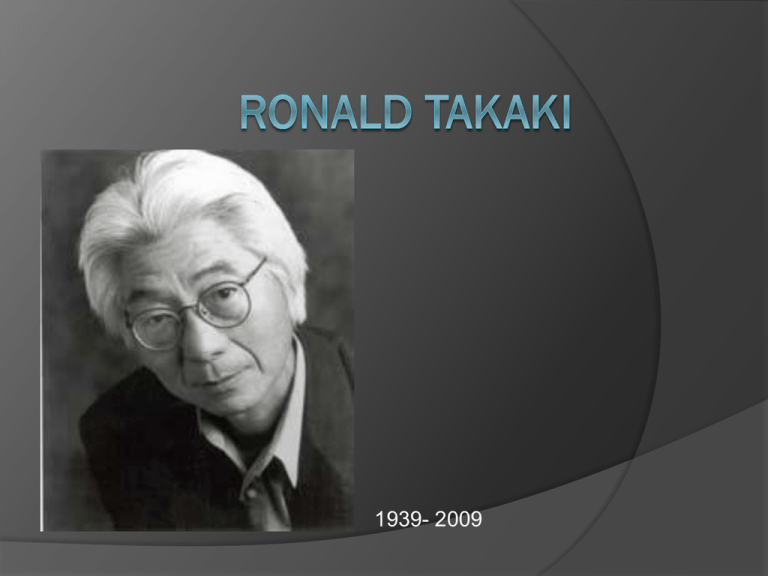 1939- 2009
Ronald Takaki - Biography




Born in a low income area in Oahu, Hawai'i,
he is the grandson of Japanese immigrants
who worked on a sugar plantation.
He attended the college of Wooster in Wooster
,Ohio after a teacher wrote him a
recommendation to the college.
At Wooster he gained a sense of his ethnic
identity as 1 of 2 Asian American Students at
the college. He received his bachelors degree
in history in 1961.
Takaki suffered from multiple sclerosis for
twenty years until 2009 when he committed
suicide according to his son.
Academics

Takaki attended graduate school at the
University of California; where he earned
his masters in 1962.
He received his PhD in American history
from Berkeley in 1967.
 His dissertation was on American slavery,
and the rationale for slavery.
 Which influenced his first published work A
Pro-slavery Crusade: The Agitation to
Reopen the African Slave Trade in 1971.

Career




Takaki taught the first black history course at
UCLA.
While at UCLA he helped found the UCLA
Centers for African-American, Asian-American,
Chicano, and Native-American Studies
In 1972, he accepted a teaching position at
Berkeley where his general survey course,
"Racial Inequality in America: a Comparative
Perspective," led the development of an
undergraduate ethnic studies major and an
ethnic studies Ph.D. program.
He taught at Berkeley for thirty years until his
death.
Career



He was often considered the father of
multicultural studies.
Takaki was often a guest lecturer around the
world and the most in demand professor.
In 1987, Takaki was invited to Armenia by the
Academy of Sciences of the Soviet Union
where he represented a paper comparing race
and ethnicity in the U.S. and the U.S.S.R. In
1990, he was invited to Moscow by the Soviet
Academy of Sciences to give a paper on the
impact of the Cold War on racial and ethnic
conflicts.
Published Works















1971 -- A Pro-slavery Crusade: The Agitation to Reopen the African Slave Trade.
1978 -- Iron cages: race and culture in nineteenth-century America.
1984 -- Pau Hana: Plantation Life and Labor in Hawaii, 1835-1920.
1989 -- Strangers from a Different Shore: A History of Asian Americans.
1993 -- Violence in the Black Imagination: Essays and Documents.
1993 -- A Different Mirror: A History of Multicultural America.
1994 -- Issei and Nisei: The Settling of Japanese America, with Rebecca Steoff.
1994 -- From the Land of Morning Calm: The Koreans in America.
1994 -- From Different Shores: Perspectives on Race and Ethnicity in America.
1994 -- Ethnic Islands: The Emergence of Urban Chinese America.
1995 -- Lives of Notable Asian Americans: Business, Politics, Science with Angelo
Ragaza.
1995 -- India in the West: South Asians in America.
1995 -- Hiroshima: Why America Dropped the Atomic Bomb.
2001 -- Double Victory: A Multicultural History of America in World War II.
2002 -- Debating Diversity: Clashing Perspectives on Race and Ethnicity in America.
Honors





Bay Area Book Reviewers Association, Fred
Cody Lifetime Achievement Award, 2002.
Asia Pacific Council, Lifetime Achievement
Award, 2002.
Society of American Historians (SAH), 1995.
Cornell University, Messenger Lecturer, 1993.
Association of Asian American Studies
(AAAS), Lifetime Achievement Award, 2009.