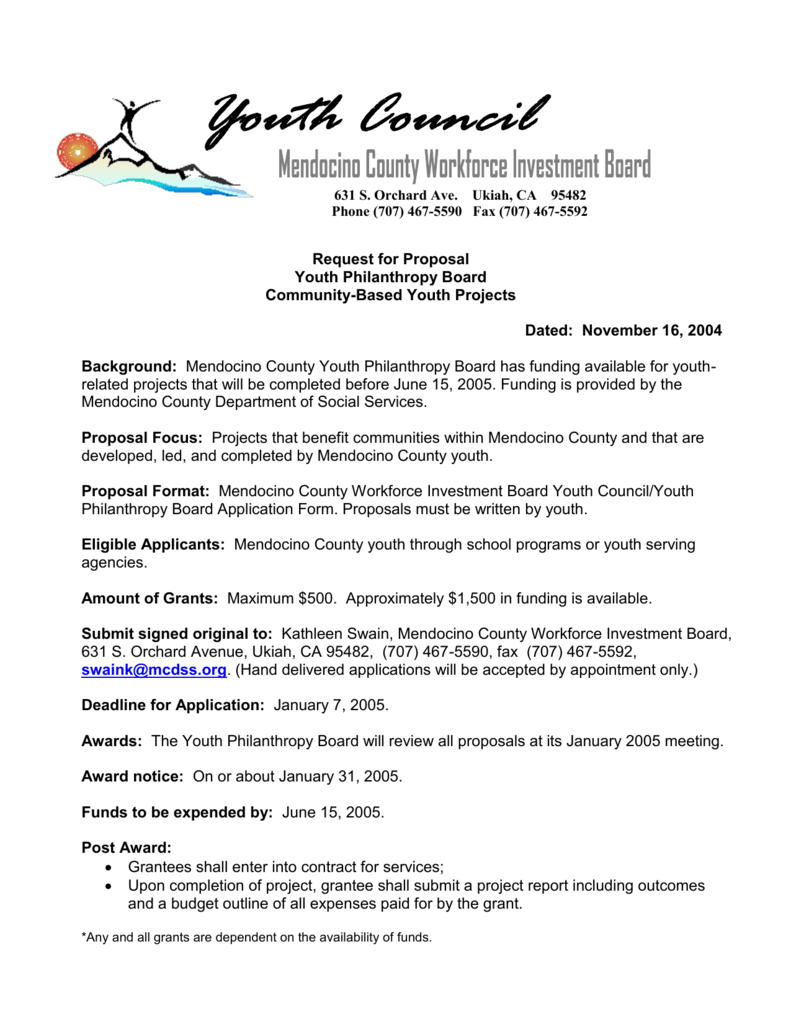 631 S. Orchard Ave. Ukiah, CA 95482
Phone (707) 467-5590 Fax (707) 467-5592
Request for Proposal
Youth Philanthropy Board
Community-Based Youth Projects
Dated: November 16, 2004
Background: Mendocino County Youth Philanthropy Board has funding available for youthrelated projects that will be completed before June 15, 2005. Funding is provided by the
Mendocino County Department of Social Services.
Proposal Focus: Projects that benefit communities within Mendocino County and that are
developed, led, and completed by Mendocino County youth.
Proposal Format: Mendocino County Workforce Investment Board Youth Council/Youth
Philanthropy Board Application Form. Proposals must be written by youth.
Eligible Applicants: Mendocino County youth through school programs or youth serving
agencies.
Amount of Grants: Maximum $500. Approximately $1,500 in funding is available.
Submit signed original to: Kathleen Swain, Mendocino County Workforce Investment Board,
631 S. Orchard Avenue, Ukiah, CA 95482, (707) 467-5590, fax (707) 467-5592,
[email protected] (Hand delivered applications will be accepted by appointment only.)
Deadline for Application: January 7, 2005.
Awards: The Youth Philanthropy Board will review all proposals at its January 2005 meeting.
Award notice: On or about January 31, 2005.
Funds to be expended by: June 15, 2005.
Post Award:
 Grantees shall enter into contract for services;
 Upon completion of project, grantee shall submit a project report including outcomes
and a budget outline of all expenses paid for by the grant.
*Any and all grants are dependent on the availability of funds.