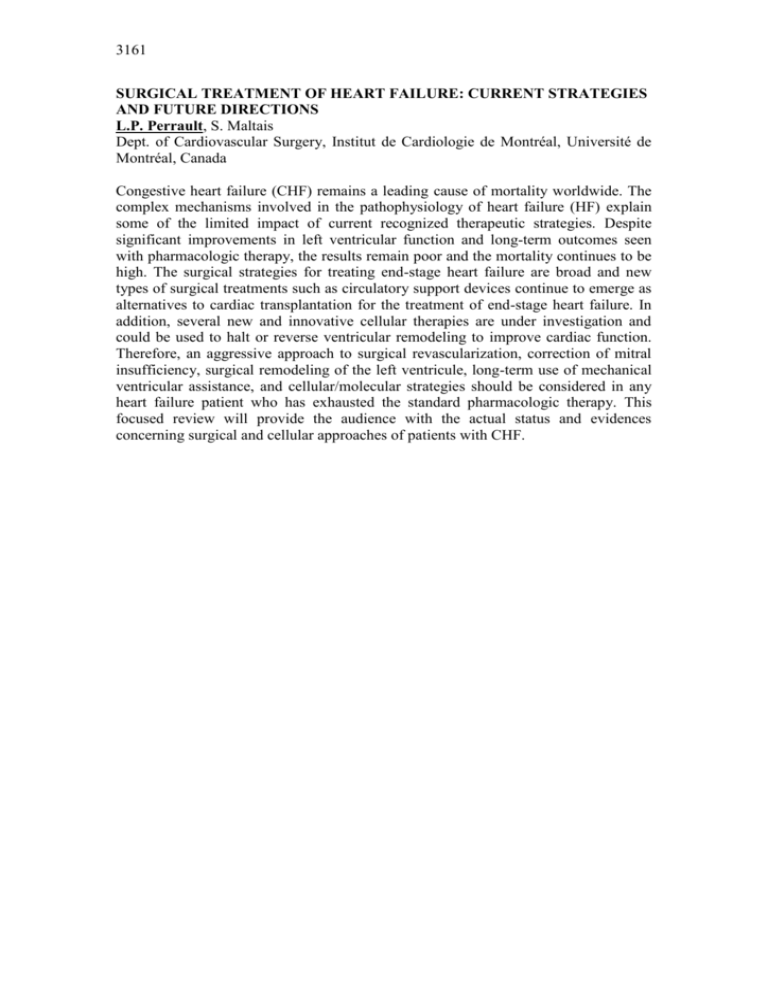 3161
SURGICAL TREATMENT OF HEART FAILURE: CURRENT STRATEGIES
AND FUTURE DIRECTIONS
L.P. Perrault, S. Maltais
Dept. of Cardiovascular Surgery, Institut de Cardiologie de Montréal, Université de
Montréal, Canada
Congestive heart failure (CHF) remains a leading cause of mortality worldwide. The
complex mechanisms involved in the pathophysiology of heart failure (HF) explain
some of the limited impact of current recognized therapeutic strategies. Despite
significant improvements in left ventricular function and long-term outcomes seen
with pharmacologic therapy, the results remain poor and the mortality continues to be
high. The surgical strategies for treating end-stage heart failure are broad and new
types of surgical treatments such as circulatory support devices continue to emerge as
alternatives to cardiac transplantation for the treatment of end-stage heart failure. In
addition, several new and innovative cellular therapies are under investigation and
could be used to halt or reverse ventricular remodeling to improve cardiac function.
Therefore, an aggressive approach to surgical revascularization, correction of mitral
insufficiency, surgical remodeling of the left ventricule, long-term use of mechanical
ventricular assistance, and cellular/molecular strategies should be considered in any
heart failure patient who has exhausted the standard pharmacologic therapy. This
focused review will provide the audience with the actual status and evidences
concerning surgical and cellular approaches of patients with CHF.