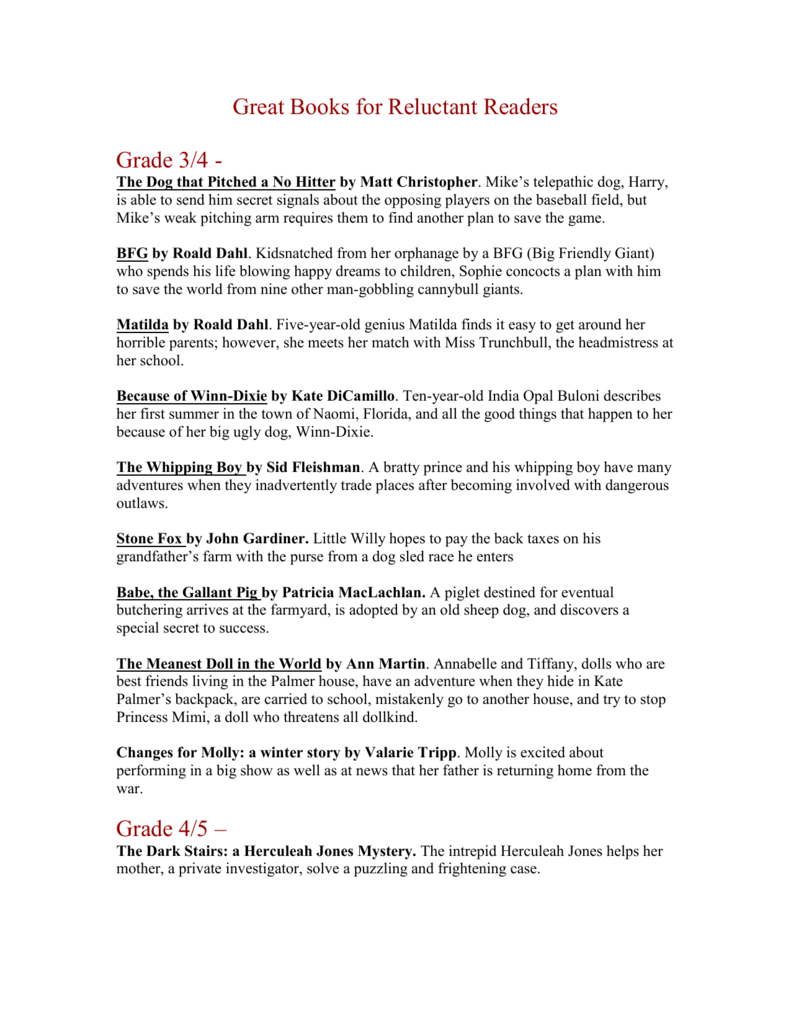 Great Books for Reluctant Readers
Grade 3/4 The Dog that Pitched a No Hitter by Matt Christopher. Mike's telepathic dog, Harry,
is able to send him secret signals about the opposing players on the baseball field, but
Mike's weak pitching arm requires them to find another plan to save the game.
BFG by Roald Dahl. Kidsnatched from her orphanage by a BFG (Big Friendly Giant)
who spends his life blowing happy dreams to children, Sophie concocts a plan with him
to save the world from nine other man-gobbling cannybull giants.
Matilda by Roald Dahl. Five-year-old genius Matilda finds it easy to get around her
horrible parents; however, she meets her match with Miss Trunchbull, the headmistress at
her school.
Because of Winn-Dixie by Kate DiCamillo. Ten-year-old India Opal Buloni describes
her first summer in the town of Naomi, Florida, and all the good things that happen to her
because of her big ugly dog, Winn-Dixie.
The Whipping Boy by Sid Fleishman. A bratty prince and his whipping boy have many
adventures when they inadvertently trade places after becoming involved with dangerous
outlaws.
Stone Fox by John Gardiner. Little Willy hopes to pay the back taxes on his
grandfather's farm with the purse from a dog sled race he enters
Babe, the Gallant Pig by Patricia MacLachlan. A piglet destined for eventual
butchering arrives at the farmyard, is adopted by an old sheep dog, and discovers a
special secret to success.
The Meanest Doll in the World by Ann Martin. Annabelle and Tiffany, dolls who are
best friends living in the Palmer house, have an adventure when they hide in Kate
Palmer's backpack, are carried to school, mistakenly go to another house, and try to stop
Princess Mimi, a doll who threatens all dollkind.
Changes for Molly: a winter story by Valarie Tripp. Molly is excited about
performing in a big show as well as at news that her father is returning home from the
war.
Grade 4/5 –
The Dark Stairs: a Herculeah Jones Mystery. The intrepid Herculeah Jones helps her
mother, a private investigator, solve a puzzling and frightening case.
Family Under the Bridge by Natalie Carlson. The story of an old Parisian named
Armand, who relished his solitary life, but who became a friend to all the children who
lived under the bridge.
Chocolate Touch by Patrick Catling. A boy acquires a magical gift that turns
everything his lips touch into chocolate.
Frindle by Andrew Clements. When he decides to turn his fifth-grade teacher's love of
the dictionary around on her, clever Nick Allen invents a new word and begins a chain of
events that quickly moves beyond his control.
Joey Pigza Loses Control by Jack Gantos. Joey, who is stall taking medication, goes to
spend the summer with the hard-drinking father he has never known and tries to help the
baseball team he coaches win the championship.
The Year of Miss Agnes by Kirkpatrick Hill. Ten-year-old Fred narrates the story of
school and village life among the Athabascans in Alaska during 1948 when Miss Agnes
arrived as the new teacher.
Parsifal's Page by Gerald Morris. In medieval England, Pier's dream comes true when
he becomes page to Parsifal, a peasant whose quest for knighthood reveals important
secrets about both of their families.
Mr. Tucket by Gary Paulsen. In 1848, while on a wagon train headed for Oregon,
fourteen-year-old Francis Tucket is kidnapped by Pawnee Indians.
Night of the Twisters by Ivy Ruckman. A fictional account of the night freakish and
devastating tornadoes hit Grand Island, Nebraska, as experienced by a twelve-year-old,
his family, and friends.
Riding Freedom by Pam Ryan. A fictionalized account of Charley (Charlotte)
Parkhurst who ran away from an orphanage, posed as a boy, moved to California, and
fooled everyone by her appearance.
Holes by Louis Sachar. As further evidence of his family's bad fortune which they
attribute to a curse on a distant relative, Stanley Yelnats is sent to a hellish correctional
camp in the Texas desert where he finds his first real friend, a treasure, and a new sense
of himself.
Your Mother Was a Neanderthal by Jon Scieszka. The Time Warp Trio find
themselves in the middle of an adventure in prehistoric times, where cave art is a form of
graffiti and "rock" music takes on a whole new meaning.
The Bag Beginning by Lemony Snicket. After the sudden death of their parents, the
three Baudelaire children must depend on each other and their wits when it turns out that
the distant relative who is appointed their guardian is determined to use any means
necessary to get their fortune.
The Cay by Theodore Taylor. Phillip Enright. and the ship's cat are castaways on a
barren Caribbean island after their ship is torpedoed during World War II. The book
describes the struggle for survival.