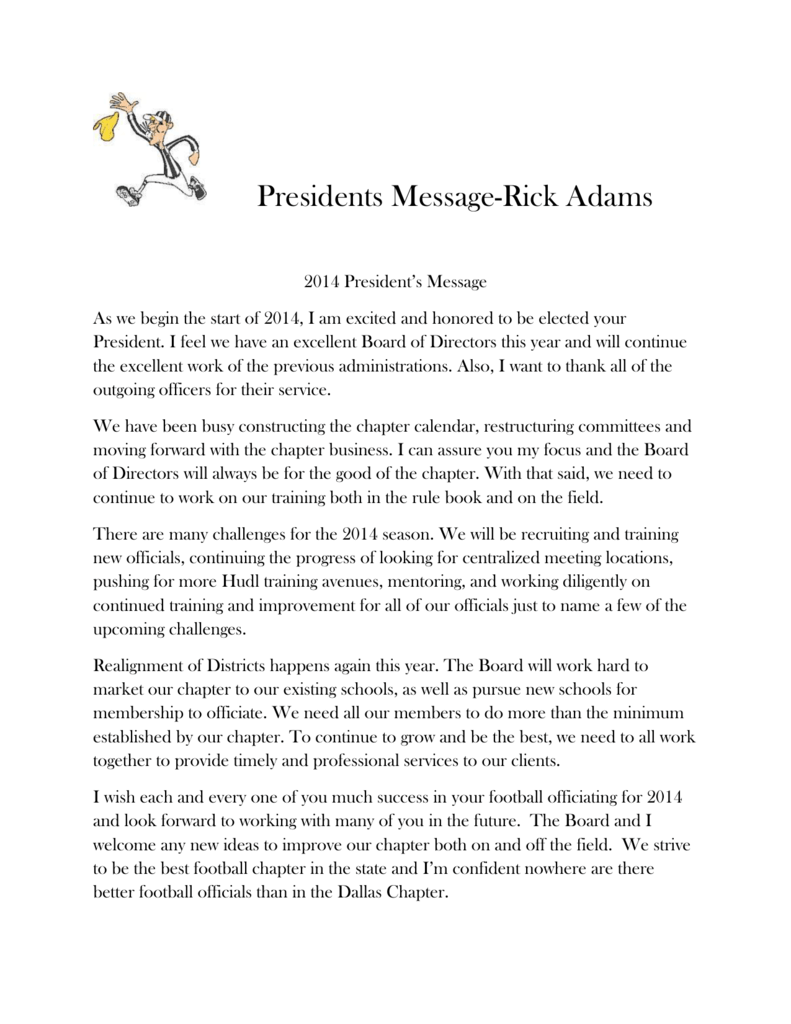 Presidents Message-Rick Adams
2014 President's Message
As we begin the start of 2014, I am excited and honored to be elected your
President. I feel we have an excellent Board of Directors this year and will continue
the excellent work of the previous administrations. Also, I want to thank all of the
outgoing officers for their service.
We have been busy constructing the chapter calendar, restructuring committees and
moving forward with the chapter business. I can assure you my focus and the Board
of Directors will always be for the good of the chapter. With that said, we need to
continue to work on our training both in the rule book and on the field.
There are many challenges for the 2014 season. We will be recruiting and training
new officials, continuing the progress of looking for centralized meeting locations,
pushing for more Hudl training avenues, mentoring, and working diligently on
continued training and improvement for all of our officials just to name a few of the
upcoming challenges.
Realignment of Districts happens again this year. The Board will work hard to
market our chapter to our existing schools, as well as pursue new schools for
membership to officiate. We need all our members to do more than the minimum
established by our chapter. To continue to grow and be the best, we need to all work
together to provide timely and professional services to our clients.
I wish each and every one of you much success in your football officiating for 2014
and look forward to working with many of you in the future. The Board and I
welcome any new ideas to improve our chapter both on and off the field. We strive
to be the best football chapter in the state and I'm confident nowhere are there
better football officials than in the Dallas Chapter.