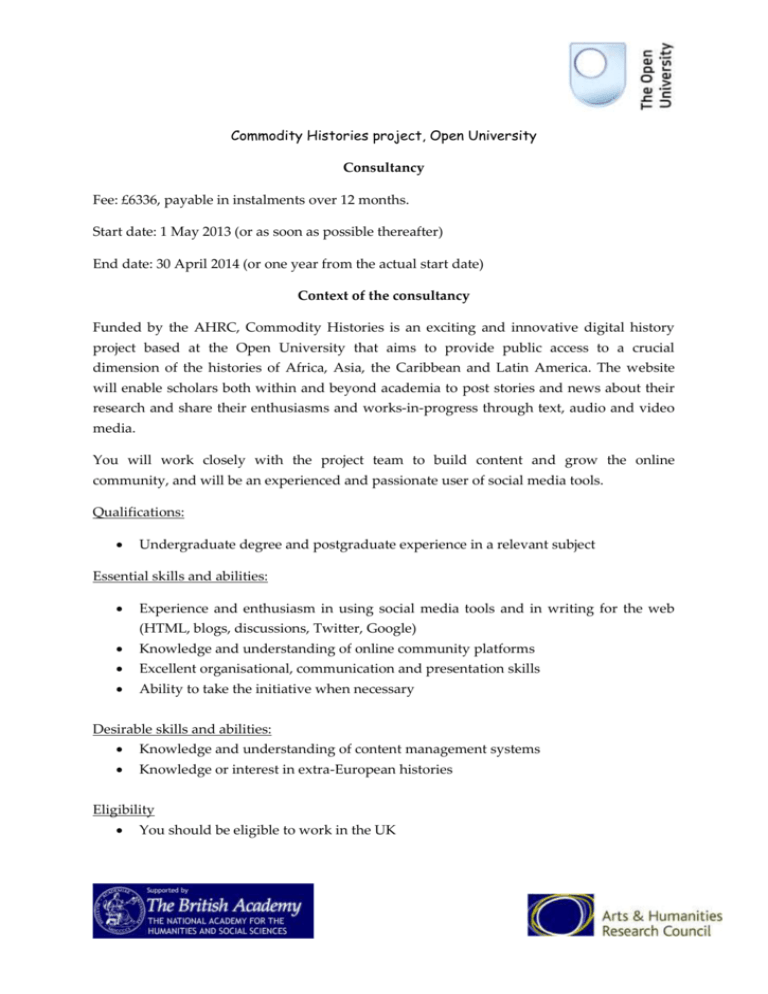 Commodity Histories project, Open University
Consultancy
Fee: £6336, payable in instalments over 12 months.
Start date: 1 May 2013 (or as soon as possible thereafter)
End date: 30 April 2014 (or one year from the actual start date)
Context of the consultancy
Funded by the AHRC, Commodity Histories is an exciting and innovative digital history
project based at the Open University that aims to provide public access to a crucial
dimension of the histories of Africa, Asia, the Caribbean and Latin America. The website
will enable scholars both within and beyond academia to post stories and news about their
research and share their enthusiasms and works-in-progress through text, audio and video
media.
You will work closely with the project team to build content and grow the online
community, and will be an experienced and passionate user of social media tools.
Qualifications:

Undergraduate degree and postgraduate experience in a relevant subject
Essential skills and abilities:

Experience and enthusiasm in using social media tools and in writing for the web
(HTML, blogs, discussions, Twitter, Google)

Knowledge and understanding of online community platforms

Excellent organisational, communication and presentation skills

Ability to take the initiative when necessary
Desirable skills and abilities:

Knowledge and understanding of content management systems

Knowledge or interest in extra-European histories
Eligibility

You should be eligible to work in the UK
Main tasks:

To work closely with the project team to build content and grow the community both
on and off the website

To upload and maintain the website as necessary

To participate, in collaboration with the project team, in the public launch of the
website in the summer of 2013.

To participate in the moderation of the online community so as to facilitate
constructive and productive interaction

To regularly feedback to the team insights gained from community monitoring

To contribute to strategies aimed at the long-term sustainability of the project
You should apply by letter of application stating how your skills and experience match the
requirements set out above. This should be sent to [email protected] by
Friday 22 March 2013. Interviews will be held in April at the Open University in Milton
Keynes.
If you would like to discuss the particulars of this consultancy or for more detailed
information, please contact Dr Sandip Hazareesingh, History Department, Open University
([email protected]) or Dr Jonathan Curry-Machado, School of Advanced
Study, University of London ([email protected]).