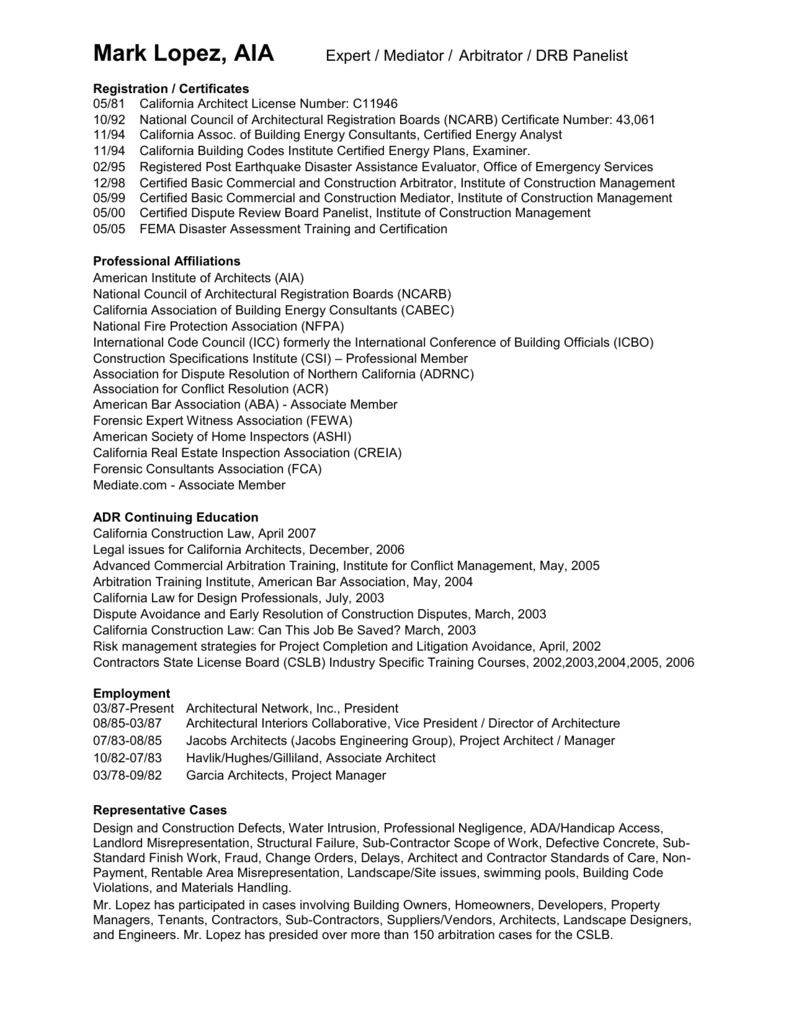 Mark Lopez, AIA
Expert / Mediator / Arbitrator / DRB Panelist
Registration / Certificates
05/81 California Architect License Number: C11946
10/92 National Council of Architectural Registration Boards (NCARB) Certificate Number: 43,061
11/94 California Assoc. of Building Energy Consultants, Certified Energy Analyst
11/94 California Building Codes Institute Certified Energy Plans, Examiner.
02/95 Registered Post Earthquake Disaster Assistance Evaluator, Office of Emergency Services
12/98 Certified Basic Commercial and Construction Arbitrator, Institute of Construction Management
05/99 Certified Basic Commercial and Construction Mediator, Institute of Construction Management
05/00 Certified Dispute Review Board Panelist, Institute of Construction Management
05/05 FEMA Disaster Assessment Training and Certification
Professional Affiliations
American Institute of Architects (AIA)
National Council of Architectural Registration Boards (NCARB)
California Association of Building Energy Consultants (CABEC)
National Fire Protection Association (NFPA)
International Code Council (ICC) formerly the International Conference of Building Officials (ICBO)
Construction Specifications Institute (CSI) – Professional Member
Association for Dispute Resolution of Northern California (ADRNC)
Association for Conflict Resolution (ACR)
American Bar Association (ABA) - Associate Member
Forensic Expert Witness Association (FEWA)
American Society of Home Inspectors (ASHI)
California Real Estate Inspection Association (CREIA)
Forensic Consultants Association (FCA)
Mediate.com - Associate Member
ADR Continuing Education
California Construction Law, April 2007
Legal issues for California Architects, December, 2006
Advanced Commercial Arbitration Training, Institute for Conflict Management, May, 2005
Arbitration Training Institute, American Bar Association, May, 2004
California Law for Design Professionals, July, 2003
Dispute Avoidance and Early Resolution of Construction Disputes, March, 2003
California Construction Law: Can This Job Be Saved? March, 2003
Risk management strategies for Project Completion and Litigation Avoidance, April, 2002
Contractors State License Board (CSLB) Industry Specific Training Courses, 2002,2003,2004,2005, 2006
Employment
03/87-Present
08/85-03/87
07/83-08/85
10/82-07/83
03/78-09/82
Architectural Network, Inc., President
Architectural Interiors Collaborative, Vice President / Director of Architecture
Jacobs Architects (Jacobs Engineering Group), Project Architect / Manager
Havlik/Hughes/Gilliland, Associate Architect
Garcia Architects, Project Manager
Representative Cases
Design and Construction Defects, Water Intrusion, Professional Negligence, ADA/Handicap Access,
Landlord Misrepresentation, Structural Failure, Sub-Contractor Scope of Work, Defective Concrete, SubStandard Finish Work, Fraud, Change Orders, Delays, Architect and Contractor Standards of Care, NonPayment, Rentable Area Misrepresentation, Landscape/Site issues, swimming pools, Building Code
Violations, and Materials Handling.
Mr. Lopez has participated in cases involving Building Owners, Homeowners, Developers, Property
Managers, Tenants, Contractors, Sub-Contractors, Suppliers/Vendors, Architects, Landscape Designers,
and Engineers. Mr. Lopez has presided over more than 150 arbitration cases for the CSLB.