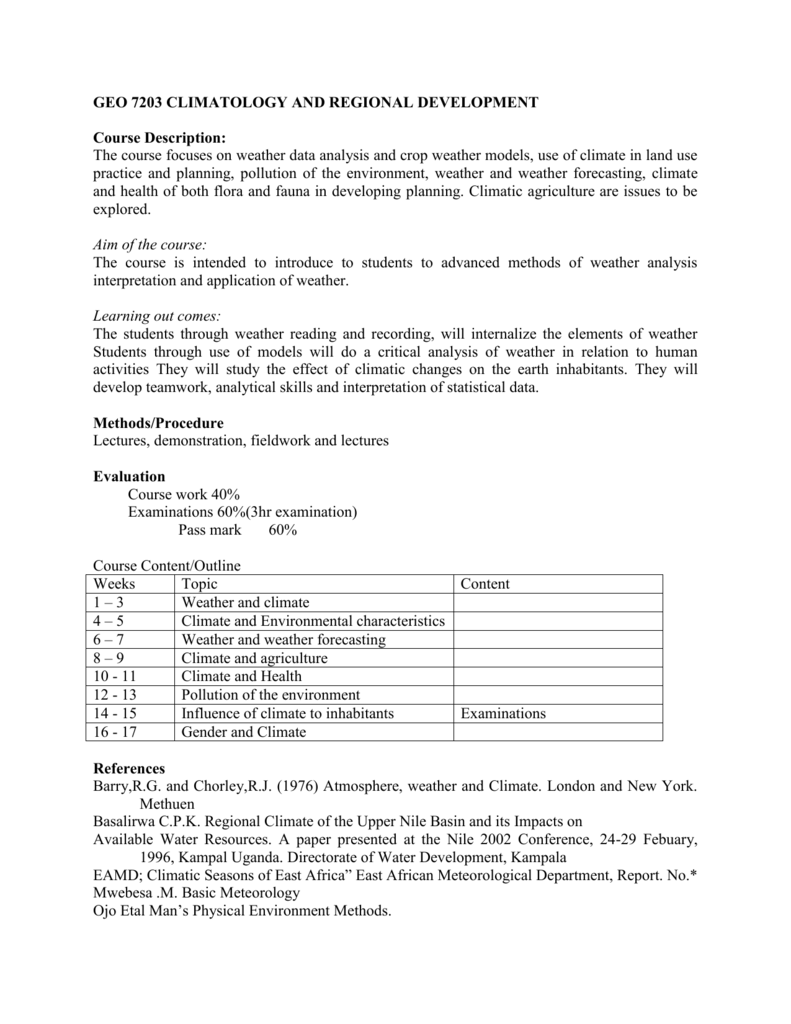 GEO 7203 CLIMATOLOGY AND REGIONAL DEVELOPMENT
Course Description:
The course focuses on weather data analysis and crop weather models, use of climate in land use
practice and planning, pollution of the environment, weather and weather forecasting, climate
and health of both flora and fauna in developing planning. Climatic agriculture are issues to be
explored.
Aim of the course:
The course is intended to introduce to students to advanced methods of weather analysis
interpretation and application of weather.
Learning out comes:
The students through weather reading and recording, will internalize the elements of weather
Students through use of models will do a critical analysis of weather in relation to human
activities They will study the effect of climatic changes on the earth inhabitants. They will
develop teamwork, analytical skills and interpretation of statistical data.
Methods/Procedure
Lectures, demonstration, fieldwork and lectures
Evaluation
Course work 40%
Examinations 60%(3hr examination)
Pass mark
60%
Course Content/Outline
Weeks
Topic
Content
1–3
Weather and climate
4–5
Climate and Environmental characteristics
6–7
Weather and weather forecasting
8–9
Climate and agriculture
10 - 11
Climate and Health
12 - 13
Pollution of the environment
14 - 15
Influence of climate to inhabitants
Examinations
16 - 17
Gender and Climate
References
Barry,R.G. and Chorley,R.J. (1976) Atmosphere, weather and Climate. London and New York.
Methuen
Basalirwa C.P.K. Regional Climate of the Upper Nile Basin and its Impacts on
Available Water Resources. A paper presented at the Nile 2002 Conference, 24-29 Febuary,
1996, Kampal Uganda. Directorate of Water Development, Kampala
EAMD; Climatic Seasons of East Africa" East African Meteorological Department, Report. No.*
Mwebesa .M. Basic Meteorology
Ojo Etal Man's Physical Environment Methods.
Rowntree .L. M. Price .M. Wycliff W. (2000) Diversity Amid Globalization New Jersey Printice
Hall.
Marshidi .N. P (1995) Services and Space Singapore Longman
Knox. P. Pinch .S. (2000) Urban social Geography Herlow Pearson Prentice Hall.
Schry .F. (1999) Governing in Europe Oxford, Oxford University Press.
Dijkink A and Knippenberg .H. (2001) The Territorial Faclar Amsterdam Vossiuspers.
O'conerp. Renting H, German M, Kinsella, J (eds) (2006) Driving Rural Development Policy
and Practice in Seven European countries. Assen Royal van Gorcum.
Mustard S, Salet W (eds) 2003) Amsterdam Human Capital Amsterdam,
Amsterdam
University Press.
UNDP (2001) Human Development Report 2001 New York Oxford University Press.
Taylor P and Flint C. (2000) Political Geography London, Pearson Prentice Hall.
Clarke P, Creng .P. and Goodwin .M. (eds) (2005) Introducing Human geographies. London
Hodder Arnold.
Bosveld W. (1966) The Ageing of Fertility in Europe Amsterdam PDO1) Publishers.
Jaquette J.S. and Summerfield .G. (eds) 2006. Women Gender Equity in Development. Theory
and Practice. London Duke University Press.