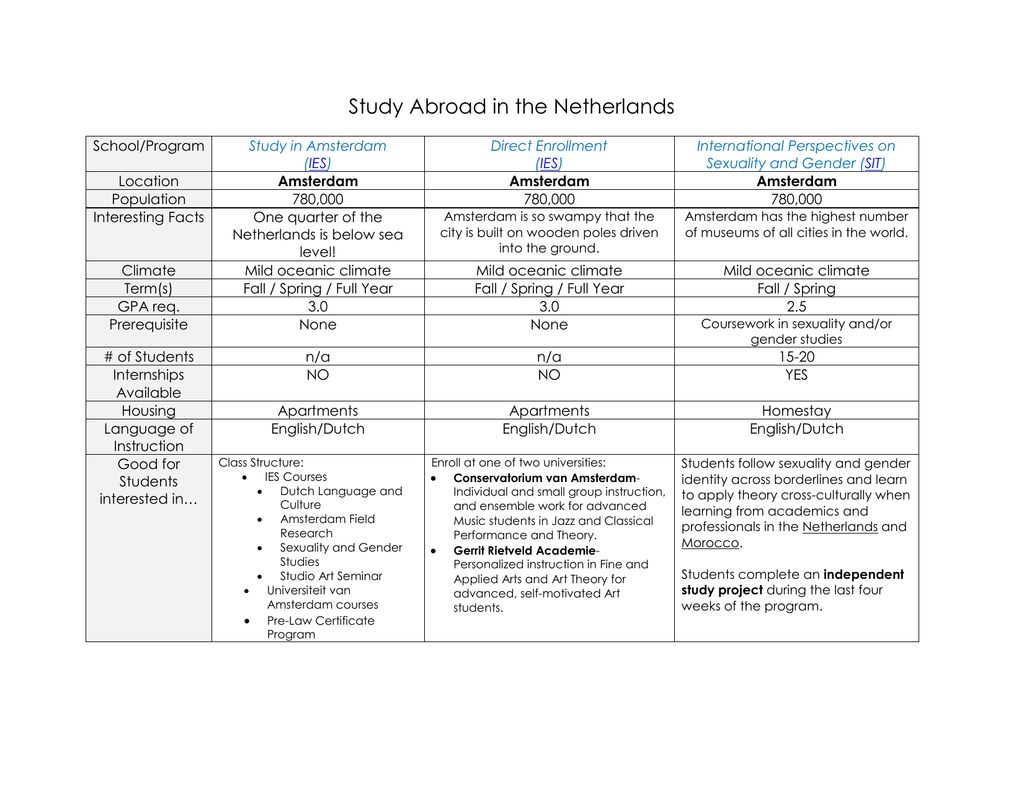 Study Abroad in the Netherlands
School/Program
Location
Population
Interesting Facts
Climate
Term(s)
GPA req.
Prerequisite
# of Students
Internships
Available
Housing
Language of
Instruction
Good for
Students
interested in…
Study in Amsterdam
(IES)
Amsterdam
780,000
One quarter of the
Netherlands is below sea
level!
Mild oceanic climate
Fall / Spring / Full Year
3.0
None
Amsterdam is so swampy that the
city is built on wooden poles driven
into the ground.
Amsterdam has the highest number
of museums of all cities in the world.
Mild oceanic climate
Fall / Spring / Full Year
3.0
None
Mild oceanic climate
Fall / Spring
2.5
n/a
NO
n/a
NO
Apartments
English/Dutch
Apartments
English/Dutch
Homestay
English/Dutch
Enroll at one of two universities:
Conservatorium van AmsterdamIndividual and small group instruction,
and ensemble work for advanced
Music students in Jazz and Classical
Performance and Theory.
• Gerrit Rietveld AcademiePersonalized instruction in Fine and
Applied Arts and Art Theory for
advanced, self-motivated Art
students.
Students follow sexuality and gender
identity across borderlines and learn
to apply theory cross-culturally when
learning from academics and
professionals in the Netherlands and
Morocco.
Class Structure:
•
IES Courses
•
Dutch Language and
Culture
•
Amsterdam Field
Research
•
Sexuality and Gender
Studies
•
Studio Art Seminar
•
Universiteit van
Amsterdam courses
• Pre-Law Certificate
Program
Direct Enrollment
(IES)
Amsterdam
780,000
•
International Perspectives on
Sexuality and Gender (SIT)
Amsterdam
780,000
Coursework in sexuality and/or
gender studies
15-20
YES
Students complete an independent
study project during the last four
weeks of the program.