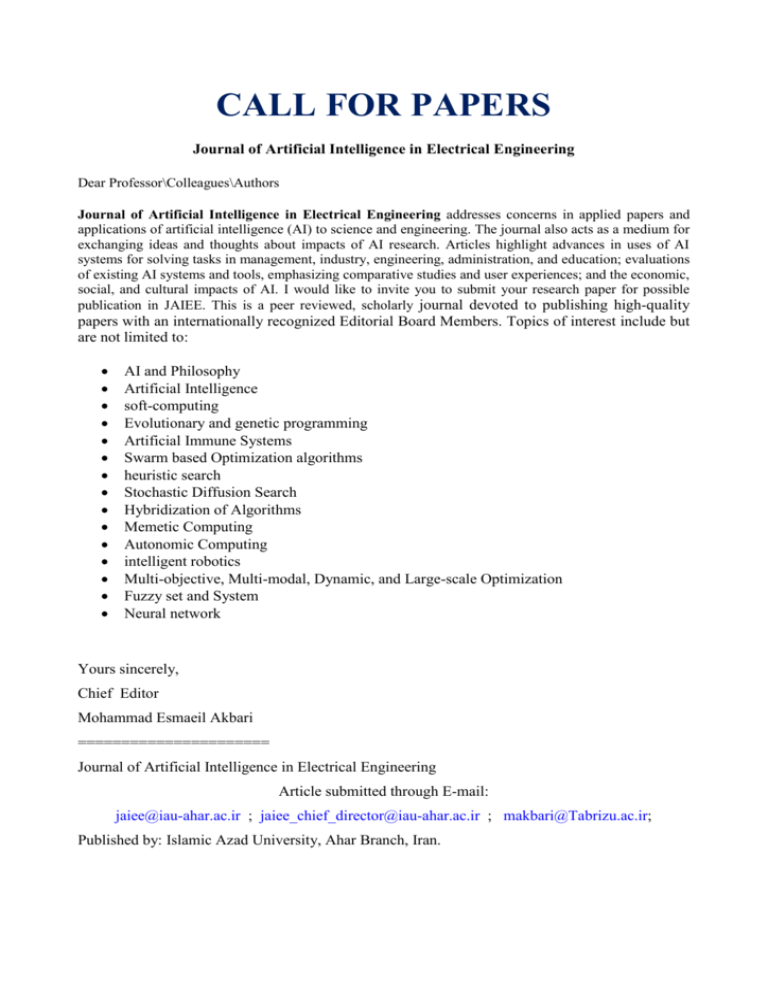 CALL FOR PAPERS
Journal of Artificial Intelligence in Electrical Engineering
Dear Professor\Colleagues\Authors
Journal of Artificial Intelligence in Electrical Engineering addresses concerns in applied papers and
applications of artificial intelligence (AI) to science and engineering. The journal also acts as a medium for
exchanging ideas and thoughts about impacts of AI research. Articles highlight advances in uses of AI
systems for solving tasks in management, industry, engineering, administration, and education; evaluations
of existing AI systems and tools, emphasizing comparative studies and user experiences; and the economic,
social, and cultural impacts of AI. I would like to invite you to submit your research paper for possible
publication in JAIEE. This is a peer reviewed, scholarly journal devoted to publishing high-quality
papers with an internationally recognized Editorial Board Members. Topics of interest include but
are not limited to:















AI and Philosophy
Artificial Intelligence
soft-computing
Evolutionary and genetic programming
Artificial Immune Systems
Swarm based Optimization algorithms
heuristic search
Stochastic Diffusion Search
Hybridization of Algorithms
Memetic Computing
Autonomic Computing
intelligent robotics
Multi-objective, Multi-modal, Dynamic, and Large-scale Optimization
Fuzzy set and System
Neural network
Yours sincerely,
Chief Editor
Mohammad Esmaeil Akbari
======================
Journal of Artificial Intelligence in Electrical Engineering
Article submitted through E-mail:
jaiee@iau-ahar.ac.ir ; jaiee_chief_director@iau-ahar.ac.ir ; makbari@Tabrizu.ac.ir;
Published by: Islamic Azad University, Ahar Branch, Iran.