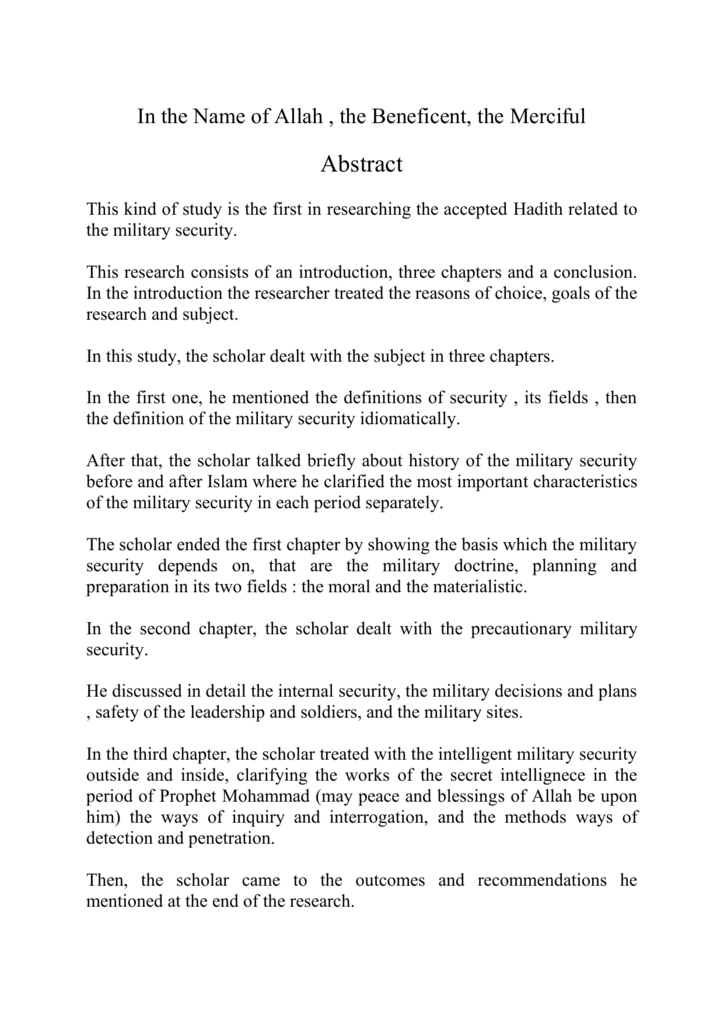 In the Name of Allah , the Beneficent, the Merciful
Abstract
This kind of study is the first in researching the accepted Hadith related to
the military security.
This research consists of an introduction, three chapters and a conclusion.
In the introduction the researcher treated the reasons of choice, goals of the
research and subject.
In this study, the scholar dealt with the subject in three chapters.
In the first one, he mentioned the definitions of security , its fields , then
the definition of the military security idiomatically.
After that, the scholar talked briefly about history of the military security
before and after Islam where he clarified the most important characteristics
of the military security in each period separately.
The scholar ended the first chapter by showing the basis which the military
security depends on, that are the military doctrine, planning and
preparation in its two fields : the moral and the materialistic.
In the second chapter, the scholar dealt with the precautionary military
security.
He discussed in detail the internal security, the military decisions and plans
, safety of the leadership and soldiers, and the military sites.
In the third chapter, the scholar treated with the intelligent military security
outside and inside, clarifying the works of the secret intellignece in the
period of Prophet Mohammad (may peace and blessings of Allah be upon
him) the ways of inquiry and interrogation, and the methods ways of
detection and penetration.
Then, the scholar came to the outcomes and recommendations he
mentioned at the end of the research.