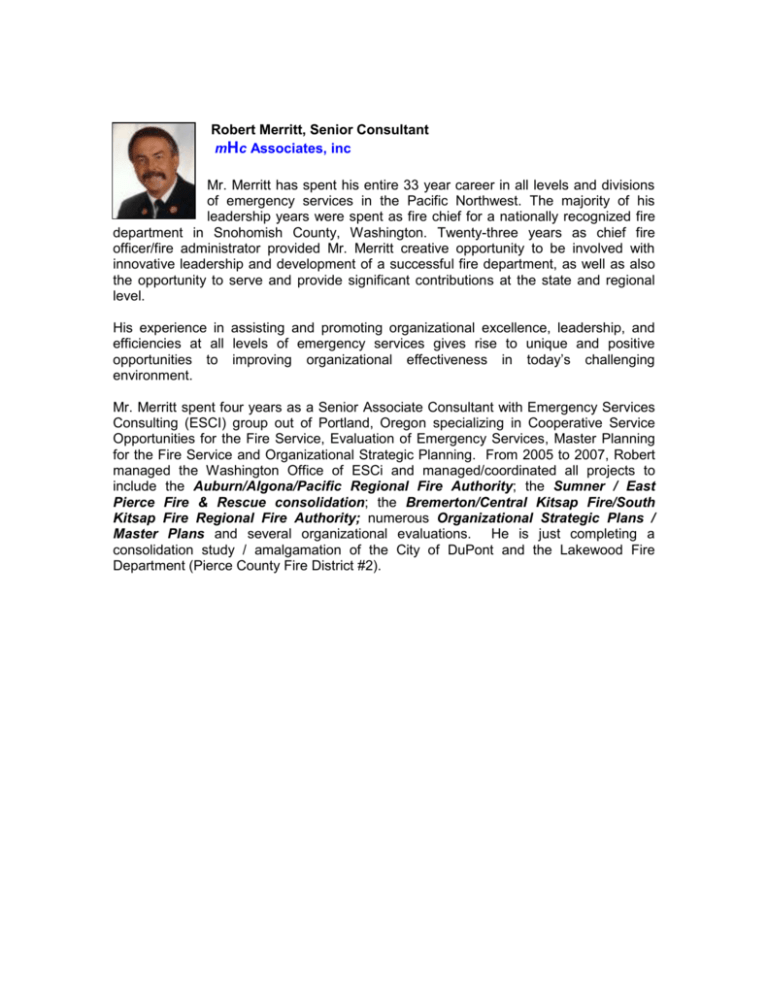 Robert Merritt, Senior Consultant
mHc Associates, inc
Mr. Merritt has spent his entire 33 year career in all levels and divisions
of emergency services in the Pacific Northwest. The majority of his
leadership years were spent as fire chief for a nationally recognized fire
department in Snohomish County, Washington. Twenty-three years as chief fire
officer/fire administrator provided Mr. Merritt creative opportunity to be involved with
innovative leadership and development of a successful fire department, as well as also
the opportunity to serve and provide significant contributions at the state and regional
level.
His experience in assisting and promoting organizational excellence, leadership, and
efficiencies at all levels of emergency services gives rise to unique and positive
opportunities to improving organizational effectiveness in today's challenging
environment.
Mr. Merritt spent four years as a Senior Associate Consultant with Emergency Services
Consulting (ESCI) group out of Portland, Oregon specializing in Cooperative Service
Opportunities for the Fire Service, Evaluation of Emergency Services, Master Planning
for the Fire Service and Organizational Strategic Planning. From 2005 to 2007, Robert
managed the Washington Office of ESCi and managed/coordinated all projects to
include the Auburn/Algona/Pacific Regional Fire Authority; the Sumner / East
Pierce Fire & Rescue consolidation; the Bremerton/Central Kitsap Fire/South
Kitsap Fire Regional Fire Authority; numerous Organizational Strategic Plans /
Master Plans and several organizational evaluations. He is just completing a
consolidation study / amalgamation of the City of DuPont and the Lakewood Fire
Department (Pierce County Fire District #2).