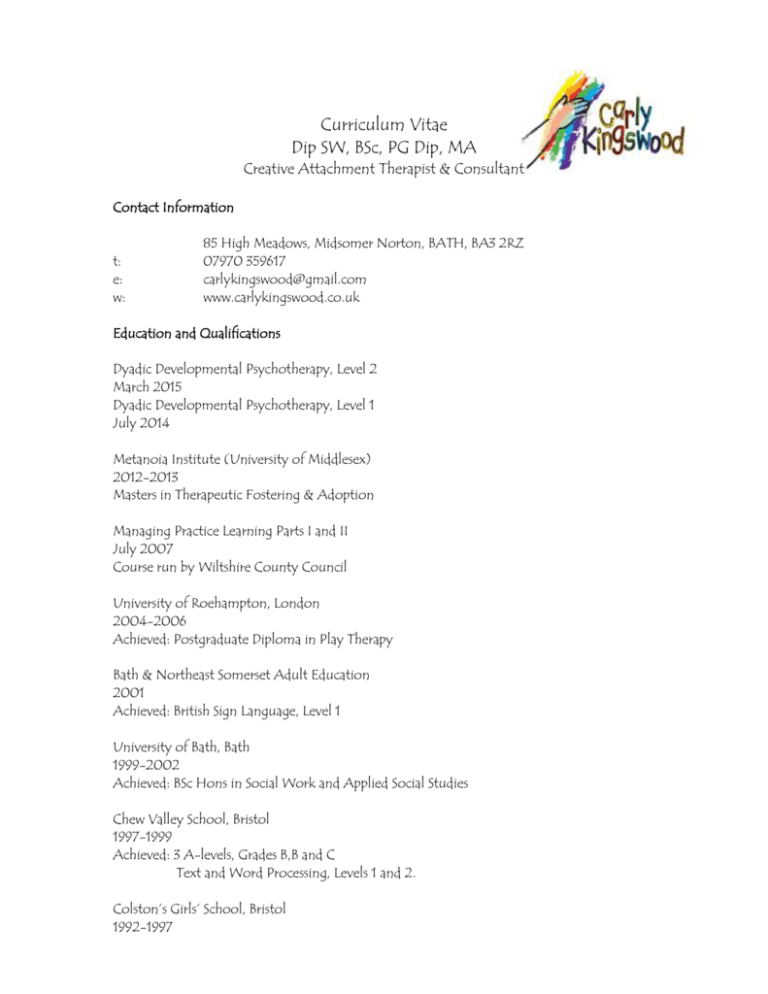 Curriculum Vitae
Dip SW, BSc, PG Dip, MA
Creative Attachment Therapist & Consultant
Contact Information
t:
e:
w:
85 High Meadows, Midsomer Norton, BATH, BA3 2RZ
07970 359617
carlykingswood@gmail.com
www.carlykingswood.co.uk
Education and Qualifications
Dyadic Developmental Psychotherapy, Level 2
March 2015
Dyadic Developmental Psychotherapy, Level 1
July 2014
Metanoia Institute (University of Middlesex)
2012-2013
Masters in Therapeutic Fostering & Adoption
Managing Practice Learning Parts I and II
July 2007
Course run by Wiltshire County Council
University of Roehampton, London
2004-2006
Achieved: Postgraduate Diploma in Play Therapy
Bath & Northeast Somerset Adult Education
2001
Achieved: British Sign Language, Level 1
University of Bath, Bath
1999-2002
Achieved: BSc Hons in Social Work and Applied Social Studies
Chew Valley School, Bristol
1997-1999
Achieved: 3 A-levels, Grades B,B and C
Text and Word Processing, Levels 1 and 2.
Colston's Girls' School, Bristol
1992-1997
Achieved: 9 GCSEs, Grades A*, A and B.
Other Training
I have undertaken further training in the fields of trauma, separation and loss, attachment and
therapeutic foster caring with BAPT, The Centre for Child Mental Health, Capstone Foster
Care, Kate Cairns Associates, TAG and Janina Fisher.
Professional Body Memberships
British Association of Counsellors & Psychotherapists (BACP)
The Fostering Network
BAAF
PTUK
Work Experience
2006 - Present: Free lance Therapy & Consultancy work. This includes work with children
who have been abused and/or neglected, both long term work and time-limited
interventions. Many of the children with whom I work have suffered loss and have
attachment difficulties or disorders. My work allows them to explore historical experiences,
their feelings about these and make sense of them, empowering the child to move forward in
their views of themselves and of the significant relationships in their life. It also includes
liaison or direct work with the families of children who are in therapy in an attempt to build
attachment bonds between children and their carers. Consultation is with parents/carers and
professionals for therapeutic planning and considering what might be going on in the child's
inner world.
April 2010 – Present: Therapeutic Foster Parent
June 2010 – July 2014: Family Therapist at Catchpoint. In this role I work with a specialised
team with extensive experience in the field of attachment, trauma and adoption. We offer
therapeutic support to families of adopted and long-term placed children and assessments of
attachment and therapeutic needs. www.catchpoint.org
Sept 2009 – May 2010: Assistant Team Manager. Children & Families Locality Team in Bath
and Northeast Somerset. Temporary contract involving a mixture of caseholding and
supervising other Social Workers in the team.
March 2009 – Present: Independent Supervisor. Supervising groups or individual
professionals working with children, adolescents and families. This includes Play Therapy
Students.
Sept 2007 – Sept 2009: Practice Teaching. Supervising, teaching and assessing Social Work
Students on placement. I supervised around 3 students per year from Bristol University, Bath
University and Wiltshire College.
Nov 2005 - Dec 2006: Play Therapy Placements - B&NES Social Services and Barnardos
Family Centre, Midsomer Norton.
Work with children around attachment disorders/difficulties, extreme global delay, victims of
sexual and emotional abuse, victims of neglect and those who have experienced and are
struggling to cope with loss, bereavement, parental separation and domestic violence.
Oct 2002 – July 2006: Bath and Northeast Somerset Social Services, Child Protection Social
Work (full-time).
This included work with very vulnerable and challenging children and their families in both
the Referral & Assessment Team and the Long Term Team. I balanced risk and needs and,
with the use of supervision, make judgements about that risk and took appropriate action
within the financial and circumstantial constraints of each individual case and the department
as a whole. I identified and delivered packages of provision in order to meet that need and/or
reduce risk. This included court work and direct work with children to ascertain their feelings
and needs.
2002: Wiltshire Social Services, job split between Social Work and Family Support Work
(full-time, temporary contract).
Here I worked as a duty intake Social Worker, taking referrals and carrying out initial
Assessments and referrals. In the Family Support Team I co-ordinated summer activities for
children and young people in West Wiltshire. I gained information about the needs of
children to me referred and provided a package of care to meet those needs within budget and
resource constraints. I also carried out direct group and individual work with the most
challenging of these children to support families and foster carers over the summer break and
to provide these children with safe, stimulating environment.
1996 – 2001: Part-time Home Care Assistant plus other part-time jobs.
Voluntary Experience
This has included work with adults with learning disabilities, group work with children and
adolescents both in a Sunday School setting and in running summer activities and community
projects.
Present Approach to Therapeutic Work
I work with traumatised children and their families in the context of foster or kinship care or
adoption. Therapeutic work is usually done with parent's full participation in sessions. I work
to an attachment and trauma recovery model and draw on approaches including PACE,
mentalisation & TB-CBT.
I have a DBS check, am fully insured and have a full business use driving licence.
Personal Interests
I enjoy films and reading and regularly run and swim.