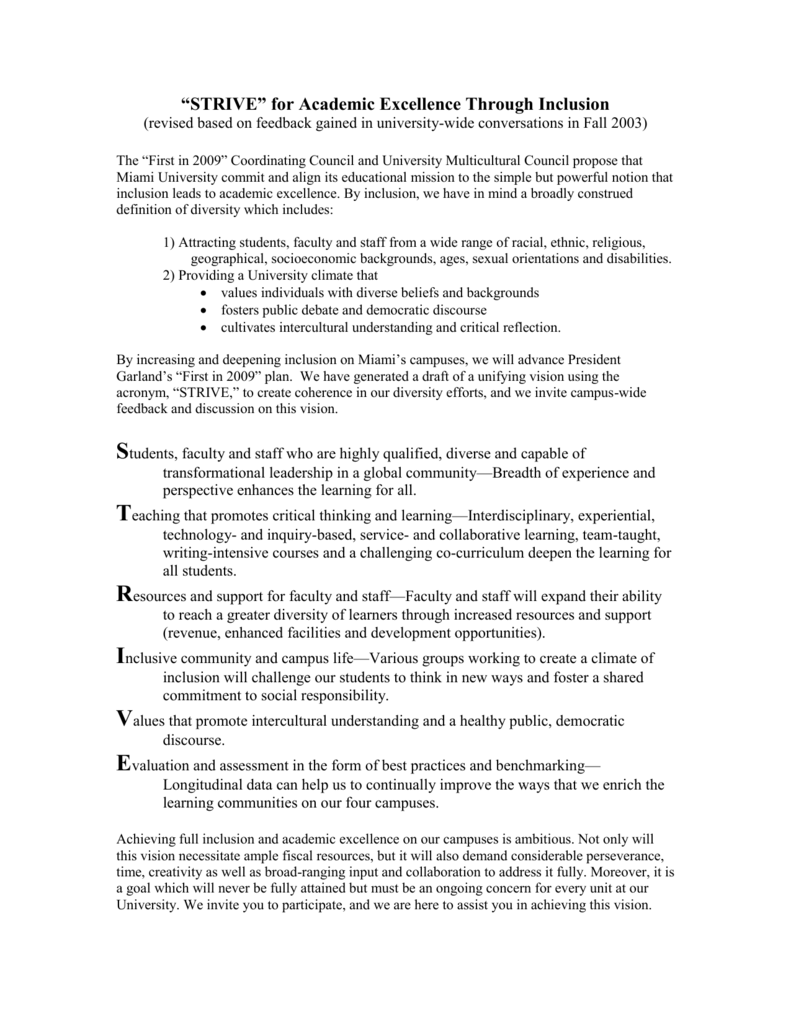 "STRIVE" for Academic Excellence Through Inclusion
(revised based on feedback gained in university-wide conversations in Fall 2003)
The "First in 2009" Coordinating Council and University Multicultural Council propose that
Miami University commit and align its educational mission to the simple but powerful notion that
inclusion leads to academic excellence. By inclusion, we have in mind a broadly construed
definition of diversity which includes:
1) Attracting students, faculty and staff from a wide range of racial, ethnic, religious,
geographical, socioeconomic backgrounds, ages, sexual orientations and disabilities.
2) Providing a University climate that
 values individuals with diverse beliefs and backgrounds
 fosters public debate and democratic discourse
 cultivates intercultural understanding and critical reflection.
By increasing and deepening inclusion on Miami's campuses, we will advance President
Garland's "First in 2009" plan. We have generated a draft of a unifying vision using the
acronym, "STRIVE," to create coherence in our diversity efforts, and we invite campus-wide
feedback and discussion on this vision.
Students, faculty and staff who are highly qualified, diverse and capable of
transformational leadership in a global community—Breadth of experience and
perspective enhances the learning for all.
Teaching that promotes critical thinking and learning—Interdisciplinary, experiential,
technology- and inquiry-based, service- and collaborative learning, team-taught,
writing-intensive courses and a challenging co-curriculum deepen the learning for
all students.
Resources and support for faculty and staff—Faculty and staff will expand their ability
to reach a greater diversity of learners through increased resources and support
(revenue, enhanced facilities and development opportunities).
Inclusive community and campus life—Various groups working to create a climate of
inclusion will challenge our students to think in new ways and foster a shared
commitment to social responsibility.
Values that promote intercultural understanding and a healthy public, democratic
discourse.
Evaluation and assessment in the form of best practices and benchmarking—
Longitudinal data can help us to continually improve the ways that we enrich the
learning communities on our four campuses.
Achieving full inclusion and academic excellence on our campuses is ambitious. Not only will
this vision necessitate ample fiscal resources, but it will also demand considerable perseverance,
time, creativity as well as broad-ranging input and collaboration to address it fully. Moreover, it is
a goal which will never be fully attained but must be an ongoing concern for every unit at our
University. We invite you to participate, and we are here to assist you in achieving this vision.