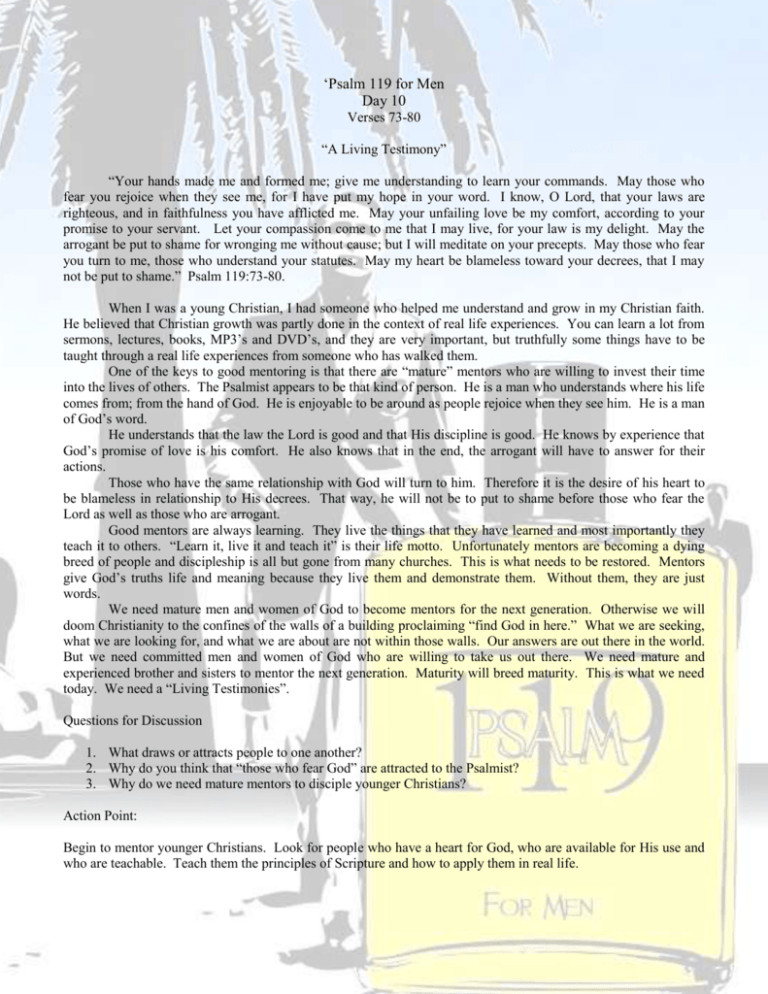 'Psalm 119 for Men
Day 10
Verses 73-80
"A Living Testimony"
"Your hands made me and formed me; give me understanding to learn your commands. May those who
fear you rejoice when they see me, for I have put my hope in your word. I know, O Lord, that your laws are
righteous, and in faithfulness you have afflicted me. May your unfailing love be my comfort, according to your
promise to your servant. Let your compassion come to me that I may live, for your law is my delight. May the
arrogant be put to shame for wronging me without cause; but I will meditate on your precepts. May those who fear
you turn to me, those who understand your statutes. May my heart be blameless toward your decrees, that I may
not be put to shame." Psalm 119:73-80.
When I was a young Christian, I had someone who helped me understand and grow in my Christian faith.
He believed that Christian growth was partly done in the context of real life experiences. You can learn a lot from
sermons, lectures, books, MP3's and DVD's, and they are very important, but truthfully some things have to be
taught through a real life experiences from someone who has walked them.
One of the keys to good mentoring is that there are "mature" mentors who are willing to invest their time
into the lives of others. The Psalmist appears to be that kind of person. He is a man who understands where his life
comes from; from the hand of God. He is enjoyable to be around as people rejoice when they see him. He is a man
of God's word.
He understands that the law the Lord is good and that His discipline is good. He knows by experience that
God's promise of love is his comfort. He also knows that in the end, the arrogant will have to answer for their
actions.
Those who have the same relationship with God will turn to him. Therefore it is the desire of his heart to
be blameless in relationship to His decrees. That way, he will not be to put to shame before those who fear the
Lord as well as those who are arrogant.
Good mentors are always learning. They live the things that they have learned and most importantly they
teach it to others. "Learn it, live it and teach it" is their life motto. Unfortunately mentors are becoming a dying
breed of people and discipleship is all but gone from many churches. This is what needs to be restored. Mentors
give God's truths life and meaning because they live them and demonstrate them. Without them, they are just
words.
We need mature men and women of God to become mentors for the next generation. Otherwise we will
doom Christianity to the confines of the walls of a building proclaiming "find God in here." What we are seeking,
what we are looking for, and what we are about are not within those walls. Our answers are out there in the world.
But we need committed men and women of God who are willing to take us out there. We need mature and
experienced brother and sisters to mentor the next generation. Maturity will breed maturity. This is what we need
today. We need a "Living Testimonies".
Questions for Discussion
1. What draws or attracts people to one another?
2. Why do you think that "those who fear God" are attracted to the Psalmist?
3. Why do we need mature mentors to disciple younger Christians?
Action Point:
Begin to mentor younger Christians. Look for people who have a heart for God, who are available for His use and
who are teachable. Teach them the principles of Scripture and how to apply them in real life.