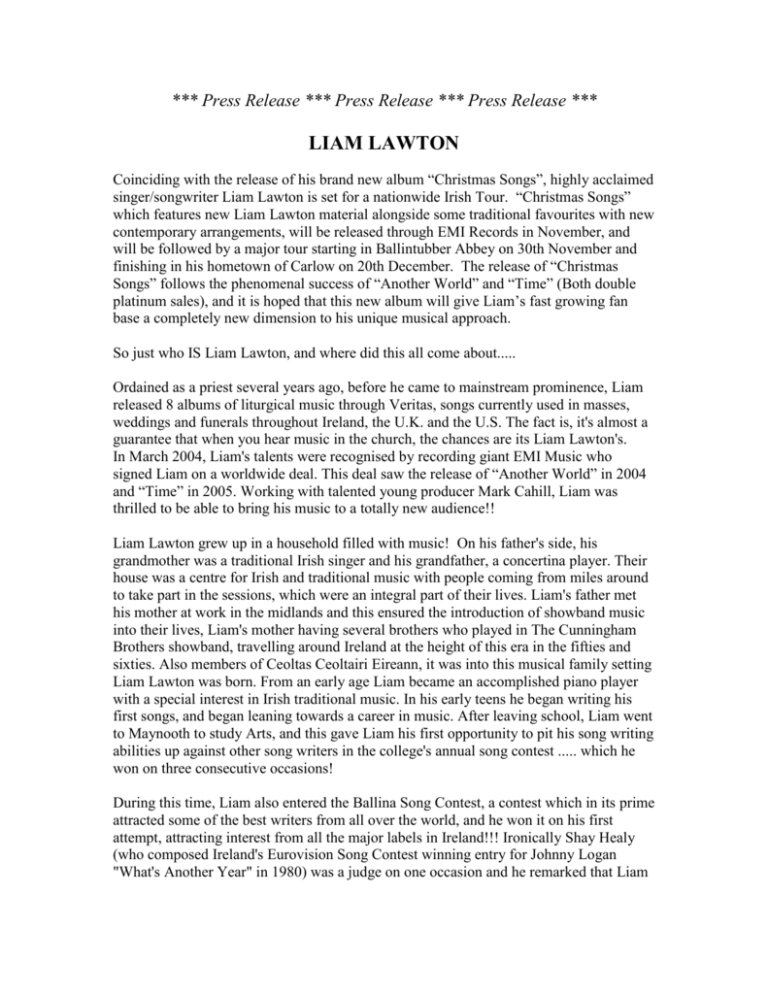 *** Press Release *** Press Release *** Press Release ***
LIAM LAWTON
Coinciding with the release of his brand new album "Christmas Songs", highly acclaimed
singer/songwriter Liam Lawton is set for a nationwide Irish Tour. "Christmas Songs"
which features new Liam Lawton material alongside some traditional favourites with new
contemporary arrangements, will be released through EMI Records in November, and
will be followed by a major tour starting in Ballintubber Abbey on 30th November and
finishing in his hometown of Carlow on 20th December. The release of "Christmas
Songs" follows the phenomenal success of "Another World" and "Time" (Both double
platinum sales), and it is hoped that this new album will give Liam's fast growing fan
base a completely new dimension to his unique musical approach.
So just who IS Liam Lawton, and where did this all come about.....
Ordained as a priest several years ago, before he came to mainstream prominence, Liam
released 8 albums of liturgical music through Veritas, songs currently used in masses,
weddings and funerals throughout Ireland, the U.K. and the U.S. The fact is, it's almost a
guarantee that when you hear music in the church, the chances are its Liam Lawton's.
In March 2004, Liam's talents were recognised by recording giant EMI Music who
signed Liam on a worldwide deal. This deal saw the release of "Another World" in 2004
and "Time" in 2005. Working with talented young producer Mark Cahill, Liam was
thrilled to be able to bring his music to a totally new audience!!
Liam Lawton grew up in a household filled with music! On his father's side, his
grandmother was a traditional Irish singer and his grandfather, a concertina player. Their
house was a centre for Irish and traditional music with people coming from miles around
to take part in the sessions, which were an integral part of their lives. Liam's father met
his mother at work in the midlands and this ensured the introduction of showband music
into their lives, Liam's mother having several brothers who played in The Cunningham
Brothers showband, travelling around Ireland at the height of this era in the fifties and
sixties. Also members of Ceoltas Ceoltairi Eireann, it was into this musical family setting
Liam Lawton was born. From an early age Liam became an accomplished piano player
with a special interest in Irish traditional music. In his early teens he began writing his
first songs, and began leaning towards a career in music. After leaving school, Liam went
to Maynooth to study Arts, and this gave Liam his first opportunity to pit his song writing
abilities up against other song writers in the college's annual song contest ..... which he
won on three consecutive occasions!
During this time, Liam also entered the Ballina Song Contest, a contest which in its prime
attracted some of the best writers from all over the world, and he won it on his first
attempt, attracting interest from all the major labels in Ireland!!! Ironically Shay Healy
(who composed Ireland's Eurovision Song Contest winning entry for Johnny Logan
"What's Another Year" in 1980) was a judge on one occasion and he remarked that Liam
Lawton was destined for a career in music!! And just when he had the music world at his
feet, Liam Lawton gave it all up to be ordained as a priest.
For the next seven years, Liam devoted himself to the church and pastoral work in
Carlow town, a provincial town about two hours southwest of Dublin, not leaving much
time to pursue his interest in music.
Liam Lawton's return to music came about when the organisers of the Arts Festival in
Carlow at the last minute found themselves without their special guest performer Peadar
O'Riada, and asked Liam if he would stand in and play some of Peadar's material. Liam
said he would but would prefer to play his own if possible. The committee agreed and
thus Liam Lawton gave his first public performance in seven years! This convinced Liam
to take up his music career again!! Following this, an Bord Gaeilge (The Irish Board)
gave him his first grant to record a collection of his liturgical music in Irish, which they
distributed through Veritas Religious Music Store in Dublin. Veritas then set up a deal
with Liam to record an album of his music in English, and which went on to become one
of their best ever sellers!! Other artists began to pick up on Liam's songs at this stage,
including the Vard Sisters who included three of Liam's tracks on their Sony Music
multi-platinum selling debut album "Heavenly".
Liam returned to Carlow to do a hDip in teaching, spending his weekends writing and
recording music. In 1996, Liam was commissioned by Trocaire to write a music piece
commemorating the 150th anniversary of the Irish Famine. This beautiful piece of music
"The Darkest Hour" was brought to the attention of the World Health Organisation in the
US. Liam performed this song at the opening of a special commemoration exhibition of
the Irish famine in Minneapolis, and this led to him being offered a publishing deal by
GIA, a major Christian music publishing company who loved Liam's liturgical music
writing. By the end of 1997, Liam's music was being performed in such diverse venues
across the US as the White House and St Patricks Cathedral and all the way to
Hollywood. Liam also began performing more and more in the US, including headlining
a Christian music festival in Anaheim California in front of 20,000 people.
Liam also has a huge love of classical music, and five years ago, Liam wrote an
orchestral work based on the life of St Patrick, performed by the Chicago Symphony
Orchestra in March 2002. It was narrated by actor Gregory Peck, and afterwards, after
swapping phone numbers, Gregory told Liam he would love the opportunity to work with
Liam again, so blown away was he with the music. Unfortunately, he never got the
chance as Gregory Peck passed away a few months later. March 2005 saw Liam return to
Chicago to again perform with the Chicago Symphony Orchestra with an orchestral work
based on the life of St Kevin, this time with highly acclaimed actor John Malkovich
doing the narrating.
In September 2001, after the Twin Towers tragedy, the GIA got calls from organisations
looking for a piece of music that people could relate to in their hour of need. They gave
Liam's song "The Cloud's Veil" which included the lyrics "When the dark clouds veil the
sky, you are by my side". Within one hour of setting up the website with the free
download, the song had been downloaded 1,000 times. The song became a focus for the
mourning the country found itself plunged into, and was performed at memorial services
nationwide. Around this time, Liam decided to take a career break from teaching to do a
Masters Degree in World Music, studying under Micheal O'Suilleabhain, with which he
emerged with first class honours.
After the release of "Another World", under the direction of Mark Cahill, Liam put
together a very talented group to tour with him. For those who have never seen Liam
perform…a Liam Lawton live concert is both a visual and aural experience. He has
gotten a standing ovation every single night as his charismatic style and approach reaches
out to give people a spiritual experience they will never forget.
Just before Christmas 2005, Liam's "Live In Concert" DVD was screened on the PBS
Television Network right across the US to rave reviews. And in August 2006 he took
part in a very special project – Song Of The Celtic Soul – an open air concert spectacular
which took place over two nights in Dublin's Docklands and was recorded for DVD/CD
release into the US and Worldwide markets in 2007. This uniquely special event, with
guests Roisin O'Reilly and boy soprano Joseph McManners, featured the full Irish Film
Orchestra and Chorus along with traditional Irish instruments, and was truly spectacular
and enjoyed by all who attended. The orchestral arrangements were done by the worldrenowned composer and arranger Nick Ingman (Shakespeare In Love, Cold Mountain,
Billy Elliot, Finding Neverland etc).
Placing a huge emphasis on melody with lyrics to touch your soul....very cinematic and
melodic, Liam's music could best be described as spiritual celtic music for the soul. For
those who have never seen Liam perform....a Liam Lawton live concert is both a visual
and aural experience and features various guests from his album at every performance.
He has gotten a standing ovation every single night as his charismatic style and approach
reaches out to give people a spiritual experience they will never forget.