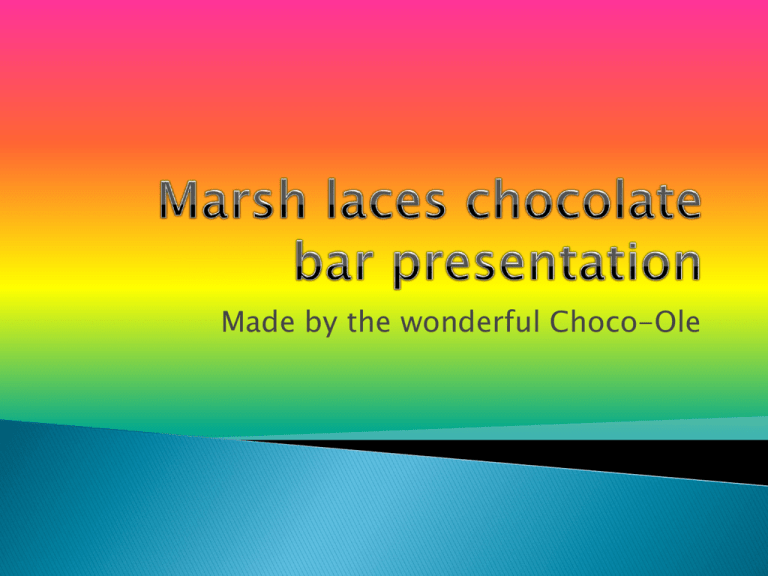 Made by the wonderful Choco-Ole
Our team has a group of strong passionate
people about chocolate. The members are Liam
Boardley, Oliver Brown and Ellie-Jean
Hamonda. Together we are a strong group that
have a wide range of skills for instance Oliver
brings good ideas to the group. Ellie-Jean is
good at design and Liam is god at deciding on
colours for Ellie-Jean's designs.
We have created a heavenly chocolate bar that
adjusts with everybody's taste buds. We
thought together that the flavours of
marshmallow and strawberry laces would like a
treat. Now everybody can enjoy the great taste
of marsh laces.
Choco-Ole are a fun and enthusiastic group of
chocolatiers that are high experienced in your
expectations. The three wonderful group
members of Choco-Ole are: Oliver Brown, Liam
Boardley and Ellie-Jean Hamonda. We all take all
of our time and efforts into our delicious
creamy chocolate. We chose the name for our
group because Choc-Ole sounds like the word
chocolate. Oliver is great and full of ideas, Liam
has great creative ideas and me Ellie-Jean I am
great at design.
We are selling our bar
for 75p witch means we
get 22p profit.
Sales
Ingredie
nts
Labour
Packagin
g
Profit
Hope you enjoy it
Thanks for watching!!!