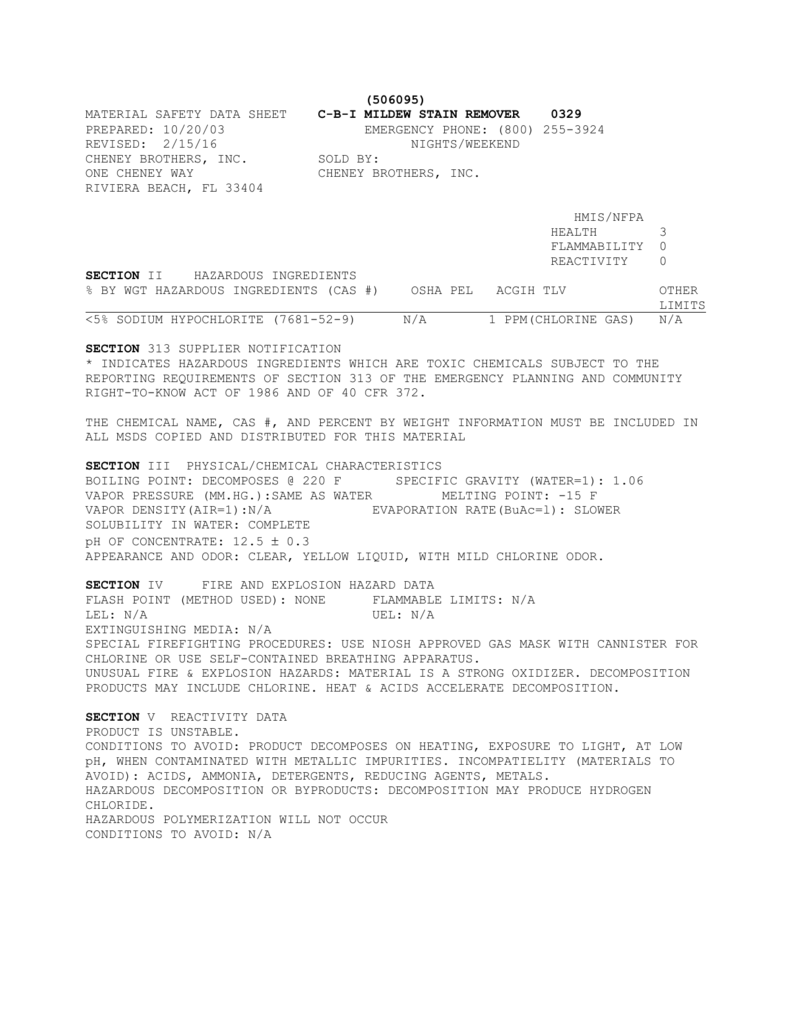 MATERIAL SAFETY DATA SHEET
PREPARED: 10/20/03
REVISED: 2/15/16
CHENEY BROTHERS, INC.
ONE CHENEY WAY
RIVIERA BEACH, FL 33404
(506095)
C-B-I MILDEW STAIN REMOVER
0329
EMERGENCY PHONE: (800) 255-3924
NIGHTS/WEEKEND
SOLD BY:
CHENEY BROTHERS, INC.
HMIS/NFPA
HEALTH
FLAMMABILITY
REACTIVITY
SECTION II
HAZARDOUS INGREDIENTS
% BY WGT HAZARDOUS INGREDIENTS (CAS #)
<5% SODIUM HYPOCHLORITE (7681-52-9)
OSHA PEL
N/A
ACGIH TLV
1 PPM(CHLORINE GAS)
3
0
0
OTHER
LIMITS
N/A
SECTION 313 SUPPLIER NOTIFICATION
* INDICATES HAZARDOUS INGREDIENTS WHICH ARE TOXIC CHEMICALS SUBJECT TO THE
REPORTING REQUIREMENTS OF SECTION 313 OF THE EMERGENCY PLANNING AND COMMUNITY
RIGHT-TO-KNOW ACT OF 1986 AND OF 40 CFR 372.
THE CHEMICAL NAME, CAS #, AND PERCENT BY WEIGHT INFORMATION MUST BE INCLUDED IN
ALL MSDS COPIED AND DISTRIBUTED FOR THIS MATERIAL
SECTION III PHYSICAL/CHEMICAL CHARACTERISTICS
BOILING POINT: DECOMPOSES @ 220 F
SPECIFIC GRAVITY (WATER=1): 1.06
VAPOR PRESSURE (MM.HG.):SAME AS WATER
MELTING POINT: -15 F
VAPOR DENSITY(AIR=1):N/A
EVAPORATION RATE(BuAc=l): SLOWER
SOLUBILITY IN WATER: COMPLETE
pH OF CONCENTRATE: 12.5  0.3
APPEARANCE AND ODOR: CLEAR, YELLOW LIQUID, WITH MILD CHLORINE ODOR.
SECTION IV
FIRE AND EXPLOSION HAZARD DATA
FLASH POINT (METHOD USED): NONE
FLAMMABLE LIMITS: N/A
LEL: N/A
UEL: N/A
EXTINGUISHING MEDIA: N/A
SPECIAL FIREFIGHTING PROCEDURES: USE NIOSH APPROVED GAS MASK WITH CANNISTER FOR
CHLORINE OR USE SELF-CONTAINED BREATHING APPARATUS.
UNUSUAL FIRE & EXPLOSION HAZARDS: MATERIAL IS A STRONG OXIDIZER. DECOMPOSITION
PRODUCTS MAY INCLUDE CHLORINE. HEAT & ACIDS ACCELERATE DECOMPOSITION.
SECTION V REACTIVITY DATA
PRODUCT IS UNSTABLE.
CONDITIONS TO AVOID: PRODUCT DECOMPOSES ON HEATING, EXPOSURE TO LIGHT, AT LOW
pH, WHEN CONTAMINATED WITH METALLIC IMPURITIES. INCOMPATIELITY (MATERIALS TO
AVOID): ACIDS, AMMONIA, DETERGENTS, REDUCING AGENTS, METALS.
HAZARDOUS DECOMPOSITION OR BYPRODUCTS: DECOMPOSITION MAY PRODUCE HYDROGEN
CHLORIDE.
HAZARDOUS POLYMERIZATION WILL NOT OCCUR
CONDITIONS TO AVOID: N/A
MATERIAL SAFETY DATA SHEET
PAGE 2
C-B-I MILDEW STAIN REMOVER
0329
SECTION VI HEALTH HAZARD DATA
ROUTE(S) OF ENTRY:
INHALATION: YES
SKIN: NO
INGESTION: UNLIKELY
HEALTH HAZARDS (ACUTE & CHRONIC):IRRITATING TO SKIN & EYES. CAN RESULT IN EYE
DAMAGE OR CHEMICAL BURNS. CAUSES IRRITATION OF MEMBRANES OF THE MOUTH, THROAT &
STOMACH IF INGESTED. INHALATION OF SPRAY MIST WILL IRRITATE MUCOUS MEMBRANES.
CARCINOGENCITY: NTP: NO
IARC MONGRAPHS: NO
OSHA REGULATED: NO
SIGNS & SYMPTOMS OF EXPOSURE:SKIN OR EYE IRRITATION.
MEDICAL CONDITIONS GENERALLY AGGRAVATED BY EXPOSURE: NONE KNOWN
EMERGENCY AND FIRST AID PROCEDURES
SKIN CONTACT: REMOVE CONTAMINATED CLOTHING, WASH EXPOSED AREA WITH SOAP & WATER.
DO NOT REWEAR CLOTHING UNTIL LAUNDERED.
EYE CONTACT: IMMEDIATELY FLUSH WITH WATER FOR AT LEAST 15 MINS., GET MEDICAL
ATTENTION.
INGESTION: DRINK LARGE QUANTITIES OF MILK OR GELETIN SOLUTION OR IF THESE ARE
NOT AVAILABLE, LARGE QUANTITIES OF WATER. DO NOT INDUCE VOMITING, GET MEDICAL
ATTENTION.
SECTION VII
PRECAUTIONS FOR SAFE HANDLING AND USE
SPILL STEPS: KEEP MATERIAL FROM COMING IN CONTACT WITH ACIDS OR COMBUSTIBLES,
CONTAIN SPILL. PRODUCT IS TOXIC TO FISH. NEUTRALIZE WITH SODIUM SULFITE, SODIUM
BISULFITE OR FERROUS SALT.
WASTE DISPOSAL METHOD: DISPOSE OF IN ACCORDANCE WITH LOCAL, STATE, AND FEDERAL
REGULATIONS.
STORAGE & HANDLING: STORE IN A COOL DRY AREA AWAY FROM ACIDS, SUNLIGHT, AND
COMBUSTIBLES. KEEP CONTAINER CLOSED WHEN NOT IN USE. KEEP OUT OF REACH OF
CHILDREN.
SECTION VIII
CONTROL MEASURES
RESPIRATORY PROTECTION: USE NIOSH APPROVED GAS MASK WITH CHLORINE CANNISTER IF
CHLORINE FUMES ARE PRESENT.
VENTILATION:
LOCAL EXHAUST: AS NECESSARY TO REMOVE CHLORINE ODOR
SPECIAL: N/A
MECHANICAL: N/A
OTHER: N/A
PROTECTIVE GLOVES: RUBBER
EYE PROTECTION: GOGGLES
OTHER PROTECTIVE EQUIP/CLOTHING: BOOTS & IMPERVIOUS CLOTHING AS REQUIRED TO
PREVENT PHYSICAL CONTACT.
WORK/HYGIENIC PRACTICES: KEEP CONTAINER CLOSED WHEN NOT IN USE.
WE BELIEVE ALL INFORMATION GIVEN IS ACCURATE. IT IS OFFERED IN GOOD FAITH, BUT
WITHOUT GUARANTEE. SINCE CONDITIONS ARE BEYOND OUR CONTROL, USER ASSUMES ALL
RESPONSIBLITY AND RISK.