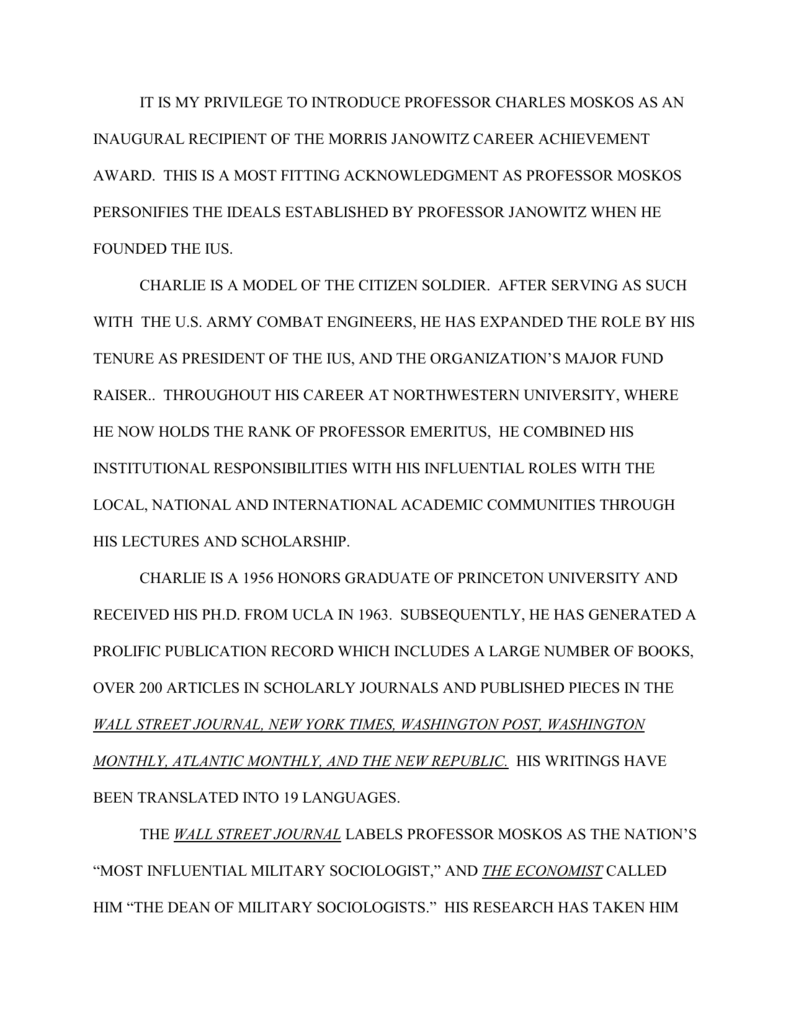 IT IS MY PRIVILEGE TO INTRODUCE PROFESSOR CHARLES MOSKOS AS AN
INAUGURAL RECIPIENT OF THE MORRIS JANOWITZ CAREER ACHIEVEMENT
AWARD. THIS IS A MOST FITTING ACKNOWLEDGMENT AS PROFESSOR MOSKOS
PERSONIFIES THE IDEALS ESTABLISHED BY PROFESSOR JANOWITZ WHEN HE
FOUNDED THE IUS.
CHARLIE IS A MODEL OF THE CITIZEN SOLDIER. AFTER SERVING AS SUCH
WITH THE U.S. ARMY COMBAT ENGINEERS, HE HAS EXPANDED THE ROLE BY HIS
TENURE AS PRESIDENT OF THE IUS, AND THE ORGANIZATION'S MAJOR FUND
RAISER.. THROUGHOUT HIS CAREER AT NORTHWESTERN UNIVERSITY, WHERE
HE NOW HOLDS THE RANK OF PROFESSOR EMERITUS, HE COMBINED HIS
INSTITUTIONAL RESPONSIBILITIES WITH HIS INFLUENTIAL ROLES WITH THE
LOCAL, NATIONAL AND INTERNATIONAL ACADEMIC COMMUNITIES THROUGH
HIS LECTURES AND SCHOLARSHIP.
CHARLIE IS A 1956 HONORS GRADUATE OF PRINCETON UNIVERSITY AND
RECEIVED HIS PH.D. FROM UCLA IN 1963. SUBSEQUENTLY, HE HAS GENERATED A
PROLIFIC PUBLICATION RECORD WHICH INCLUDES A LARGE NUMBER OF BOOKS,
OVER 200 ARTICLES IN SCHOLARLY JOURNALS AND PUBLISHED PIECES IN THE
WALL STREET JOURNAL, NEW YORK TIMES, WASHINGTON POST, WASHINGTON
MONTHLY, ATLANTIC MONTHLY, AND THE NEW REPUBLIC. HIS WRITINGS HAVE
BEEN TRANSLATED INTO 19 LANGUAGES.
THE WALL STREET JOURNAL LABELS PROFESSOR MOSKOS AS THE NATION'S
"MOST INFLUENTIAL MILITARY SOCIOLOGIST," AND THE ECONOMIST CALLED
HIM "THE DEAN OF MILITARY SOCIOLOGISTS." HIS RESEARCH HAS TAKEN HIM
TO COMBAT UNITS IN VIETNAM, PANAMA, SAUDI ARABIA, SOMALIA, HAITI,
BOSNIA, KOSOVO AND IRAQ. TO CITE BUT A FEW REQUESTS OF HIM FOR
IMPORTANT ROLES FROM THE UNITED STATES GOVERNMENT: HE WAS
APPOINTED BY PRESIDENT GEORGE BUSH (SR.) TO THE PRESIDENT'S
COMMISSION ON WOMEN IN THE MILITARY (1992), AND BY THE UNITED STATES
SENATE TO THE COMMISSION ON MILITARY TRAINING AND GENDER-RELATED
ISSUES (1998). IN 1993 HE ADVISED NELSON MANDELA ON WAYS TO RACIALLY
INTEGRATE A POST-APARTHEID MILITARY IN SOUTH AFRICA. IN 1994, PRESIDENT
CLINTON CITED PROFESSOR MOSKOS ON NATIONAL TELEVISION IN
ANNOUNCING THE "DON'T ASK, DON'T TELL " POLICY ON HOMOSEXUALS IN THE
MILITARY, AND AGAIN IN 1996 AS THE INSPIRATION FOR HIS YOUTH SERVICE
PROGRAM. IN 1999, HE SERVED AS THE SPECIAL ADVISOR TO VICE PRESIDENT
GORE'S INTERNATIONAL CONFERENCE ON FIGHTING CORRUPTION WITHIN THE
SECURITY FORCES. IN 2000/01 HE WAS A MEMBER OF THE UNITED STATES
COMMISSION ON NATIONAL SECURITY FOR THE 21ST CENTURY.
CHARLIE'S EXTENSIVE SERVICE HAS RESULTED IN HIS BEING AWARDED A
MEDAL FOR HIS RESEARCH IN DESERT SHIELD/STORM, AND HE HOLDS THE
DISTINGUISHED SERVICE AWARD, THE UNITED STATES ARMY'S HIGHEST
DECORATION FOR A CIVILIAN. IN 1999 HE WAS DESIGNATED AN HONORED
PATRIOT BY THE SELECTIVE SERVICE SYSTEM. ADDITIONALLY, HE HAS BEEN A
FELLOW AT THE WOODROW WILSON INTERNATIONAL CENTER FOR SCHOLARS,
AN ANNENBERG FELLOW, AND A GUGGENHEIM FELLOW. IN 1999 HE WAS
ELECTED TO THE AMERICAN ACADEMY OF ARTS AND SCIENCES. HE IS LISTED IN
WHO'S WHO IN AMERICA AND WHO'S WHO IN THE WORLD.
PERHAPS MOST IMPORTANTLY, CHARLIE HAS BEEN A MENTOR TO MANY
OF US AND A FRIEND TO ALL. HE IS DEVOTED TO HIS FAMILY, HIS WIFE ILCA,
SONS ANDREW AND PETER, THEIR WIVES AND HIS GRANDCHILDREN, FINN AND
AIDEN.
FELLOWS OF THE IUS, AND HONORED GUESTS, PROFESSOR CHARLES
MOSKOS.