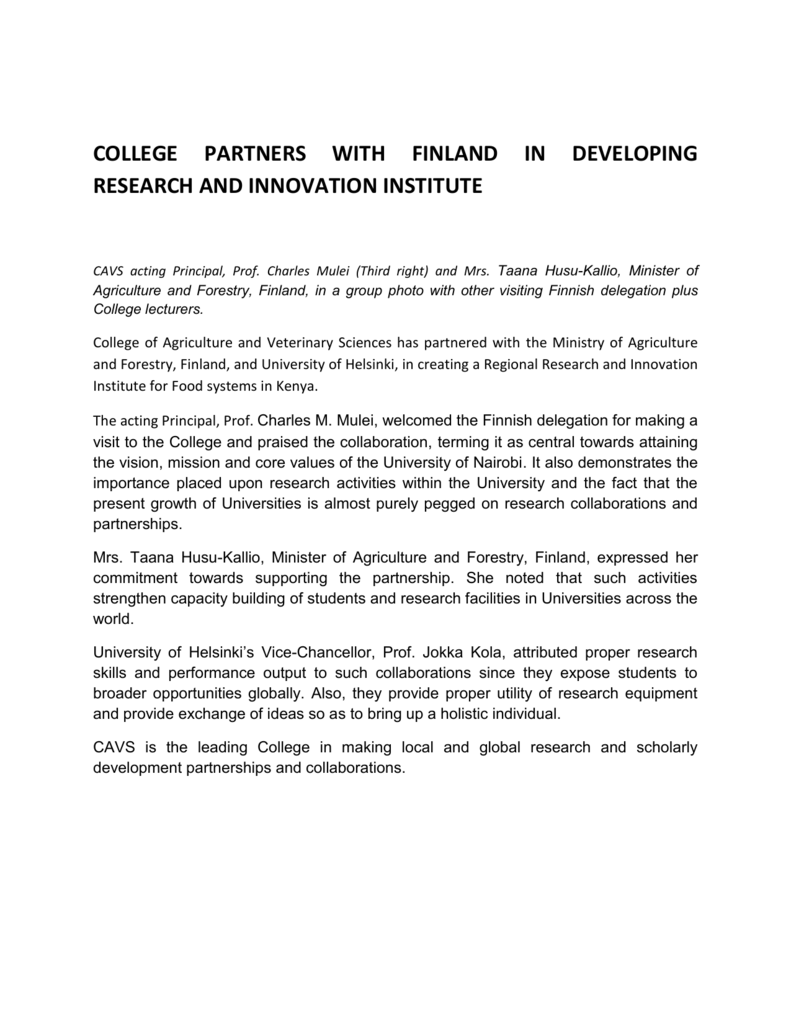 COLLEGE PARTNERS WITH FINLAND
RESEARCH AND INNOVATION INSTITUTE
IN
DEVELOPING
CAVS acting Principal, Prof. Charles Mulei (Third right) and Mrs. Taana Husu-Kallio, Minister of
Agriculture and Forestry, Finland, in a group photo with other visiting Finnish delegation plus
College lecturers.
College of Agriculture and Veterinary Sciences has partnered with the Ministry of Agriculture
and Forestry, Finland, and University of Helsinki, in creating a Regional Research and Innovation
Institute for Food systems in Kenya.
The acting Principal, Prof. Charles M. Mulei, welcomed the Finnish delegation for making a
visit to the College and praised the collaboration, terming it as central towards attaining
the vision, mission and core values of the University of Nairobi. It also demonstrates the
importance placed upon research activities within the University and the fact that the
present growth of Universities is almost purely pegged on research collaborations and
partnerships.
Mrs. Taana Husu-Kallio, Minister of Agriculture and Forestry, Finland, expressed her
commitment towards supporting the partnership. She noted that such activities
strengthen capacity building of students and research facilities in Universities across the
world.
University of Helsinki's Vice-Chancellor, Prof. Jokka Kola, attributed proper research
skills and performance output to such collaborations since they expose students to
broader opportunities globally. Also, they provide proper utility of research equipment
and provide exchange of ideas so as to bring up a holistic individual.
CAVS is the leading College in making local and global research and scholarly
development partnerships and collaborations.