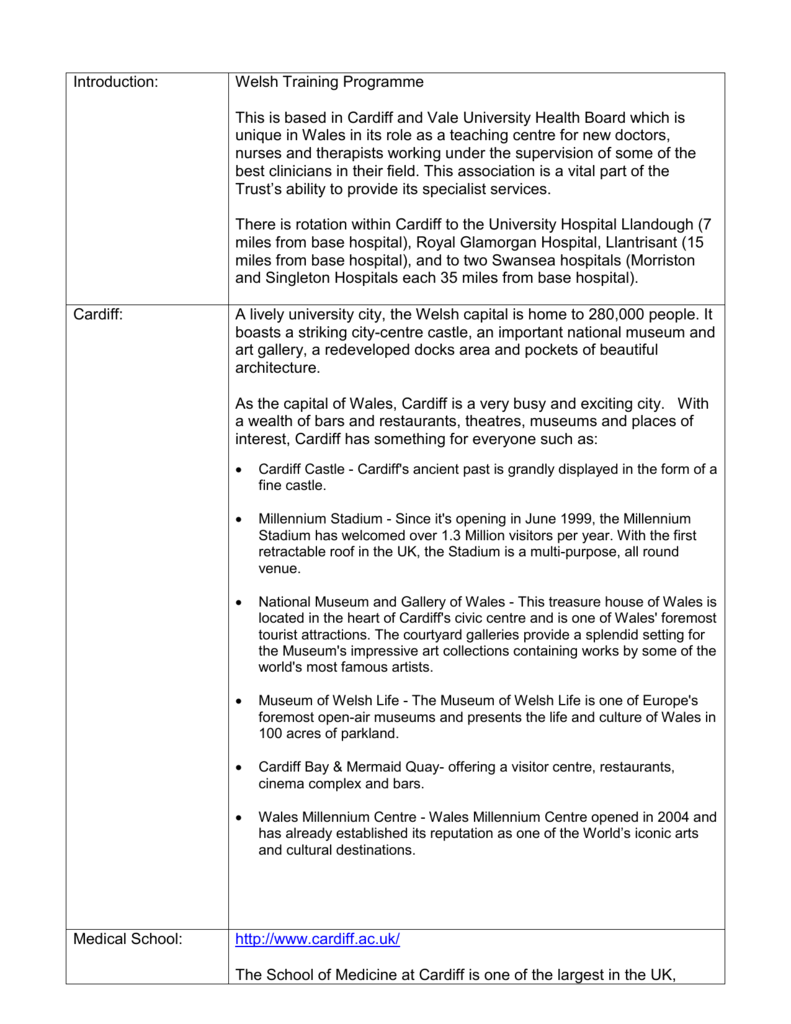 Introduction:
Welsh Training Programme
This is based in Cardiff and Vale University Health Board which is
unique in Wales in its role as a teaching centre for new doctors,
nurses and therapists working under the supervision of some of the
best clinicians in their field. This association is a vital part of the
Trust's ability to provide its specialist services.
There is rotation within Cardiff to the University Hospital Llandough (7
miles from base hospital), Royal Glamorgan Hospital, Llantrisant (15
miles from base hospital), and to two Swansea hospitals (Morriston
and Singleton Hospitals each 35 miles from base hospital).
Cardiff:
A lively university city, the Welsh capital is home to 280,000 people. It
boasts a striking city-centre castle, an important national museum and
art gallery, a redeveloped docks area and pockets of beautiful
architecture.
As the capital of Wales, Cardiff is a very busy and exciting city. With
a wealth of bars and restaurants, theatres, museums and places of
interest, Cardiff has something for everyone such as:
Medical School:

Cardiff Castle - Cardiff's ancient past is grandly displayed in the form of a
fine castle.

Millennium Stadium - Since it's opening in June 1999, the Millennium
Stadium has welcomed over 1.3 Million visitors per year. With the first
retractable roof in the UK, the Stadium is a multi-purpose, all round
venue.

National Museum and Gallery of Wales - This treasure house of Wales is
located in the heart of Cardiff's civic centre and is one of Wales' foremost
tourist attractions. The courtyard galleries provide a splendid setting for
the Museum's impressive art collections containing works by some of the
world's most famous artists.

Museum of Welsh Life - The Museum of Welsh Life is one of Europe's
foremost open-air museums and presents the life and culture of Wales in
100 acres of parkland.

Cardiff Bay & Mermaid Quay- offering a visitor centre, restaurants,
cinema complex and bars.

Wales Millennium Centre - Wales Millennium Centre opened in 2004 and
has already established its reputation as one of the World's iconic arts
and cultural destinations.
http://www.cardiff.ac.uk/
The School of Medicine at Cardiff is one of the largest in the UK,
employing nearly 500 academic and 300 support staff. Over 1000
undergraduate and 1100 postgraduate students are currently enrolled
on medical and science courses. The School has an annual financial
turnover of over £50 million, of which nearly half comes from
competitive external research funding.
Training Programme
Director:
The Head of School is Professor Paul Morgan, Dean of Medicine.
Dr Richard Attanoos, Consultant Histopathologist, Department of
Cellular Pathology, University Hospital Llandough.
Contact: [email protected]
029 20 716463
Secretary: Laura Chapman – [email protected]
029 20 715597
Rotations:
The University Hospital of Wales
This is the largest hospital in the Cardiff and the Vale University Health
Board. It is a 968 bed teaching hospital in the City of Cardiff providing
comprehensive clinical services to a local population of approximately
500,000. It also provides regional and sub-regional specialist services in
cardiothoracic surgery, neurosurgery, renal dialysis and transplantation,
bone marrow transplantation, infectious diseases and medical genetics, and
acts as a tertiary referral centre for South East Wales and beyond, a
population of up to 1.5 million. There are very close links with the Cardiff
University, which is based on the same site.
The Pathology Department is an integrated academic and NHS department
that provides a comprehensive consultant led clinical histopathology and
cytopathology and autopsy service to the Trust, undergraduate teaching to
295 medical and 55 dental students (per year), postgraduate teaching, and
undertakes clinical and basic science research. The clinical department
serves the University Hospital of Wales, local General Practitioners and the
South East Wales Cancer Centre at Velindre. It also provides specialist
neuropathology, paediatric pathology and molecular diagnostic services to
most of Wales and houses the Wales Institute of Forensic Medicine. All of
the consultants have a specialist field of interest, within which they
undertake research and provide specialist second opinions to pathologists in
Wales and beyond.
The current annual clinical workload of the Department is:
Surgical Histopathology
15,000, including all aspects of general histopathology, neuropathology and
paediatric pathology, breast screening specimens and renal biopsies.
Cytopathology
3,000 non-gynaecological specimens, including fine needle aspiration
specimens, serous fluids, cerebrospinal fluid, joint aspirates, sputum and
urine.
Autopsies
1,000, including cases of unnatural death such as suicide and homicide,
trauma and road traffic accidents, foetal, perinatal and paediatric autopsies,
and specialist neuropathological autopsies.
There are 15 consultant pathologists including clinical academics with
consultant status, paediatric pathologists, neuropathologists, and forensic
pathologists – Professor Bharat Jasani, Dr Stefan Dojcinov, Dr Adam Boyde,
Dr Dave Griffiths (Head of Service), Dr Murali Varma, Dr Steve Leadbeatter,
Dr Alistair Lammie, Dr Jim Neale, Dr Ed Lazda, Dr Kenneth May, Dr Gareth
Rowlands, Dr Adam Christian, Dr Gordon Vujanic, Dr Ryk James, Dr
Andrew Davison.
University Hospital Llandough
University Hospital Llandough has approximately 500 beds and serves the
west of Cardiff and the Vale of Glamorgan, a population of approximately
200,000. In addition to comprehensive DGH services to the local population
it provides specialist services in respiratory medicine, paediatric oncology
and toxicology. There is a close link with Cardiff University, with four clinical
academic departments being based on the site.
The Cellular Pathology Department provides diagnostic services to the
whole of the Health Board and deals with all of the gynaecological cytology
for the City of Cardiff and beyond. The histopathology department receives a
large number of thoracic, breast, lymphoreticular and gastrointestinal
specimens, and undertakes clinical research in pulmonary pathology,
notably industrial lung disease. Numerous outside referral cases in thoracic
and lymphoreticular pathology are also received. The current annual
workload is:
Surgical Histopathology
11,000 general histopathology specimens, including numerous pulmonary,
breast screening and gastrointestinal specimens.
Cytopathology
40,000 gynaecological and 4,000 non-gynaecological specimens, including
fine needle aspiration, serous fluid, sputum, bronchial brushings and
pulmonary lavage specimens.
Autopsies
600, mainly for H M Coroner. These include cases of industrial lung disease,
unnatural deaths such as suicides, trauma and road traffic accidents,
together with sudden deaths and hospital deaths.
There are currently five consultant pathologists, including two full-time
cytopathologists – Dr Richard Attanoos (Assistant Head of Department), Dr
Allen Gibbs, Dr Meleri Morgan, Dr Tom Hockey and Dr Anurag Joshi.
Swansea
Two main hospitals, Singleton and Morriston, are within Abertawe Bro
Morgannwg University Health Board and the South West Wales Cancer
Centre. The hospitals also host the newly opened Swansea Clinical School
in collaboration with University College, Swansea and Cardiff University,
with a graduate entry MB BCh programme of 70 students per annum. There
are Cellular Pathology laboratories at each hospital but these are managed
jointly in a single Directorate of Pathology. The workload of the joint
department is large and varied. The current annual workload is:
Surgical Pathology
24,000 including 250 frozen sections.
Cytopathology
25,000 gynaecological smears, 4,000 surgical cytology including 300 FNAs.
Autopsies
1,000 mainly for HM Coroner including approx. 300 carried out at Neath
General Hospital.
There are currently nine consultant pathologists – Dr Namor Williams, Dr
Wynne Williams, Dr Nasima Tofazzol, Dr Sue Williams, Dr Hywel Thomas,
Dr Ng, (Singleton) and Dr Ciaran O'Brien, Dr Paul Griffiths, Dr Alan Dawson
(Morriston).
Royal Glamorgan Hospital
The Royal Glamorgan Hospital is a busy District General Hospital near
Llantrisant, 10 miles to the North of Cardiff. It is one of two hospitals that
together serve a population of over 320,000 in Cwm Taf Health Board. All
major specialties are represented within the hospital with the exception of
cardiothoracic surgery and neurosurgery. The Histopathology Department is
well equipped to provide a comprehensive histopathology, cytopathology
and autopsy service. Current annual workload is:
Surgical Histopathology
9200, including all aspects of general histopathology and breast screening
specimens. The Department is fully equipped with digital cameras for
macroscopy and microscopy.
Cytopathology
24,000 gynaecological and 2500 non-gynaecological specimens. The latter
include numerous fine needle aspiration specimens, many taken by
radiologists under CT scan control, serous fluids, sputum, bronchial
brushings and urine.
Autopsies
450, mainly for H M Coroner. These include cases of industrial lung disease,
unnatural deaths such as suicides, trauma and road traffic accidents,
together with sudden deaths and hospital deaths.
There are five consultant pathologists – Dr Dave Stock, Dr Carrie Champ, Dr
Jason Shannon, Dr Jo Roche and Dr Esther Youd.
Living and working in
Cardiff and the Vale
South Wales has many areas of outstanding beauty. To the north is
the Brecon Beacons National Park, to the East is the Wye Valley and
to the south is the rolling countryside of Vale of Glamorgan, the South
Wales Heritage Coast, and the Gower Peninsula which was the UK's
first designated Area of Outstanding Natural Beauty.
Cardiff, the capital city of Wales, is a cosmopolitan city of many
contrasts. A Castle with 1900 years of history stands alongside a
modern shopping complex and one of the world's great civic centres.
St. David's Hall and the newly opened Millennium Centre are
examples of Britain's finest concert halls and opera houses and there
is opportunity to find entertainment in all forms of music and dance in
the city. There is the National Museum and National Folk Museum,
there are many art galleries and a number of cinemas. Cardiff Bay
has been newly developed with the recent construction of a barrage,
giving rise to a large freshwater lake with cinemas, restaurants and
museums around its perimeter. There is also the Millennium Stadium,
the International Sports Village and the Welsh National Athletic
Stadium, while the nearby coast offers many opportunities for sailing
and water sports. Cardiff airport provides international travel and
London is 2 hours away by train from Cardiff.
There is a good choice of affordable housing within easy travelling
times of the hospitals. There are new housing developments and
many country villages of the Vale of Glamorgan and north of Cardiff.
There is also a range of excellent state and private schools.
Deanery:
Cardiff University – http://walesdeanery.org
Specialty Training Office contact: Miss Lisa Bassett
Tel: 02920 687755
Email: [email protected]
Training programme:
Training
Run-through training in Histopathology in Wales will comply with the
Curriculum for Specialist Training in Histopathology and Related
Subspecialties as prepared by the Royal College of Pathologists and
approved by the General Medical Council, and is directed by the Welsh
Histopathology Training Committee.
All four stages of the training programme will be delivered in hospitals in
South Wales, and trainees who successfully complete stage A (year 1) of
training will normally proceed to stage B and beyond within Wales. The
training programme is based at the University Hospital of Wales in
Cardiff, with rotations to Llandough Hospital in Cardiff, the Royal
Glamorgan Hospital near Llantrisant, and Morriston and Singleton
Hospitals in Swansea. Other hospitals in South Wales may be
incorporated in the future, but these will all be within a 40-mile radius of
Cardiff.
The Welsh Run-through Training programme comprises:
1. Clinical experience of all aspects of diagnostic histopathology,
cytopathology autopsy practice, paediatric and neuropathology in
the laboratory and post mortem room at the University Hospital of
Wales
2. Departmental clinicopathological and audit meetings
3. A structured training course in organ specific diagnostic
histopathology based on slide seminars led by and lectures
4. Placements at Llandough and the Royal Glamorgan Hospitals
and Swansea NHS Trust for clinical experience in a DGH setting,
in gynaecological cytopathology, (at the Welsh Cytology Training
School in Llandough Hospital) in pulmonary pathology and
haematopathology and, at Swansea, in neuro-oncology,
haematopathology, renal, cardiothoracic and maxillofacial
pathology.
5. Programmes of invited lectures and seminars, both within the
Department and elsewhere in Cardiff University and the
University College Swansea.
6. Opportunities for developing a special interest through
independent study and research and through specialist "elective"
attachments
7. Participation in undergraduate and postgraduate teaching in
pathology
In addition, trainees will receive training in health and safety awareness,
information technology skills, and in technical aspects of laboratory
practice, including trimming of specimens, section cutting and staining,
histochemistry (including immunohistochemistry), electron microscopy
and molecular diagnostics. The Postgraduate Department will also
organise "generic" training in management, medical education, audit,
clinical effectiveness and ethical issues.
Elective attachments are available for trainees to obtain concentrated
experience in particular areas, either because they may have a special
interest in the field or because they feel that they require more time to
consolidate their learning. These are available in:
1.
2.
3.
4.
5.
6.
7.
Cytopathology (based at Llandough Hospital)
Neuropathology (UHW)
Paediatric pathology (UHW)
Renal pathology (UHW)
Haematopathology (at Llandough or Swansea)
Pulmonary pathology (at Llandough Hospital)
Breast screening pathology (at UHW, Llandough or Royal
Glamorgan Hospital)
8. Forensic pathology (UHW)
9. Molecular pathology (UHW)
Trainees will be supervised by Departmental Consultant Pathologists
under the direction of a designated Educational Supervisor. Progress will
be monitored through the use of training and learning records, informal 6
monthly review meetings with the Educational Supervisor, and formal
annual review of competency progression (ARCP) by the Specialty
Training Committee.
The major element of the training programme is comprehensive practical
experience of clinical surgical pathology, cytopathology, and autopsy
pathology with consultant supervision. Trainees will be attached to each
of the training hospitals and during these attachments they will contribute
to the service work of the departments, to a level commensurate with
their level of experience and proficiency. This will include participation,
when appropriate, in multidisciplinary team meetings and audit.
All of the laboratories in the Welsh Training Programme have designated
facilities for trainees including double-headed microscopes, computers
that access laboratory information management systems and the
internet, and a comprehensive library of books and journals. Each
hospital also has dedicated postgraduate facilities for medical trainees.
Contacts:
Directions/Map
University Hospital of Wales
Cardiff
CF14 4XW.
Hospital Map
University Hospital Llandough
Penlan Road
Llandough
CF64 2XX
Llandough Map
Royal Glamorgan Hospital
Ynys Maerdy,
Llantrisant,
CF72 8XR
Glamorgan Map
Morriston Hospital
Heol Maes Eglwys
Morriston
Swansea
SA6 6NL
Morriston Map
Singleton Hospital
Sketty Lane
Sketty
Swansea
SA2 8QA
Singleton Map
Contact
Dr David Griffiths
Histopathology Department
University Hospital of Wales
Cardiff, CF14 4XW
Tel: 02920-745316 Fax: 02920-742701
Email: [email protected]
Dr Richard Attanoos – Training Programme Director
Histopathology Department
University Hospital Llandough
Penlan Road
Penarth
Cardiff
CF64 2XX
Tel: 029 20 715597
Fax: 029 20 716469
Email: [email protected]
A day in the life of…
Morning – comprises rotational surgical cut-up of some 20 – 25
specimens including up to 3 large resections.
Late morning and afternoons comprise surgical reporting with
double reporting with consultants on every case.
Post mortem rotation comprises approximately 2 – 5 autopsies per
week dependent on experience.
Cytology comprises screening gynae and non-gynae specimens
and double reporting with consultants.
There is a requirement to undertake audit and optional facilities for
research. Opportunities for undergraduate and postgraduate
medical and dental training exist. Postgraduate education includes
weekly slide seminars and formal lectures.
No. of trainees per
deanery/school
There are a total of 18 substantive training posts in Wales.