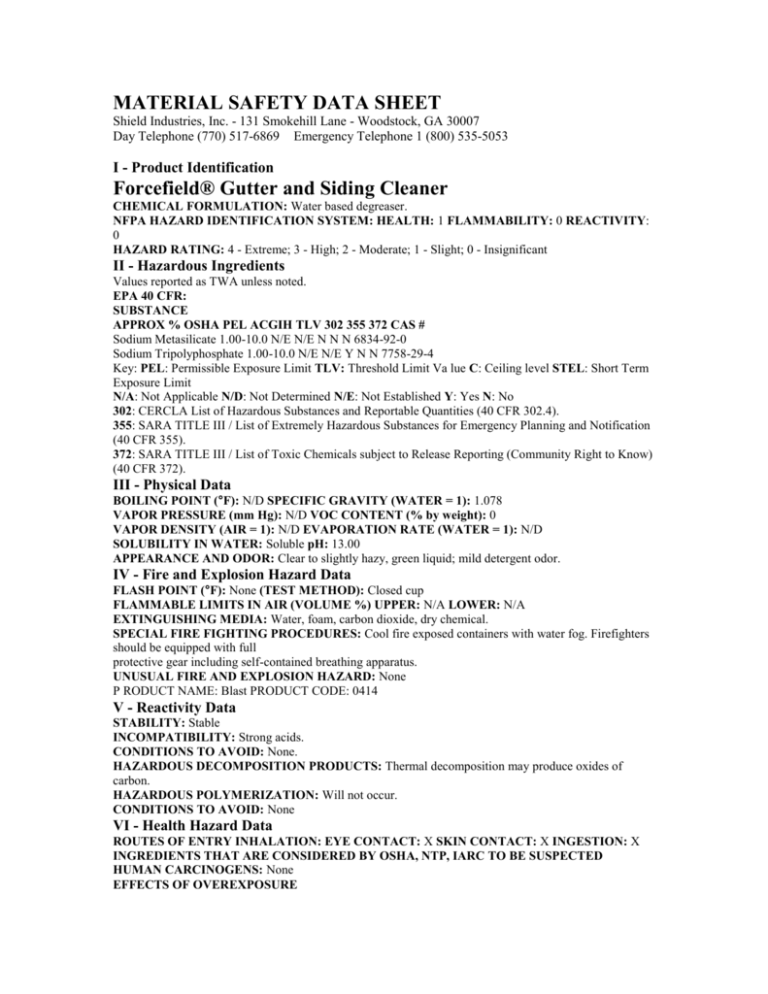 MATERIAL SAFETY DATA SHEET
Shield Industries, Inc. - 131 Smokehill Lane - Woodstock, GA 30007
Day Telephone (770) 517-6869 Emergency Telephone 1 (800) 535-5053
I - Product Identification
Forcefield® Gutter and Siding Cleaner
CHEMICAL FORMULATION: Water based degreaser.
NFPA HAZARD IDENTIFICATION SYSTEM: HEALTH: 1 FLAMMABILITY: 0 REACTIVITY:
0
HAZARD RATING: 4 - Extreme; 3 - High; 2 - Moderate; 1 - Slight; 0 - Insignificant
II - Hazardous Ingredients
Values reported as TWA unless noted.
EPA 40 CFR:
SUBSTANCE
APPROX % OSHA PEL ACGIH TLV 302 355 372 CAS #
Sodium Metasilicate 1.00-10.0 N/E N/E N N N 6834-92-0
Sodium Tripolyphosphate 1.00-10.0 N/E N/E Y N N 7758-29-4
Key: PEL: Permissible Exposure Limit TLV: Threshold Limit Va lue C: Ceiling level STEL: Short Term
Exposure Limit
N/A: Not Applicable N/D: Not Determined N/E: Not Established Y: Yes N: No
302: CERCLA List of Hazardous Substances and Reportable Quantities (40 CFR 302.4).
355: SARA TITLE III / List of Extremely Hazardous Substances for Emergency Planning and Notification
(40 CFR 355).
372: SARA TITLE III / List of Toxic Chemicals subject to Release Reporting (Community Right to Know)
(40 CFR 372).
III - Physical Data
BOILING POINT (°F): N/D SPECIFIC GRAVITY (WATER = 1): 1.078
VAPOR PRESSURE (mm Hg): N/D VOC CONTENT (% by weight): 0
VAPOR DENSITY (AIR = 1): N/D EVAPORATION RATE (WATER = 1): N/D
SOLUBILITY IN WATER: Soluble pH: 13.00
APPEARANCE AND ODOR: Clear to slightly hazy, green liquid; mild detergent odor.
IV - Fire and Explosion Hazard Data
FLASH POINT (°F): None (TEST METHOD): Closed cup
FLAMMABLE LIMITS IN AIR (VOLUME %) UPPER: N/A LOWER: N/A
EXTINGUISHING MEDIA: Water, foam, carbon dioxide, dry chemical.
SPECIAL FIRE FIGHTING PROCEDURES: Cool fire exposed containers with water fog. Firefighters
should be equipped with full
protective gear including self-contained breathing apparatus.
UNUSUAL FIRE AND EXPLOSION HAZARD: None
P RODUCT NAME: Blast PRODUCT CODE: 0414
V - Reactivity Data
STABILITY: Stable
INCOMPATIBILITY: Strong acids.
CONDITIONS TO AVOID: None.
HAZARDOUS DECOMPOSITION PRODUCTS: Thermal decomposition may produce oxides of
carbon.
HAZARDOUS POLYMERIZATION: Will not occur.
CONDITIONS TO AVOID: None
VI - Health Hazard Data
ROUTES OF ENTRY INHALATION: EYE CONTACT: X SKIN CONTACT: X INGESTION: X
INGREDIENTS THAT ARE CONSIDERED BY OSHA, NTP, IARC TO BE SUSPECTED
HUMAN CARCINOGENS: None
EFFECTS OF OVEREXPOSURE
IF IN EYES: Moderate irritation, redness tearing.
IF ON SKIN: Mild to moderate irritation, chapping and dermatitis, with prolonged or repeated exposure.
IF SWALLOWED: Nausea, cramps, diarrhea.
IF INHALED: May cause irritation to upper respiratory tract.
EMERGENCY AND FIRST AID PROCEDURES
IF IN EYES: Flush eyes and under eyelids with plenty of cool water for at least 15 minutes. If irritation
persists, obtain medical attention.
IF ON SKIN: Wash with soap and water. Remove contaminated clothing and launder separately before
reuse. If irritation persists,
obtain medical attention.
IF SWALLOWED: Contact physician or poison control center immediately. Give affected person 1 to 2
glasses of water. Do not induce
vomiting. Never give anything to an unconscious person.
IF INHALED: Remove person to fresh air.
VII - Spill or Leak Protection
STEPS TO BE TAKEN IF MATERIAL IS RELEASED OR SPILLED: Ventilate area. Contain spill.
Soak up spilled material with inert
absorbent material and place in a properly marked closed container for proper disposal.
WASTE DISPOSAL METHOD: Consult local environmental authorities.
VIII - Special Protection Information
RESPIRATORY PROTECTION: Use with adequate ventilation. If recommended Exposure Limits are
exceeded wear a NIOSH approved
respirator, following manufacturer's recommendations.
VENTILATION LOCAL: Recommended MECHANICAL: Not required
PROTECTIVE GLOVES: Chemical resistant.
EYE PROTECTION: Safety glasses and/or face shield.
OTHER PROTECTIVE EQUIPMENT: None.
PRECAUTIONS TO BE TAKEN IN HANDLING AND STORAGE: Store in a cool, dry place. Keep
container tightly closed when not in
use.
OTHER PRECAUTIONS: Keep out of reach of children.
IX - Transportation Information (ground transportation only)
DOT PROPER SHIPPING NAME: None
DOT CLASS: None DOT ID NUMBER: None DOT PACKING GROUP: None
The shipping information listed above applies only to non-bulk (< 119 gallons) containers of this product. This product may
have more than one proper
shipping name depending on packaging, product properties, & mode of shipment. If any alteration of packaging, product, or
mode of transportation is
further intended, different shipping names and labeling may apply.