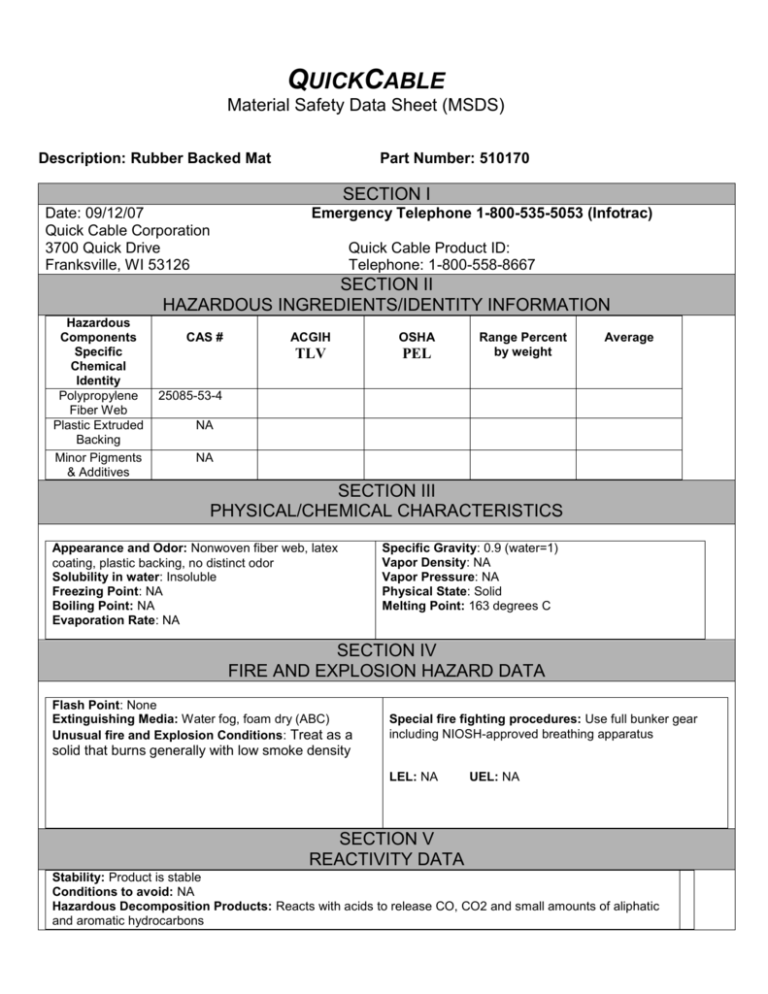 QUICKCABLE
Material Safety Data Sheet (MSDS)
Description: Rubber Backed Mat
Part Number: 510170
SECTION I
Date: 09/12/07
Quick Cable Corporation
3700 Quick Drive
Franksville, WI 53126
Emergency Telephone 1-800-535-5053 (Infotrac)
Quick Cable Product ID:
Telephone: 1-800-558-8667
SECTION II
HAZARDOUS INGREDIENTS/IDENTITY INFORMATION
Hazardous
Components
Specific
Chemical
Identity
Polypropylene
Fiber Web
Plastic Extruded
Backing
Minor Pigments
& Additives
CAS #
ACGIH
OSHA
TLV
PEL
Range Percent
by weight
Average
25085-53-4
NA
NA
SECTION III
PHYSICAL/CHEMICAL CHARACTERISTICS
Appearance and Odor: Nonwoven fiber web, latex
coating, plastic backing, no distinct odor
Solubility in water: Insoluble
Freezing Point: NA
Boiling Point: NA
Evaporation Rate: NA
Specific Gravity: 0.9 (water=1)
Vapor Density: NA
Vapor Pressure: NA
Physical State: Solid
Melting Point: 163 degrees C
SECTION IV
FIRE AND EXPLOSION HAZARD DATA
Flash Point: None
Extinguishing Media: Water fog, foam dry (ABC)
Unusual fire and Explosion Conditions: Treat as a
Special fire fighting procedures: Use full bunker gear
including NIOSH-approved breathing apparatus
solid that burns generally with low smoke density
LEL: NA
UEL: NA
SECTION V
REACTIVITY DATA
Stability: Product is stable
Conditions to avoid: NA
Hazardous Decomposition Products: Reacts with acids to release CO, CO2 and small amounts of aliphatic
and aromatic hydrocarbons
Chemical Incompatibilities: Strong oxidizing agents
Hazardous Polymerization: Will not occur
SECTION VI
HEALTH HAZARD DATA
Primary Route(s) of Entry: NA
Signs and symptoms of exposure: Causes eye irritation; skin irritation; may cause nausea and diarrhea
Chronic Overexposure:
Medical Conditions Generally aggravated by exposure: Eye and respiratory disorders may be aggravated
Emergency and First Aid Procedures: Eyes-Flush thoroughly with fresh water for at least 15 minutes. Get
medical attention. Skin-Flush with fresh water. Wash with soap and water. Remove contaminated clothes and
shoes. Get medical attention. Ingestion-Give milk or water. Induce vomiting. Get medical attention. Never give
anything by mouth to an unconscious person. Inhalation-Not under normal operations
SECTION VII
PRECAUTIONS FOR SAFE HANDLING AND USE
Steps Taken in case material is released or spilled: Contain spilled solids. Wear protective clothing. Sweep
or shovel solids or powder into a non-reactive chemical waste container. Dispose of material in accordance with
local, state and federal regulations. Flush spill area with water.
Waste Disposal Method: Dispose of material in accordance with local, state and federal regulations. Flush
area with water.
Precautions to be taken in handling and storage: Store in a cool, dry place
SECTION VIII
CONTROL MEASURES
Respiratory Protection (Specific Type): Not required, but appropriate dust mask can be used if product dust
is present.
Ventilation: NA
Protective Clothing: Work gloves recommended
Eye and Face Protection: Safety glasses
Work Hygienic Practices: Wash with soap and water
SECTION IX
OTHER REGULATORY INFORMATION
NFPA
HMIS
Health (Blue)
Flammability (Red)
Reactivity (Yellow)
PPE:
SARA Title III: Section 311/312: Based on available information, this material is not classified as a health and/or physical hazard.
Section 313: This material does not contain any chemical components with known CAS numbers that exceed the De Minimus reporting
levels.
Extremely Hazardous substance: None
California Proposition 65:
This information is accurate to the best of Quick Cable Corporation's knowledge or obtained from sources believed by Quick Cable to be
accurate. Before using any product, read all warnings and directions on the label.