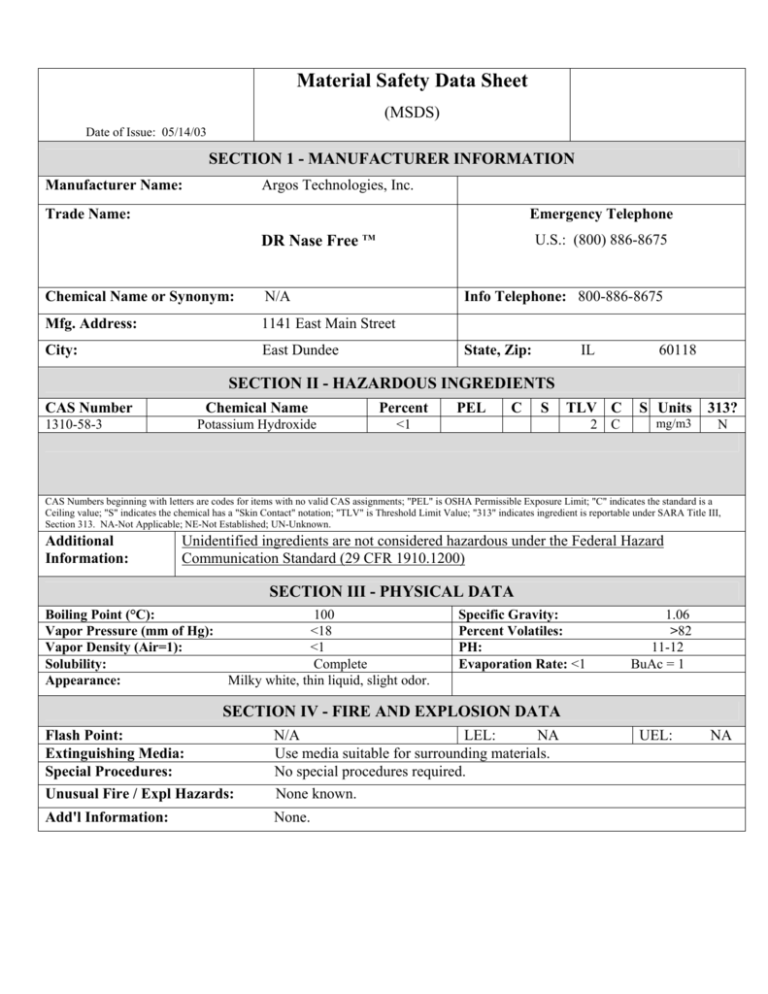 Material Safety Data Sheet
(MSDS)
Date of Issue: 05/14/03
SECTION 1 - MANUFACTURER INFORMATION
Manufacturer Name:
Argos Technologies, Inc.
Trade Name:
Emergency Telephone
U.S.: (800) 886-8675
DR Nase Free TM
Chemical Name or Synonym:
N/A
Info Telephone: 800-886-8675
Mfg. Address:
1141 East Main Street
City:
East Dundee
State, Zip:
IL
60118
SECTION II - HAZARDOUS INGREDIENTS
CAS Number
1310-58-3
Chemical Name
Percent
Potassium Hydroxide
<1
PEL
C
S
TLV C
S Units
2 C
mg/m3
313?
N
CAS Numbers beginning with letters are codes for items with no valid CAS assignments; "PEL" is OSHA Permissible Exposure Limit; "C" indicates the standard is a
Ceiling value; "S" indicates the chemical has a "Skin Contact" notation; "TLV" is Threshold Limit Value; "313" indicates ingredient is reportable under SARA Title III,
Section 313. NA-Not Applicable; NE-Not Established; UN-Unknown.
Additional
Information:
Unidentified ingredients are not considered hazardous under the Federal Hazard
Communication Standard (29 CFR 1910.1200)
SECTION III - PHYSICAL DATA
Boiling Point (°C):
Vapor Pressure (mm of Hg):
Vapor Density (Air=1):
Solubility:
Appearance:
100
<18
<1
Complete
Milky white, thin liquid, slight odor.
Specific Gravity:
Percent Volatiles:
PH:
Evaporation Rate: <1
1.06
>82
11-12
BuAc = 1
SECTION IV - FIRE AND EXPLOSION DATA
Flash Point:
Extinguishing Media:
Special Procedures:
Unusual Fire / Expl Hazards:
N/A
LEL:
NA
Use media suitable for surrounding materials.
No special procedures required.
None known.
Add'l Information:
None.
UEL:
NA
DR Nase Free TM
SECTION V - HEALTH HAZARD DATA
Acute Health Effects/Symptoms:
Inhalation of mist may cause respiratory irritation. Skin contact may
cause reddening and irritation. Eye contact is irritating and may cause
damage. Pre-existing skin conditions and detergent allergies may be aggravated
by exposure.
Chronic Health Effects / Symptoms: None known.
NTP:
Carcinogenicity Data:
N
IARC: N
OSHA: N
OTHER: N/A
First Aid
Eyes:
Immediately flush eyes with plenty of water for at least 15 minutes, while holding eyelids open.
Seek prompt medical attention.
Skin:
Remove contaminated clothing. Wash thoroughly with soap and water. Seek medical attention if
irritation persists. Wash clothing before reuse.
Ingestion:
Contact local Poison Control Center or physician immediately.
Inhalation:
Move victim to fresh air. Get medical attention if irritation persists.
SECTION VI - REACTIVITY DATA
Stability:
Normally stable
Incompatibility:
Strong acids.
Decomposition:
None known.
Polymerization:
Will not occur.
SECTION VII - SPILL OR LEAK PROCEDURES
Spill Management:
Wear personal protective equipment (see Section VIII). Neutralize using a weak acid.
Clean up with absorbant material.
Waste Disposal Procedures:
Dispose in accordance with federal, state, and local regulations.
SECTION VIII - SPECIAL PROTECTION INFORMATION
Respiratory:
If TLV is exceeded, or for symptoms of overexposure, wear a NIOSH approved
dust / mist respirator.
Eyes:
If potential for eye contact exists, wear chemical goggles.
Clothing / Protective Gloves:
Wear latex or other chemical resistant gloves.
Ventilation:
Local exhaust may be necessary under some handling / use conditions. Specific needs
should be addressed by supervisory or health / safety personnel.
SECTION IX - ADDITIONAL INFORMATION
Safe Handling and Storage:
Store in a closed container in a dry area. Do not freeze.
SECTION X – TRANSPORTATION INFORMATION
DOT Hazard Class:
Non-Hazardous ( Not Regulated)
The information contained herein has been developed based upon current available scientific data. New information may be developed from time to time which may
render the conclusions of this report obsolete. Therefore, no warranty is extended as to the applicability of this information to the user's intended purpose or for the
consequences of its use or misuse.