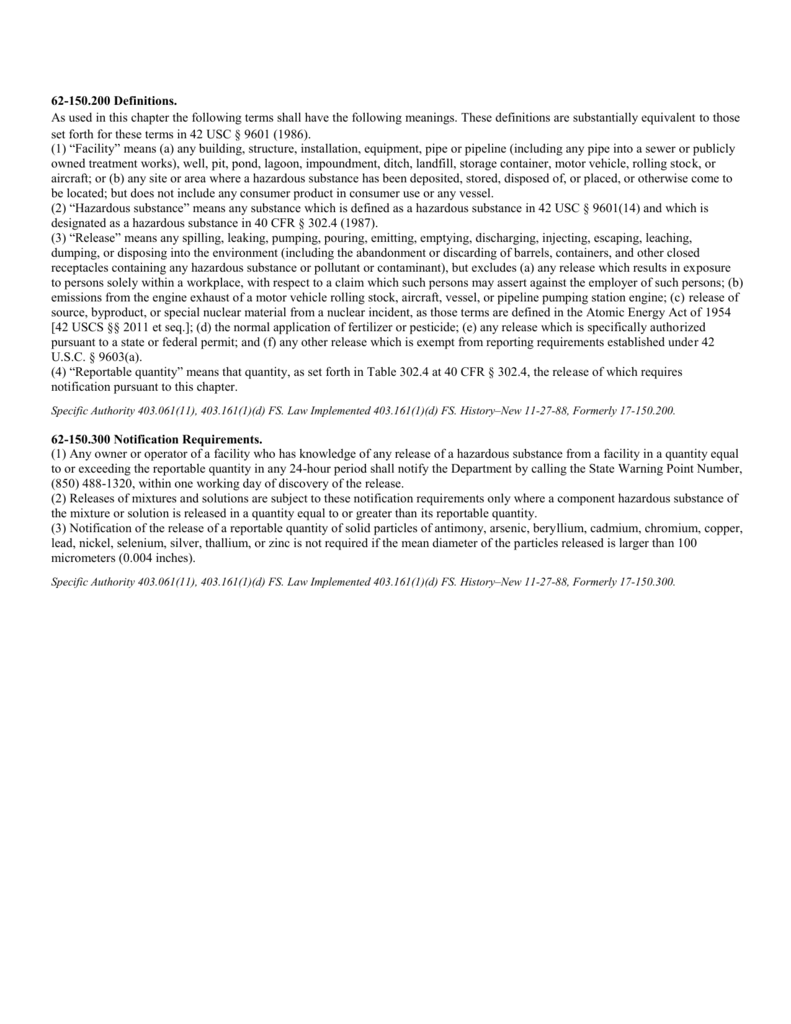 62-150.200 Definitions.
As used in this chapter the following terms shall have the following meanings. These definitions are substantially equivalent to those
set forth for these terms in 42 USC § 9601 (1986).
(1) "Facility" means (a) any building, structure, installation, equipment, pipe or pipeline (including any pipe into a sewer or publicly
owned treatment works), well, pit, pond, lagoon, impoundment, ditch, landfill, storage container, motor vehicle, rolling stock, or
aircraft; or (b) any site or area where a hazardous substance has been deposited, stored, disposed of, or placed, or otherwise come to
be located; but does not include any consumer product in consumer use or any vessel.
(2) "Hazardous substance" means any substance which is defined as a hazardous substance in 42 USC § 9601(14) and which is
designated as a hazardous substance in 40 CFR § 302.4 (1987).
(3) "Release" means any spilling, leaking, pumping, pouring, emitting, emptying, discharging, injecting, escaping, leaching,
dumping, or disposing into the environment (including the abandonment or discarding of barrels, containers, and other closed
receptacles containing any hazardous substance or pollutant or contaminant), but excludes (a) any release which results in exposure
to persons solely within a workplace, with respect to a claim which such persons may assert against the employer of such persons; (b)
emissions from the engine exhaust of a motor vehicle rolling stock, aircraft, vessel, or pipeline pumping station engine; (c) release of
source, byproduct, or special nuclear material from a nuclear incident, as those terms are defined in the Atomic Energy Act of 1954
[42 USCS §§ 2011 et seq.]; (d) the normal application of fertilizer or pesticide; (e) any release which is specifically authorized
pursuant to a state or federal permit; and (f) any other release which is exempt from reporting requirements established under 42
U.S.C. § 9603(a).
(4) "Reportable quantity" means that quantity, as set forth in Table 302.4 at 40 CFR § 302.4, the release of which requires
notification pursuant to this chapter.
Specific Authority 403.061(11), 403.161(1)(d) FS. Law Implemented 403.161(1)(d) FS. History–New 11-27-88, Formerly 17-150.200.
62-150.300 Notification Requirements.
(1) Any owner or operator of a facility who has knowledge of any release of a hazardous substance from a facility in a quantity equal
to or exceeding the reportable quantity in any 24-hour period shall notify the Department by calling the State Warning Point Number,
(850) 488-1320, within one working day of discovery of the release.
(2) Releases of mixtures and solutions are subject to these notification requirements only where a component hazardous substance of
the mixture or solution is released in a quantity equal to or greater than its reportable quantity.
(3) Notification of the release of a reportable quantity of solid particles of antimony, arsenic, beryllium, cadmium, chromium, copper,
lead, nickel, selenium, silver, thallium, or zinc is not required if the mean diameter of the particles released is larger than 100
micrometers (0.004 inches).
Specific Authority 403.061(11), 403.161(1)(d) FS. Law Implemented 403.161(1)(d) FS. History–New 11-27-88, Formerly 17-150.300.