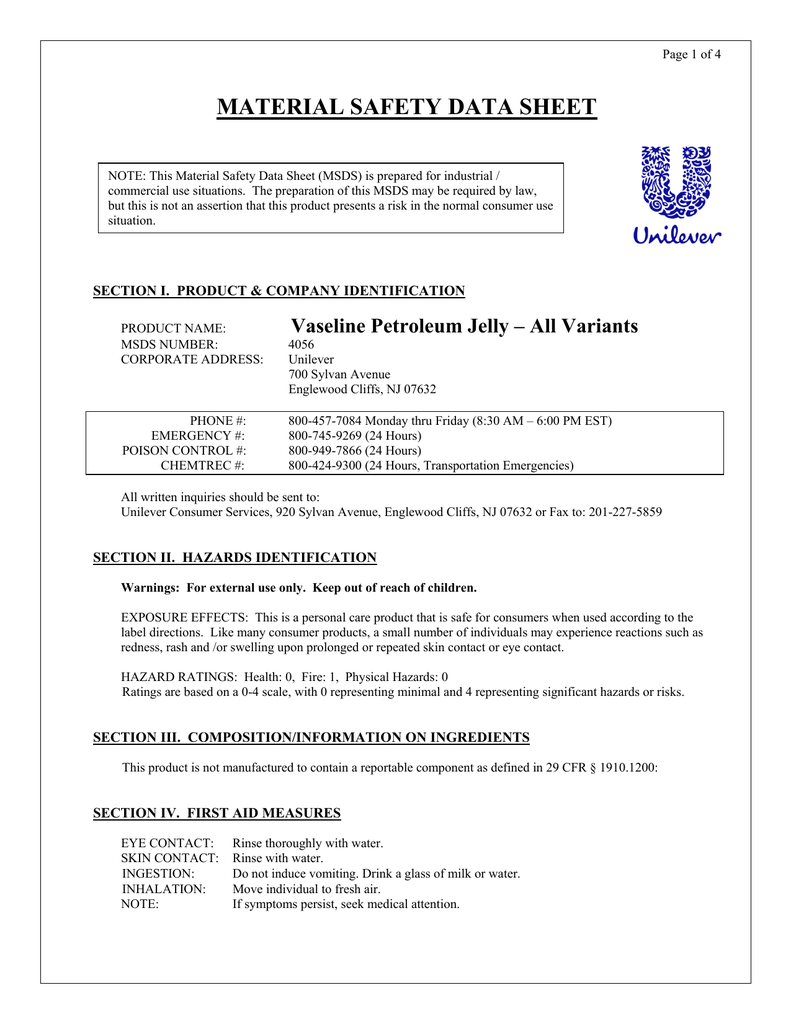 Page 1 of 4
MATERIAL SAFETY DATA SHEET
NOTE: This Material Safety Data Sheet (MSDS) is prepared for industrial /
commercial use situations. The preparation of this MSDS may be required by law,
but this is not an assertion that this product presents a risk in the normal consumer use
situation.
SECTION I. PRODUCT & COMPANY IDENTIFICATION
PRODUCT NAME:
MSDS NUMBER:
CORPORATE ADDRESS:
PHONE #:
EMERGENCY #:
POISON CONTROL #:
CHEMTREC #:
Vaseline Petroleum Jelly – All Variants
4056
Unilever
700 Sylvan Avenue
Englewood Cliffs, NJ 07632
800-457-7084 Monday thru Friday (8:30 AM – 6:00 PM EST)
800-745-9269 (24 Hours)
800-949-7866 (24 Hours)
800-424-9300 (24 Hours, Transportation Emergencies)
All written inquiries should be sent to:
Unilever Consumer Services, 920 Sylvan Avenue, Englewood Cliffs, NJ 07632 or Fax to: 201-227-5859
SECTION II. HAZARDS IDENTIFICATION
Warnings: For external use only. Keep out of reach of children.
EXPOSURE EFFECTS: This is a personal care product that is safe for consumers when used according to the
label directions. Like many consumer products, a small number of individuals may experience reactions such as
redness, rash and /or swelling upon prolonged or repeated skin contact or eye contact.
HAZARD RATINGS: Health: 0, Fire: 1, Physical Hazards: 0
Ratings are based on a 0-4 scale, with 0 representing minimal and 4 representing significant hazards or risks.
SECTION III. COMPOSITION/INFORMATION ON INGREDIENTS
This product is not manufactured to contain a reportable component as defined in 29 CFR § 1910.1200:
SECTION IV. FIRST AID MEASURES
EYE CONTACT:
SKIN CONTACT:
INGESTION:
INHALATION:
NOTE:
Rinse thoroughly with water.
Rinse with water.
Do not induce vomiting. Drink a glass of milk or water.
Move individual to fresh air.
If symptoms persist, seek medical attention.
MSDS #4056
Page 2 of 4
SECTION V. FIRE FIGHTING MEASURES
HAZARD CLASSIFICATION:
FLASHPOINT:
EXTINGUISHING MEDIA:
SPECIAL FIREFIGHTING PROCEDURES:
HAZARDOUS COMBUSTION PRODUCTS:
CONTENTS UNDER PRESSURE:
EXPLOSIVE:
Not flammable
Expected to be >212ºF/100ºC based on composition
Water mist, carbon dioxide, foams or dry chemicals
Use water spray or fog, direct stream may produce foam
Oxides of carbon, nitrogen; hydrocarbons & derivatives
No
No
SECTION VI. ACCIDENTAL RELEASE MEASURES
SPILLS, LEAKS: Small or household quantities may be cleaned up and disposed of in normal household trash.
For large (industrial) releases, prevent spill from entering a waterway. Absorbent materials may be used. Material
may be slippery if spilled.
SECTION VII. HANDLING & STORAGE
HANDLING PRECAUTIONS:
STORAGE REQUIREMENTS:
No special precautions necessary
Store in a dry area at normal temperatures
SECTION VIII. EXPOSURE CONTROLS / PERSONAL PROTECTION
CHEMICAL NAME
CAS #
Not applicable
N/A
PERSONAL PROTECTION
FOR ROUTINE CONSUMER USE:
FOR INDUSTRIAL ACTIVITIES:
ACGIH TLV
OSHA PEL
N/A
N/A
No special precautions necessary
Use protective eyewear, gloves, clothing and general ventilation
SECTION IX. PHYSICAL & CHEMICAL PROPERTIES
FORM:
Semi-solid
COLOR:
Slight yelowish tint
ODOR:
Characteristic
SOLUBILITY:
Not soluble in water
SPECIFIC GRAVITY:
Not available
VAPOR PRESSURE:
Not available
MELTING POINT:
Not available
Not available
pH:
Not applicable
VISCOSITY:
EVAPORATION
RATE:
PERCENT
VOLATILE:
Not available
PERCENT VOC:
Not available
Not available
SECTION X. STABILITY & REACTIVITY
STABLE:
HAZARDOUS DECOMPOSITION PRODUCTS:
INCOMPATIBLE WITH:
SPECIAL CONDITIONS TO AVOID:
CORROSIVE TO STEEL, ALUMINUM:
Yes
None known
Strong oxidizers, acids or bases
Extreme heat
No
MSDS #4056
Page 3 of 4
SECTION XI. TOXICOLOGY INFORMATION
ACUTE EFFECTS
EYE CONTACT:
SKIN CONTACT:
INGESTION:
RESPIRATORY:
May cause redness or irritation
Overexposure may cause a skin reaction such as redness
May cause nausea, vomiting and diarrhea.
Not an expected route of exposure
CHRONIC EFFECTS:
None expected
CARCINOGEN CLASSIFICATIONS
NTP:
None
IARC:
None
OSHA:
None
SECTION XII. ECOLOGICAL INFORMATION
This product is safe for the environment at the concentrations predicted under normal use conditions.
SECTION XIII. DISPOSAL CONSIDERATIONS
RCRA: Non- hazardous waste pursuant to federal standards. Does not meet the federal characteristic definition of
ignitable, corrosive, reactive or toxic. Not listed in 40 CFR § 261.33.
Disposal should be in accordance with all applicable local, state and federal regulations.
SECTION XIV. TRANSPORT INFORMATION
FOR NON-BULK
SHIPMENTS ONLY
PROPER SHIPPING
NAME:
HAZARD CLASS:
LAND
(US DOT)
AIR
(IATA/ICAO)
WATER
(IMO/IMDG)
Not applicable
Not applicable
Not applicable
"
"
"
UN/ID #:
"
"
"
PACKING GROUP:
"
"
"
LABEL REQUIRED:
"
"
"
EMERGENCY GUIDE NUMBER:
DOT HAZARDOUS SUBSTANCE RQ:
DOT MARINE POLLUTANTS:
IATA FORBIDDEN SUBSTANCES:
Not applicable
None/no reportable quantities
None/no reportable quantities
None/no reportable quantities
SECTION XV. REGULATORY INFORMATION
TSCA: Not applicable
CAA HAPS or Ozone Depletors: None/no reportable quantities
CERCLA/SARA 302 Hazardous Substances: None/no reportable quantities
CERCLA/SARA 311/312 Hazard Categories: None/no reportable quantities
CERCLA/SARA 313 Emissions Reporting: None/no reportable quantities
CA 22 CCR Hazardous Wastes: None/no reportable quantities
CA Proposition 65 Listed Chemicals: None/no reportable quantities
MSDS #4056
Page 4 of 4
IL, MA, NJ, PA, RI State RTK & Hazardous Notifications: None/no reportable quantities
CANADIAN DSL/NDSL: All components comply with registration requirements
SECTION XVI. OTHER INFORMATION
LEGEND:
ACGIH
American Conference of Governmental & Industrial
Hygienists
N/A
Not Applicable
CAA
Clean Air Act
NFPA
National Fire Protection Association
CAS
Chemical Abstract Service
NTP
National Toxicology Program
CCR
California Code of Regulations
OSHA
Occupation Safety & Health Administration
CERCLA
Comprehensive Environmental Response,
Compensation & Liability Act
PEL
Permissible Exposure Limit
CFR
Code of Federal Regulations
RCRA
Resource Conservation & Recovery Act
DOT
Department of Transportation
RQ
Reportable Quantity
RTK
Right-To-Know
SARA
Superfund Amendments & Reauthorization Act
DSL/NDSL
EPCRA
Domestic Substances List/Non-Domestic
Substances List
Emergency Planning and Community
Right-To-Know Act
EST
Eastern Standard Time
STEL
Short-Term Exposure Limit
HAPS
Hazardous Air Pollutants
TBD
To Be Determined
HMIS
Hazardous Materials Information System
TCC
Tagliabue Closed Cup
HON
Hazardous Organic NESHAP
(National Emission Standards for Hazardous Air
Pollutants)
TLV
Threshold Limit Value
HPC
Home & Personal Care
TSCA
Toxic Substances Control Act
IARC
International Agency for the Research of Cancer
TWA
Time Weighted Average
IATA
International Air Traffic Association
TCLP
Toxicity Characteristic Leaching Procedure
ICAO
International Civil Aviation Organization
VOC
Volatile Organic Compounds
IMDG
International Maritime Dangerous Goods
WHMIS
Workplace Hazardous Materials Information
System
IMO
International Maritime Organization
Unilever Home & Personal Care
Technical Control Unit
40 Merritt Boulevard
Trumbull, CT 06611
Formulation, Date & Clearance: 11001034, 8/23/2005, TBD
MSDS Date: 6/19/2007 11:04 AM
The information contained in this MSDS is based on data which is believed to be accurate. While Unilever HPC believes that the
data contained herein comply with 29 CFR 1910.1200, they are not to be taken as a warranty or representation for which Unilever
HPC assumes legal responsibility. They are offered solely for your consideration and verification. This MSDS is not prepared for
consumer use.