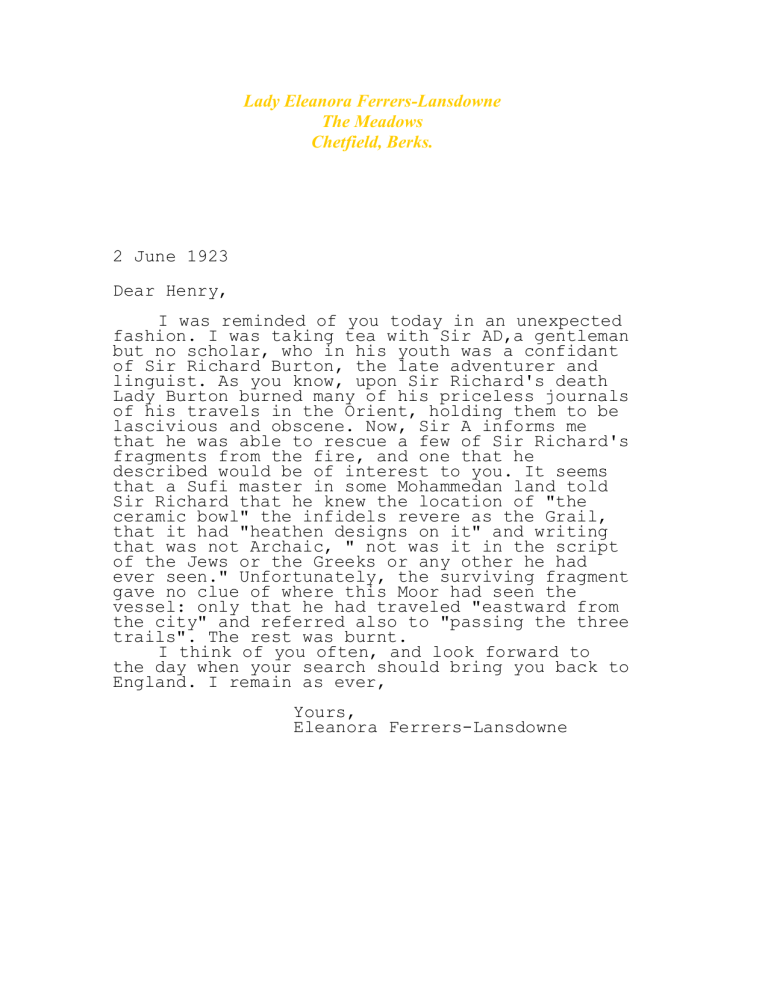 Lady Eleanora Ferrers-Lansdowne
The Meadows
Chetfield, Berks.
2 June 1923
Dear Henry,
I was reminded of you today in an unexpected fashion. I was taking tea with Sir AD,a gentleman but no scholar, who in his youth was a confidant of Sir Richard Burton, the late adventurer and linguist. As you know, upon Sir Richard's death
Lady Burton burned many of his priceless journals of his travels in the Orient, holding them to be lascivious and obscene. Now, Sir A informs me that he was able to rescue a few of Sir Richard's fragments from the fire, and one that he described would be of interest to you. It seems that a Sufi master in some Mohammedan land told
Sir Richard that he knew the location of "the ceramic bowl" the infidels revere as the Grail, that it had "heathen designs on it" and writing that was not Archaic, " not was it in the script of the Jews or the Greeks or any other he had ever seen." Unfortunately, the surviving fragment gave no clue of where this Moor had seen the vessel: only that he had traveled "eastward from the city" and referred also to "passing the three trails". The rest was burnt.
I think of you often, and look forward to the day when your search should bring you back to
England. I remain as ever,
Yours,
Eleanora Ferrers-Lansdowne