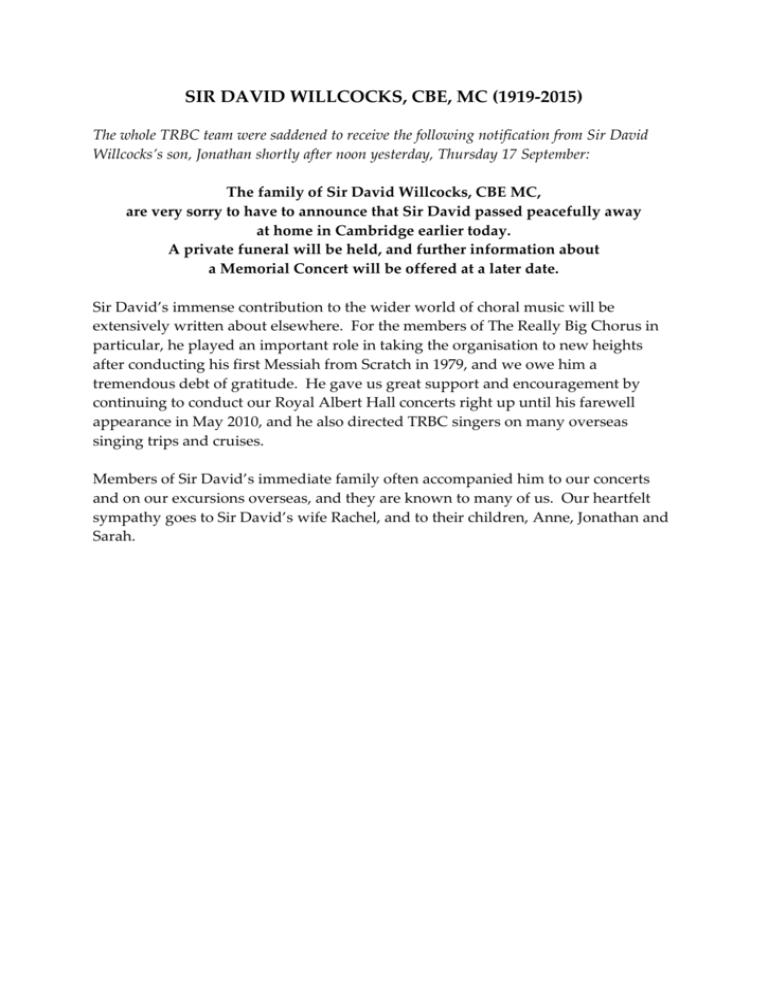 SIR DAVID WILLCOCKS, CBE, MC (1919-2015)
The whole TRBC team were saddened to receive the following notification from Sir David
Willcocks's son, Jonathan shortly after noon yesterday, Thursday 17 September:
The family of Sir David Willcocks, CBE MC,
are very sorry to have to announce that Sir David passed peacefully away
at home in Cambridge earlier today.
A private funeral will be held, and further information about
a Memorial Concert will be offered at a later date.
Sir David's immense contribution to the wider world of choral music will be
extensively written about elsewhere. For the members of The Really Big Chorus in
particular, he played an important role in taking the organisation to new heights
after conducting his first Messiah from Scratch in 1979, and we owe him a
tremendous debt of gratitude. He gave us great support and encouragement by
continuing to conduct our Royal Albert Hall concerts right up until his farewell
appearance in May 2010, and he also directed TRBC singers on many overseas
singing trips and cruises.
Members of Sir David's immediate family often accompanied him to our concerts
and on our excursions overseas, and they are known to many of us. Our heartfelt
sympathy goes to Sir David's wife Rachel, and to their children, Anne, Jonathan and
Sarah.