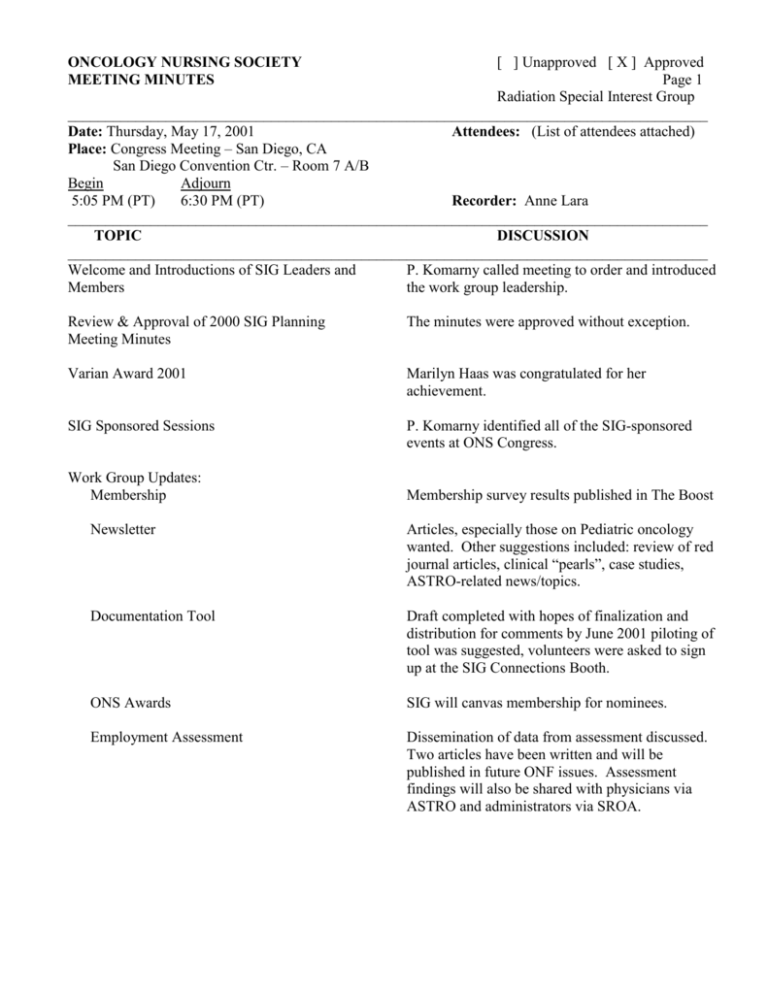 ONCOLOGY NURSING SOCIETY
MEETING MINUTES
[ ] Unapproved [ X ] Approved
Page 1
Radiation Special Interest Group
_____________________________________________________________________________________
Date: Thursday, May 17, 2001
Attendees: (List of attendees attached)
Place: Congress Meeting – San Diego, CA
San Diego Convention Ctr. – Room 7 A/B
Begin
Adjourn
5:05 PM (PT)
6:30 PM (PT)
Recorder: Anne Lara
_____________________________________________________________________________________
TOPIC
DISCUSSION
_____________________________________________________________________________________
Welcome and Introductions of SIG Leaders and
P. Komarny called meeting to order and introduced
Members
the work group leadership.
Review & Approval of 2000 SIG Planning
Meeting Minutes
The minutes were approved without exception.
Varian Award 2001
Marilyn Haas was congratulated for her
achievement.
SIG Sponsored Sessions
P. Komarny identified all of the SIG-sponsored
events at ONS Congress.
Work Group Updates:
Membership
Membership survey results published in The Boost
Newsletter
Articles, especially those on Pediatric oncology
wanted. Other suggestions included: review of red
journal articles, clinical "pearls", case studies,
ASTRO-related news/topics.
Documentation Tool
Draft completed with hopes of finalization and
distribution for comments by June 2001 piloting of
tool was suggested, volunteers were asked to sign
up at the SIG Connections Booth.
ONS Awards
SIG will canvas membership for nominees.
Employment Assessment
Dissemination of data from assessment discussed.
Two articles have been written and will be
published in future ONF issues. Assessment
findings will also be shared with physicians via
ASTRO and administrators via SROA.
ONCOLOGY NURSING SOCIETY
MEETING MINUTES
Date: Thursday, May 17, 2001
TOPIC
Strategic Plan
Other Business:
Communiques
[ ] Unapproved [ X ] Approved
Page 2
Radiation Special Interest Group
DISCUSSION
Suggestions for revisions solicited.
Each SIG is limited to 2/year plus one Congress
related communication. ONS is working on list
serve for SIGs and other groups. This electronic
option may reduce the cost of mailings.
Call for Volunteers
Members were asked to volunteer for SIG
coordinator-elect position.
Topics Submissions
Members were asked to submit ideas for topics for
both Congress 2002 and Institutes of Learning.
ASTRO
1) ASTRO meeting link now available through
ONS Online.
2) SIG membership encouraged to join and
participate in ASTRO activities.
3) An informational flyer on Nursing at ASTRO
11/2001 will be distributed.
Report from SIG Leadership Meeting
1) ONS will create virtual "communities" for
Chapters and SIGs. Website templates are in
development.
2) Quality Cancer Research Center available
online. This site will link users to Congress and
update them on legislative issues.
Archives
Please send any information for "scrapbook" to
Chris Ellis, SIG historian.
Introduction of Participants
All participants introduced themselves to the group.
Adjournment
There being no further business, the meeting was
adjourned at 6:30 p.m.
List of attendees at Radiation SIG Planning/Networking Meeting at Congress 2001
SIG Members
M. Burns
E. Carper
D. Dorman
C. Ellis
T. Gosselin
M. Haas
H. Jordan
M. Kasper
A. Kaufman
S. Sanchez
N. Schur
C. Sheehan *
J. Kelvin
M. Kling
C. Krawchuk
T. Krupa
A. Lara *
K. Leifeste
K. Maher
B. Mautner
B. McGarry
A. Snow
S. Storch
L. Weis-Smith
G. Moore-Higgs
A. Poliquin
J. Pruitt
A. Quinn
S. Rowan
Non-SIG Members
Dianna Fraser, 1577 NW Evans Ave., Roseburg, OR 97470-6132
Kathryn Judy, 2007 Raintree Dr., Richmond, VA 23233-3608
Margaret Lauer, 710 Ravenna Cir, Reynoldsburg, OH 43068-1625
Janis Malek, 6831 Faircove Dr., Rancho Palos Verdes, CA 90275-4668
Diane Otte, 4028 Northview Ter, Eagan, MN 55123-1557
Pat Pahlka, Oregon Health Sciences Univ., 3181 SW Sam Jackson Park Rd., Mailcode: L 337 Portland, OR
97201-3098
Helen Pavilonis, 43 Lure Ct., Durham, NC 27713-7901
Janet Revell-Williams, Santa Monica Cancer Tx Ctr., 2428 Santa Monica 103, Santa Monica, CA 90404
Eileen Rivest, 207 Loudville Rd., Easthampton, MA 01027
Beth Ann Shea, 759 Lake Shore Blvd., Rochester, NY 14617-1538
Joyce Smith – no address
Debra Spangler, 1647 Brandywine Ln., Dixon, IL 61021-8759
Deborah Thomas, 7201 N 25th St., Tacoma, WA 98406-1610
Suzanne Thomas-Crooks, 8901 Edwin Ln., Lincoln, NE 68517-9625
Linda VanBuren, 4 Josephine Ln., Castleton, NY 12033-9523
Nan Wagner, 16 Woodberry Rd., Little Rock, AR 72212-2742
* Interested in being in a Work Group.