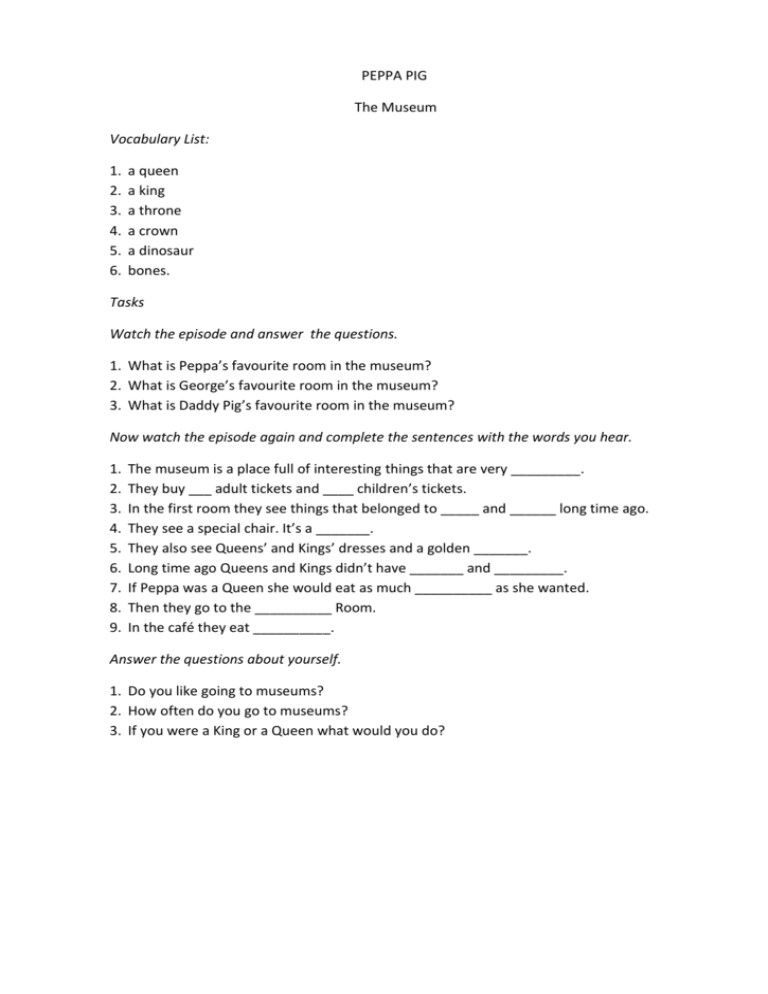 PEPPA PIG
The Museum
Vocabulary List:
1.
2.
3.
4.
5.
6.
a queen
a king
a throne
a crown
a dinosaur
bones.
Tasks
Watch the episode and answer the questions.
1. What is Peppa's favourite room in the museum?
2. What is George's favourite room in the museum?
3. What is Daddy Pig's favourite room in the museum?
Now watch the episode again and complete the sentences with the words you hear.
1.
2.
3.
4.
5.
6.
7.
8.
9.
The museum is a place full of interesting things that are very _________.
They buy ___ adult tickets and ____ children's tickets.
In the first room they see things that belonged to _____ and ______ long time ago.
They see a special chair. It's a _______.
They also see Queens' and Kings' dresses and a golden _______.
Long time ago Queens and Kings didn't have _______ and _________.
If Peppa was a Queen she would eat as much __________ as she wanted.
Then they go to the __________ Room.
In the café they eat __________.
Answer the questions about yourself.
1. Do you like going to museums?
2. How often do you go to museums?
3. If you were a King or a Queen what would you do?