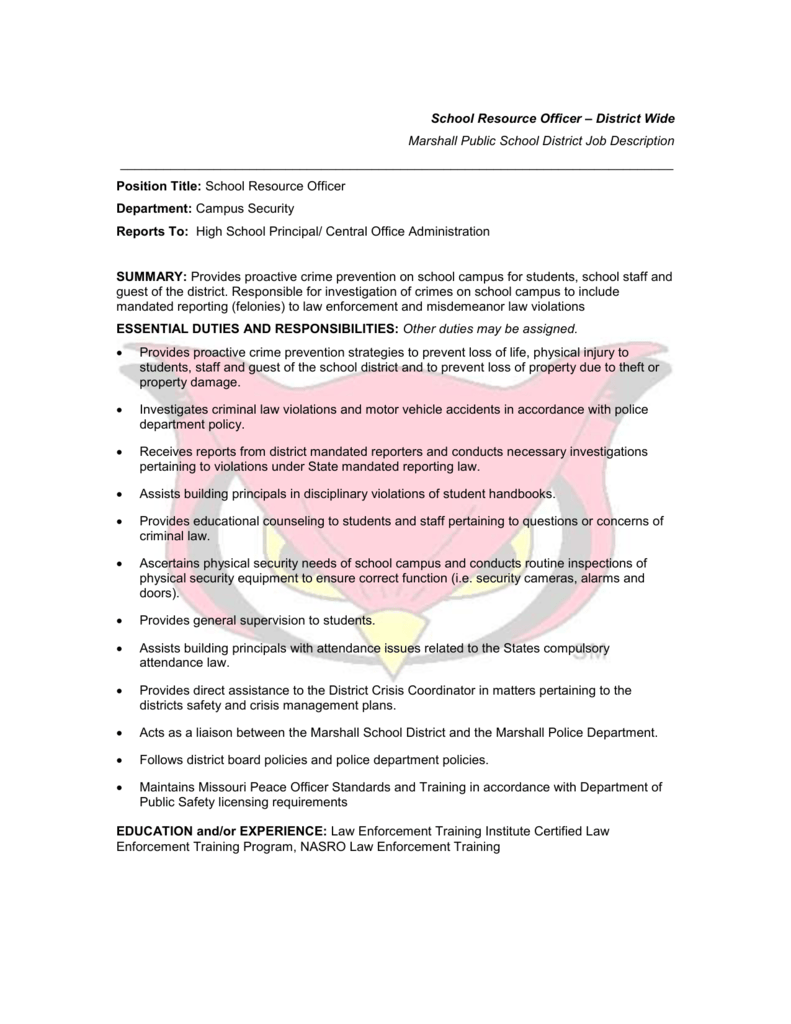 School Resource Officer – District Wide
Marshall Public School District Job Description
_____________________________________________________________________________
Position Title: School Resource Officer
Department: Campus Security
Reports To: High School Principal/ Central Office Administration
SUMMARY: Provides proactive crime prevention on school campus for students, school staff and
guest of the district. Responsible for investigation of crimes on school campus to include
mandated reporting (felonies) to law enforcement and misdemeanor law violations
ESSENTIAL DUTIES AND RESPONSIBILITIES: Other duties may be assigned.

Provides proactive crime prevention strategies to prevent loss of life, physical injury to
students, staff and guest of the school district and to prevent loss of property due to theft or
property damage.

Investigates criminal law violations and motor vehicle accidents in accordance with police
department policy.

Receives reports from district mandated reporters and conducts necessary investigations
pertaining to violations under State mandated reporting law.

Assists building principals in disciplinary violations of student handbooks.

Provides educational counseling to students and staff pertaining to questions or concerns of
criminal law.

Ascertains physical security needs of school campus and conducts routine inspections of
physical security equipment to ensure correct function (i.e. security cameras, alarms and
doors).

Provides general supervision to students.

Assists building principals with attendance issues related to the States compulsory
attendance law.

Provides direct assistance to the District Crisis Coordinator in matters pertaining to the
districts safety and crisis management plans.

Acts as a liaison between the Marshall School District and the Marshall Police Department.

Follows district board policies and police department policies.

Maintains Missouri Peace Officer Standards and Training in accordance with Department of
Public Safety licensing requirements
EDUCATION and/or EXPERIENCE: Law Enforcement Training Institute Certified Law
Enforcement Training Program, NASRO Law Enforcement Training
CERTIFICATES, LICENSES, REGISTRATIONS: Missouri Peace Officer Standards and Training
(POST) Certifications and National Association School Resource Officer Certification.
EVALUATION: Performance of this position will be evaluated in accordance with provisions of
the Board's policy on Evaluation of Professional Personnel.
TERMS OF EMPLOYMENT: Ten-month employee. Salary to be established by the Board of
Education.