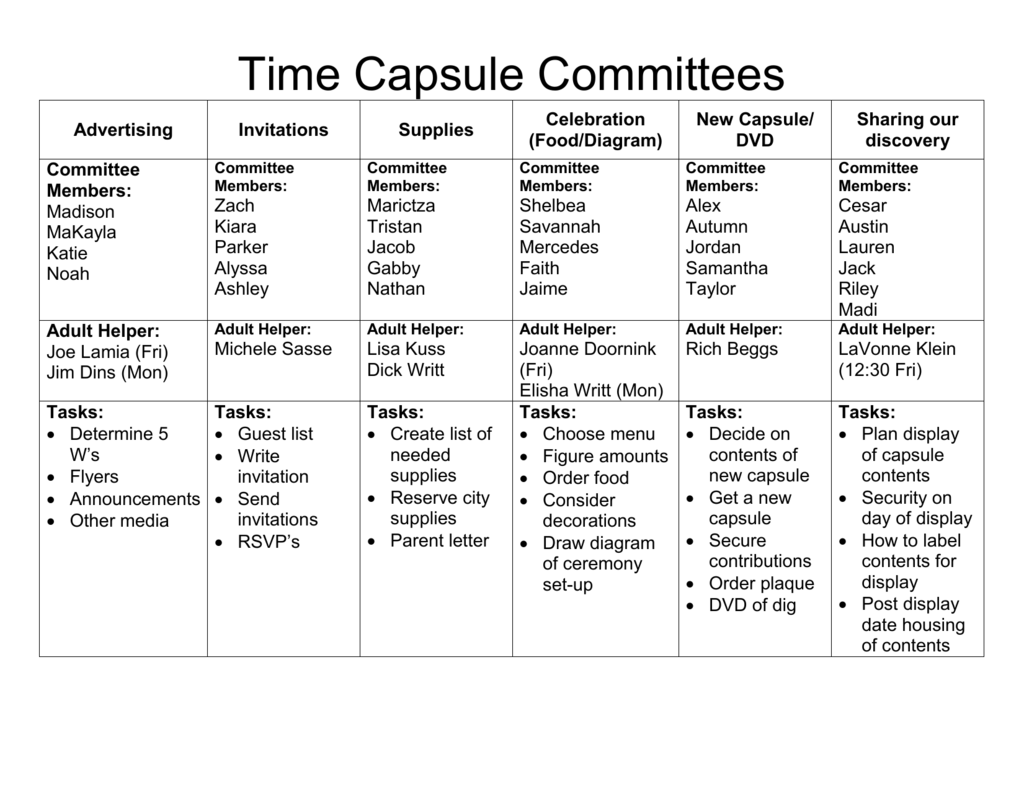 Time Capsule Committees
Advertising
Invitations
Supplies
Celebration
(Food/Diagram)
New Capsule/
DVD
Sharing our
discovery
Committee
Members:
Madison
MaKayla
Katie
Noah
Committee
Members:
Committee
Members:
Committee
Members:
Committee
Members:
Committee
Members:
Zach
Kiara
Parker
Alyssa
Ashley
Marictza
Tristan
Jacob
Gabby
Nathan
Shelbea
Savannah
Mercedes
Faith
Jaime
Alex
Autumn
Jordan
Samantha
Taylor
Cesar
Austin
Lauren
Jack
Riley
Madi
Adult Helper:
Joe Lamia (Fri)
Jim Dins (Mon)
Adult Helper:
Adult Helper:
Adult Helper:
Adult Helper:
Adult Helper:
Michele Sasse
Lisa Kuss
Dick Writt
Rich Beggs
LaVonne Klein
(12:30 Fri)
Tasks:
 Determine 5
W's
 Flyers
 Announcements
 Other media
Tasks:
 Guest list
 Write
invitation
 Send
invitations
 RSVP's
Tasks:
 Create list of
needed
supplies
 Reserve city
supplies
 Parent letter
Joanne Doornink
(Fri)
Elisha Writt (Mon)
Tasks:
 Choose menu
 Figure amounts
 Order food
 Consider
decorations
 Draw diagram
of ceremony
set-up
Tasks:
 Decide on
contents of
new capsule
 Get a new
capsule
 Secure
contributions
 Order plaque
 DVD of dig
Tasks:
 Plan display
of capsule
contents
 Security on
day of display
 How to label
contents for
display
 Post display
date housing
of contents
Advertising Committee
 The 5 W's
Who: (Mrs. Sasse and Miss Writt's 3rd grade class and the City of Clintonville)
What: (digging up the time capsule that was buried over 30 years ago AND burying a
new one) *NAME our event
When: (pick a date within the first two weeks of May)
Where: (in front of City Hall)
Why: (the city is going to honor its promise, our own interest, and celebrate local
history)
 What does it mean to advertise? (get the word out)
 How can we get the word out?
 Flyers/posters
o Local store bag stuffs
o Local business
o Send home with our class
 Radio
 News article
 School website
 Other?
 Discuss each type of advertisement.
Flyers – should be eye-catching, size will vary depending on use, handmade versus
computer made, what supplies are needed
Radio – how do you get a radio announcement? Doug Erdman business card
News Article – how is an article different from a flyer? Who do you have to contact?
(Tim Biemal) When would you write the article, before or after, or both?
School Website – is this an appropriate medium for advertising this project? If so,
who do you contact. (Matt Duncan, Webmaster)
 Set timelines.
 Assign tasks to members of group. Some group members will work on more
than one type of advertising.
Invitations Committee
 Create guest list. Discuss how to organize this info.
 Shirley Johnson must be invited (she wrote the letter to the editor that
started this whole thing)
 Which city officials should be there? (Common Council)
 Who helped us along the way?
o Lisa Kuss, Dick Writt, Dick Koeppen, Nancy Koepen, Roger Metzger,
Ken Suehring, Diana Raschke
 Our family and friends
 Important local people – business leaders, organization leaders
 School officials
 Citizens
 Others?
 Make a plan for collecting the addresses.
 Review invitation from 1978 dedication. Discuss. How could it have been
done better?
 Discuss types of invitations. Will everyone on the guest list get the same
invite or will Ms. Johnson and the people who helped us get a fancier invitation.
 Explain an RSVP – is this necessary for us? Perhaps for the VIPs?
 Review what the invitation will need to include.
 Start drafting the invites. Computers can be used.
 Any personal touches?
 Mailing Plan
Supplies Committee
 Start by imagining the day when we will have to dig up the capsule. Act out
the process. Make a list of supplies that you will need as you go.
 Write out a plan for the actual digging. Use names and number the steps in
order.
 Think about the supplies the other committees might need. How should
they ask you for those supplies? How will you know what they need?
 Where are all the supplies going to come from?
 How are we going to set it all up on that day? Who will do what?
 Draft a letter to parents letting them know what their child has to bring.
 Call Digger's hotline.
Celebrations Committee
 Discuss how the event can be a celebration.
 Food and drink
 Decorations
 Music
 Determine what we want for our celebration.
 Figure what is needed.
 Amount
 Cost
 Who will set-up things? When will set-up take place?
 Where will everything go? Draw a diagram of the area. Label where
everything will be.
 Podium
 Diggers
 Dirt that gets dug out
 Food
 People standing
 People in chairs
 People with special needs (wheel chairs)
New Capsule Committee
 Review what the existing time capsule is and WHY we think it was put
together and buried.
 Review what we know is in the existing time capsule.
 Money
 Newspapers
 Items from local businesses
 Products from local industry
 Other?
 Brainstorm what we can use for a new capsule. Cost? Where will we get it
from?
 Discuss what SHOULD be put in the new time capsule. Make a list.
 Go through the list and plan for how to get these items in time for the
ceremony.
 Plaque – What should it say? What will it cost? Order it.
 Discuss the DVD idea. Figure out how we will get it done the same day that the
film is shot so that it can be put in the time capsule.
Sharing Committee
 Review why we want to share the contents of the capsule with citizens who
are not at the digging up ceremony. (Because one of the reasons we wanted it
dug up was to share it with the city and create an excitement about Clintonville's
past. We also realize that not everyone will be able to be with us on the day we
dig it up.)
 Discuss the booth idea at Pigeon River Street Days. Make a list of what we
would need to get together in order to have a booth.
 Tent
 Tables
 Table covers
 Chairs
 Security
 Signage
 Items labeled (who will help us identify everything?)
 Publicity
 People to work
 Reserve a space at Pigeon River Street Days
 Plan for circumstances – bad weather, wind
 Where will everything go after our sharing event?