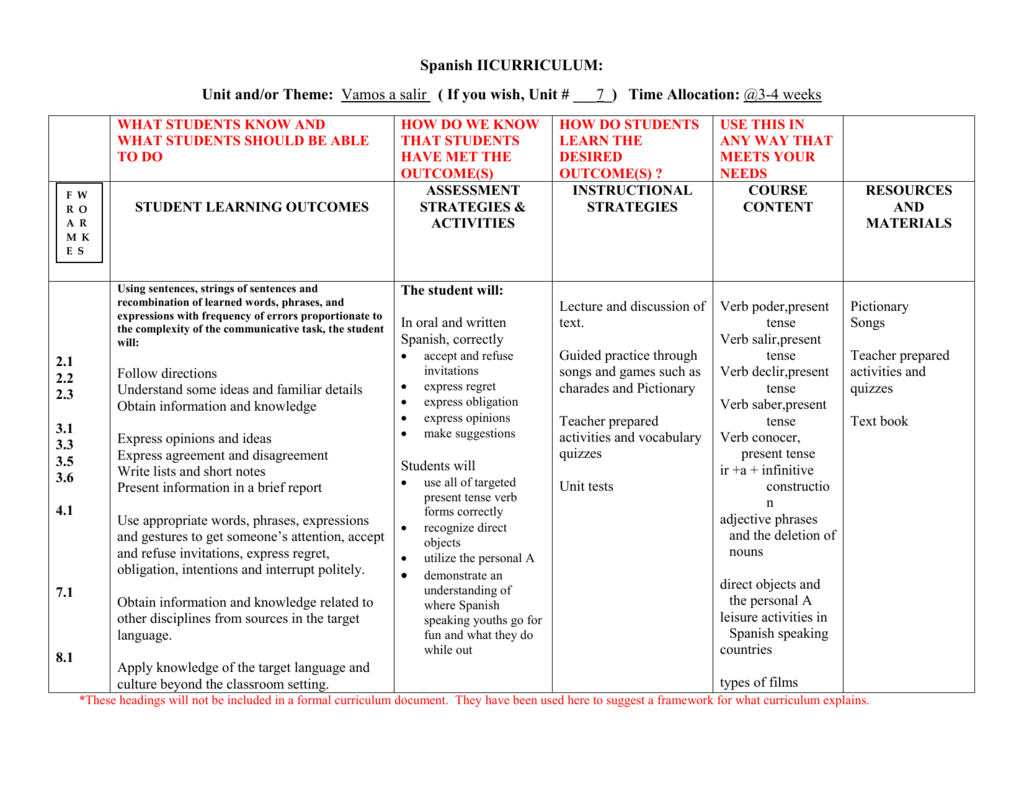 Spanish IICURRICULUM:
Unit and/or Theme: Vamos a salir ( If you wish, Unit # ___7_) Time Allocation: @3-4 weeks
WHAT STUDENTS KNOW AND
WHAT STUDENTS SHOULD BE ABLE
TO DO
F W
R O
A R
M K
E S
STUDENT LEARNING OUTCOMES
Using sentences, strings of sentences and
recombination of learned words, phrases, and
expressions with frequency of errors proportionate to
the complexity of the communicative task, the student
will:
2.1
2.2
2.3
3.1
3.3
3.5
3.6
4.1
7.1
8.1
Follow directions
Understand some ideas and familiar details
Obtain information and knowledge
Express opinions and ideas
Express agreement and disagreement
Write lists and short notes
Present information in a brief report
Use appropriate words, phrases, expressions
and gestures to get someone's attention, accept
and refuse invitations, express regret,
obligation, intentions and interrupt politely.
Obtain information and knowledge related to
other disciplines from sources in the target
language.
Apply knowledge of the target language and
culture beyond the classroom setting.
HOW DO WE KNOW
THAT STUDENTS
HAVE MET THE
OUTCOME(S)
ASSESSMENT
STRATEGIES &
ACTIVITIES
HOW DO STUDENTS
LEARN THE
DESIRED
OUTCOME(S) ?
INSTRUCTIONAL
STRATEGIES
USE THIS IN
ANY WAY THAT
MEETS YOUR
NEEDS
COURSE
CONTENT
Lecture and discussion of
text.
Verb poder,present
tense
Verb salir,present
tense
Verb declir,present
tense
Verb saber,present
tense
Verb conocer,
present tense
ir +a + infinitive
constructio
n
adjective phrases
and the deletion of
nouns
RESOURCES
AND
MATERIALS
The student will:
In oral and written
Spanish, correctly





accept and refuse
invitations
express regret
express obligation
express opinions
make suggestions
Students will




use all of targeted
present tense verb
forms correctly
recognize direct
objects
utilize the personal A
demonstrate an
understanding of
where Spanish
speaking youths go for
fun and what they do
while out
Guided practice through
songs and games such as
charades and Pictionary
Teacher prepared
activities and vocabulary
quizzes
Unit tests
Pictionary
Songs
Teacher prepared
activities and
quizzes
Text book
direct objects and
the personal A
leisure activities in
Spanish speaking
countries
types of films
*These headings will not be included in a formal curriculum document. They have been used here to suggest a framework for what curriculum explains.