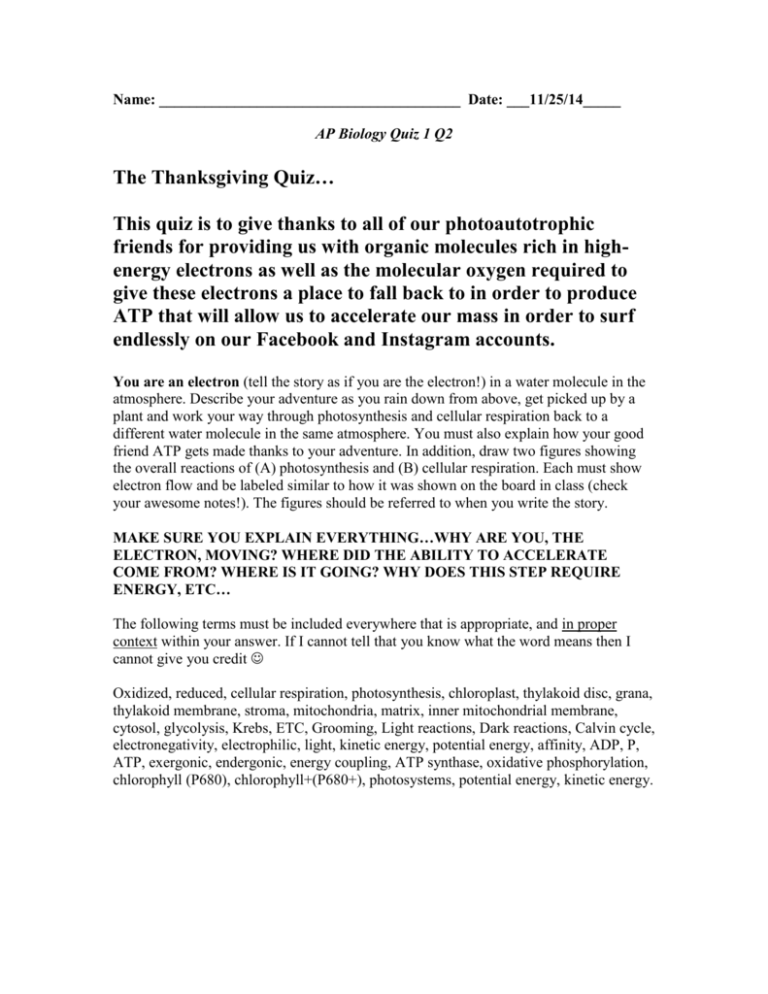 Name: ________________________________________ Date: ___11/25/14_____
AP Biology Quiz 1 Q2
The Thanksgiving Quiz…
This quiz is to give thanks to all of our photoautotrophic
friends for providing us with organic molecules rich in highenergy electrons as well as the molecular oxygen required to
give these electrons a place to fall back to in order to produce
ATP that will allow us to accelerate our mass in order to surf
endlessly on our Facebook and Instagram accounts.
You are an electron (tell the story as if you are the electron!) in a water molecule in the
atmosphere. Describe your adventure as you rain down from above, get picked up by a
plant and work your way through photosynthesis and cellular respiration back to a
different water molecule in the same atmosphere. You must also explain how your good
friend ATP gets made thanks to your adventure. In addition, draw two figures showing
the overall reactions of (A) photosynthesis and (B) cellular respiration. Each must show
electron flow and be labeled similar to how it was shown on the board in class (check
your awesome notes!). The figures should be referred to when you write the story.
MAKE SURE YOU EXPLAIN EVERYTHING…WHY ARE YOU, THE
ELECTRON, MOVING? WHERE DID THE ABILITY TO ACCELERATE
COME FROM? WHERE IS IT GOING? WHY DOES THIS STEP REQUIRE
ENERGY, ETC…
The following terms must be included everywhere that is appropriate, and in proper
context within your answer. If I cannot tell that you know what the word means then I
cannot give you credit 
Oxidized, reduced, cellular respiration, photosynthesis, chloroplast, thylakoid disc, grana,
thylakoid membrane, stroma, mitochondria, matrix, inner mitochondrial membrane,
cytosol, glycolysis, Krebs, ETC, Grooming, Light reactions, Dark reactions, Calvin cycle,
electronegativity, electrophilic, light, kinetic energy, potential energy, affinity, ADP, P,
ATP, exergonic, endergonic, energy coupling, ATP synthase, oxidative phosphorylation,
chlorophyll (P680), chlorophyll+(P680+), photosystems, potential energy, kinetic energy.