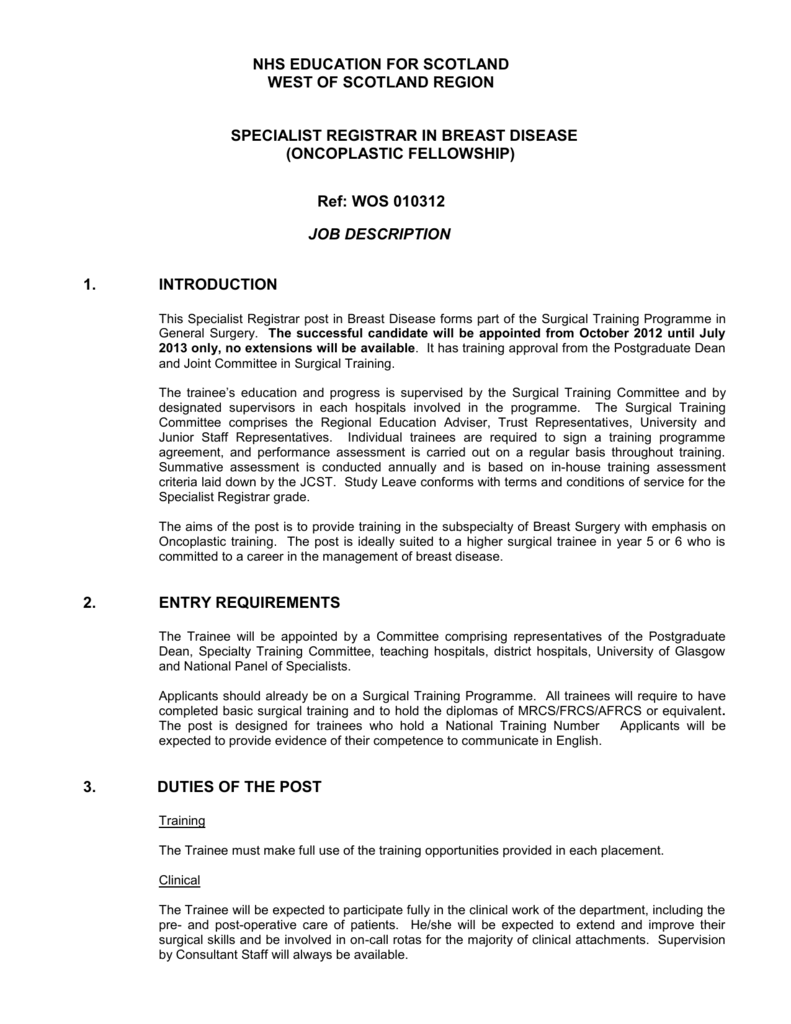 NHS EDUCATION FOR SCOTLAND
WEST OF SCOTLAND REGION
SPECIALIST REGISTRAR IN BREAST DISEASE
(ONCOPLASTIC FELLOWSHIP)
Ref: WOS 010312
JOB DESCRIPTION
1.
INTRODUCTION
This Specialist Registrar post in Breast Disease forms part of the Surgical Training Programme in
General Surgery. The successful candidate will be appointed from October 2012 until July
2013 only, no extensions will be available. It has training approval from the Postgraduate Dean
and Joint Committee in Surgical Training.
The trainee's education and progress is supervised by the Surgical Training Committee and by
designated supervisors in each hospitals involved in the programme. The Surgical Training
Committee comprises the Regional Education Adviser, Trust Representatives, University and
Junior Staff Representatives. Individual trainees are required to sign a training programme
agreement, and performance assessment is carried out on a regular basis throughout training.
Summative assessment is conducted annually and is based on in-house training assessment
criteria laid down by the JCST. Study Leave conforms with terms and conditions of service for the
Specialist Registrar grade.
The aims of the post is to provide training in the subspecialty of Breast Surgery with emphasis on
Oncoplastic training. The post is ideally suited to a higher surgical trainee in year 5 or 6 who is
committed to a career in the management of breast disease.
2.
ENTRY REQUIREMENTS
The Trainee will be appointed by a Committee comprising representatives of the Postgraduate
Dean, Specialty Training Committee, teaching hospitals, district hospitals, University of Glasgow
and National Panel of Specialists.
Applicants should already be on a Surgical Training Programme. All trainees will require to have
completed basic surgical training and to hold the diplomas of MRCS/FRCS/AFRCS or equivalent.
The post is designed for trainees who hold a National Training Number
Applicants will be
expected to provide evidence of their competence to communicate in English.
3.
DUTIES OF THE POST
Training
The Trainee must make full use of the training opportunities provided in each placement.
Clinical
The Trainee will be expected to participate fully in the clinical work of the department, including the
pre- and post-operative care of patients. He/she will be expected to extend and improve their
surgical skills and be involved in on-call rotas for the majority of clinical attachments. Supervision
by Consultant Staff will always be available.
Emergency surgery will be undertaken as part of this post by participation in the emergency
surgical rota at the hospital in which the trainee is based.
Administration
The Trainee will be expected, when appropriate, to participate in the day to day running of the
department in administrative activities such as organisation of on-call rotas, organisation of
undergraduate training, patient reports and letters. The Trainee will have the opportunity to
develop management skills as required by the JCST.
Communication
This will include:
Discussion with relevant Consultants regarding clinical problems.
Communication with General Practitioners – this will include telephone discussion of problems and
writing of letters about cases seen in the Department.
Liaison with Specialists in other hospitals/agencies such as district nurses, ambulance, police, etc.
4.
EDUCATION
Continuing Education
The Trainee will be expected to participate in educational activities on a local and national basis.
All hospitals enjoy well stocked departmental libraries and in addition comprehensive education
facilities.
Education leading to the intercollegiate FRCS is available through in-house tutorials and locally
arranged postgraduate courses. Trainees are expected to further their education through
attendance at meetings and courses held both locally and nationally.
Management development is encouraged and the Trainee will be expected to attend appropriate
courses.
Teaching
At the appropriate stage of training, the Trainee will be expected to take part in departmental
teaching for junior staff, undergraduates, nursing staff, etc
5.
RESEARCH AND AUDIT
Research
There is a strong tradition of research in the West of Scotland. Facilities and support for research
activities are available through the University academic department and within hospital
departments. The trainee will be encouraged to participate in clinical research and time will be
allocated consistent with current Terms & Conditions.
Audit
Audit is an essential component of Surgical practice and the Trainee will be required to participate
in local and national audit activities.
6.
LOCATION OF DUTIES
The hospitals involved in the training programme are as follows:
Canniesburn Plastic Surgical Unit, Royal Infirmary, Glasgow
Western Infirmary Breast Unit, Glasgow
7.
ASSESSMENT
The Trainee will be continuously assessed by the trainers in their place of work with formal
interviews every 6 months and annual review by the Surgical Sub-Committee of the West of
Scotland Postgraduate Medical Education Board.
If, in the opinion of the Surgical Training Committee, the Trainee fails to show adequate
commitment or progress, career guidance will be arranged, and exceptionally, in the absence of
satisfactory progress, the committee may recommend that the contract be terminated.
Trainees are required to keep a portfolio and logbook following the requirements laid down by the
JCST
8
GENERAL INFORMATION
Hours and Salary
The hours of duty will be the standard working week of 40 hours for which a standard salary (as
detailed in paragraph 8b, Appendix 1 of the Terms and Conditions of Service, appended under
general information) will be paid.
From December 1st 2000, a new system for calculating Junior Doctor's out of hours pay was
introduced, the 'Banded Intensity Contract'. The standard hours of duty will remain 40 hours per
week and in addition a supplement will be paid. The banding for the hospitals on the rotation will be
confirmed on appointment.
Please note that a monitoring exercise is currently being undertaken, therefore, the current
Banding may be subject to change. An offer of Employment may not reflect the current Banding.
Further Information
For further information the training programme, please contact:
Mr C R Wilson, Training Programme Director and Consultant Breast Surgeon, Western Infirmary, Glasgow,
Telephone: 0141 211 6248
Ms J C Doughty, Consultant Breast Surgeon, Western Infirmary, Glasgow
Telephone: 0141 211 6248
Mr J H Anderson, Chair of the Surgical Training Committee and Consultant Surgeon, Glasgow Royal
Infirmary, Glasgow
Telephone: 0141 221 4793
Miss E Mithoff, Consultant Plastic Surgeon, Canniesburn Unit, Glasgow Royal Infirmary,
Telephone: 0141 211 5798
Mr I MacKay, Consultant Plastic Surgeon, Canniesburn Unit, Glasgow Royal Infirmary
Telephone: 0141 211 5798
Mr B Chew, Consultant Plastic Surgeon, Glasgow Royal Infirmary
Telephone: 0141 211 4000
Mr V Sivarajan, Consultant Plastic Surgeon, Glasgow Royal Infirmary
Telephone: 0141 211 4000.
Mr A Malyan, Consultant Plastic Surgeon, Glasgow Royal Infirmary
Telephone: 0141 211 4000.
APPENDIX
OUTLINE OF PROPOSED PROGRAMME
SPECIALIST REGISTRAR IN BREAST SURGERY
Western Infirmary Breast Unit
Canniesburn Plastic Surgical Unit
INTRODUCTION
Glasgow has a National and International reputation for the management of all aspects of Breast disease and in
recent years has developed a fully integrated model for the provision of and training in Oncoplastic Breast
techniques.
This model of Oncoplastic Breast Surgery relies on the close working relationship between the Plastic Surgeons
and Breast Surgeons in Glasgow. This has resulted in excellent training opportunities for our local trainees who
spend at least 6 months dedicated Breast Plastic Surgical Training in the Canniesburn Unit.
.The establishment of an interface group of the two SACs to process this approach has highlighted the
combination of general and plastic training in breast surgery.
We are, therefore, able to offer the full range of specialist training in breast surgery as outlined by the curriculum
devised by the SAC in general surgery in a new combined unit of surgeons who have nationally recognised
expertise. This could provide appropriate experience in the management of breast disease for both general and
plastic surgery trainees.
The unit has an international reputation for its clinical and basic research and this is reflected by the prominent
role that many of the units play in the organisation of breast cancer and other cancer services in Scotland and
the rest of the UK
STAFFING
Western Infirmary
Ms. J.C. Doughty
Mr C R Wilson
4 Nurse Specialists
Canniesburn Unit, Glasgow Royal Infirmary
Mr I MacKay
Miss. E. Mithoff
Mr. A. Ray
Mr. J. Scott
Mr A. Malyon
Ms M. Strick
Multidisciplinary Team
Close working relationships with other specialists within a multidisciplinary team are a key part of modern breast
cancer management. This is long established in our practice, we are fortunate to collaborate with a number of
outstanding clinicians, many of whom are recognised nationally.
Pathology
Dr. E. Mallon
Dr. M. Seawright
Dr. D. Kipgen
Radiology
Dr. H. Dobson
Dr. C.Cordiner
Dr. N. Moss
Dr. J. Litherland
Dr H. Griffiths
Oncology
Dr. P. Canney
Dr. G. Fraser
Dr. J. Fraser
Dr M Rizwanallah
UNIT CLINICAL PROGRAME











Multidisciplinary One stop Assessment Clinics
Breast Screening Assessment Clinics
Genetic Evaluation and High risk Clinics
Breast Cancer Planning and Results Clinics
Follow up Clinics
Breast Reconstruction and Oncoplastic Assessment Clinics
Symptomatic Breast MDT
Breast Screening MDT
Symptomatic Breast Theatre Sessions ( Combined with Endocrine Cases )
Impalpable Screen Detected Theatre Sessions
Oncoplastic / Immediate / Delayed Reconstuctive Theatre Sessions
Clinical Workload
Western Infirmary
Approximately 4000 symptomatic new breast patients per year are assessed in two on-stop diagnostic clinics
and in excess of 400 breast cancers are treated which includes 150 screen-detected cancers. A further 50
patients with breast cancer are treated non-surgically with primary medical therapy. Forty per cent of patients
have conservation surgery and 30 pr cent of those undergoing mastectomy have immediate reconstruction in
conjunction with the plastic surgery team. In excess of 150 localisation procedures are performed for impalpable
lesions. We have been at the forefront in the UK of developing new surgical techniques such as sentinel lymph
node biopsy.
Canniesburn Plastic Surgical Unit
There are more than 500 new referrals per year for reconstructive surgery and approximately 200 immediate and
200 delayed reconstructions are performed annually. This allows ample opportunity for training in all aspects of
'oncoplastic surgery.'.
Training Opportunities
The workload, range of activity, level of specialisation and supervision allows for provision of specialist training.
Appropriate supervision is always available from the consultants involved in the management of breast disease.
Training is available in palpable and unpalpable breast disease and also breast reconstruction
Research
Research is fundamental to clinical training and remains the requirement for the Intercollegiate FRCS
examination. Out unit has developed an international reputation in both clinical and basic research. All trainees
are encouraged to take an active part in this, and in recent years have all presented work at national and
international meetings.
Clinical Research
Clinical trials are a central part of the development of our specialty and the unit is strongly committed to them.
Members of the team are on the supervisory committees for several other national and international trials.
Patients from our practice are actively recruited into the trials and a trainee is expected to be part of this process.
Numerous other clinical projects are carried out in the unit for which we have a high rate of success in converting
these for presentation at clinical meetings and for publication.
Basic Research
We have a strong framework of basic breast cancer work within the academic department and our research is
recognised internationally. There are strong collaborative links with the Department of Pathology and the
Beatson Institute. It is not unusual for clinical trainees to do laboratory work during the clinical training, as they
are encouraged to take an interest in it and to make an intellectual contribution.
Proposed Timetable
This appointment should have particular emphasis on the techniques and assessment for Oncoplastic Surgery
which will be gained by working within the model of care between the Western Infirmary and the Canniesburn
Unit. This would provisionally involve spending time between the Western Infirmary and Canniesburn Plastic
Surgery Unit, Glasgow Royal Infirmary, but during that time there can be flexibility depending on the educational
and training requirements of the trainee.
.