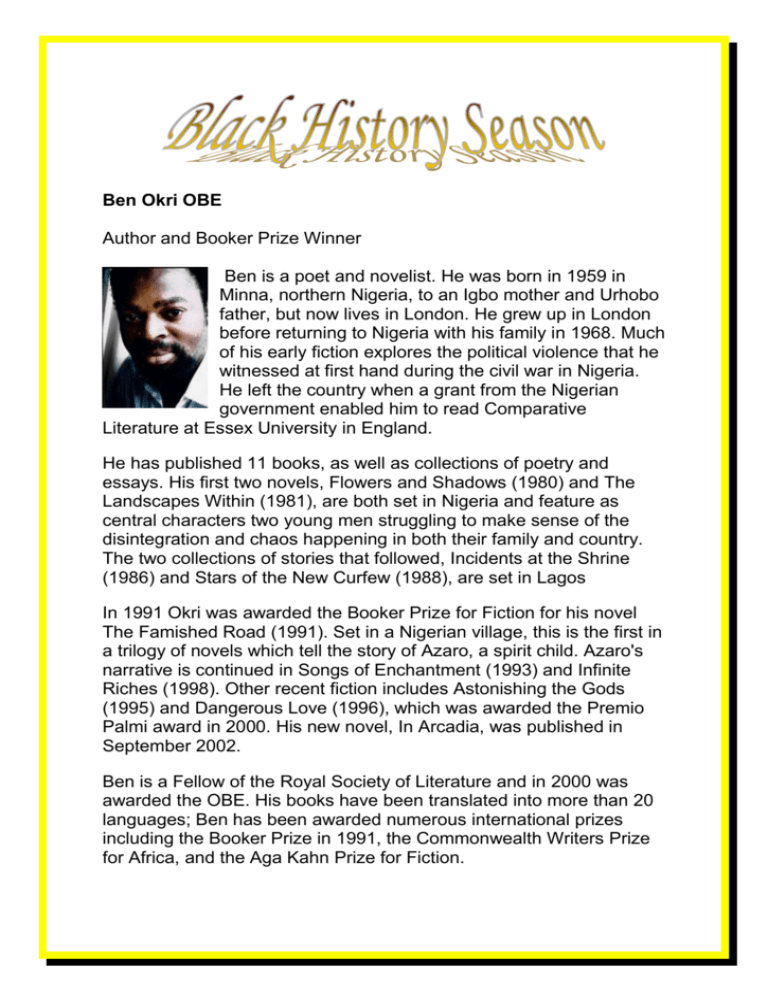 Ben Okri OBE
Author and Booker Prize Winner
Ben is a poet and novelist. He was born in 1959 in
Minna, northern Nigeria, to an Igbo mother and Urhobo
father, but now lives in London. He grew up in London
before returning to Nigeria with his family in 1968. Much
of his early fiction explores the political violence that he
witnessed at first hand during the civil war in Nigeria.
He left the country when a grant from the Nigerian
government enabled him to read Comparative
Literature at Essex University in England.
He has published 11 books, as well as collections of poetry and
essays. His first two novels, Flowers and Shadows (1980) and The
Landscapes Within (1981), are both set in Nigeria and feature as
central characters two young men struggling to make sense of the
disintegration and chaos happening in both their family and country.
The two collections of stories that followed, Incidents at the Shrine
(1986) and Stars of the New Curfew (1988), are set in Lagos
In 1991 Okri was awarded the Booker Prize for Fiction for his novel
The Famished Road (1991). Set in a Nigerian village, this is the first in
a trilogy of novels which tell the story of Azaro, a spirit child. Azaro's
narrative is continued in Songs of Enchantment (1993) and Infinite
Riches (1998). Other recent fiction includes Astonishing the Gods
(1995) and Dangerous Love (1996), which was awarded the Premio
Palmi award in 2000. His new novel, In Arcadia, was published in
September 2002.
Ben is a Fellow of the Royal Society of Literature and in 2000 was
awarded the OBE. His books have been translated into more than 20
languages; Ben has been awarded numerous international prizes
including the Booker Prize in 1991, the Commonwealth Writers Prize
for Africa, and the Aga Kahn Prize for Fiction.