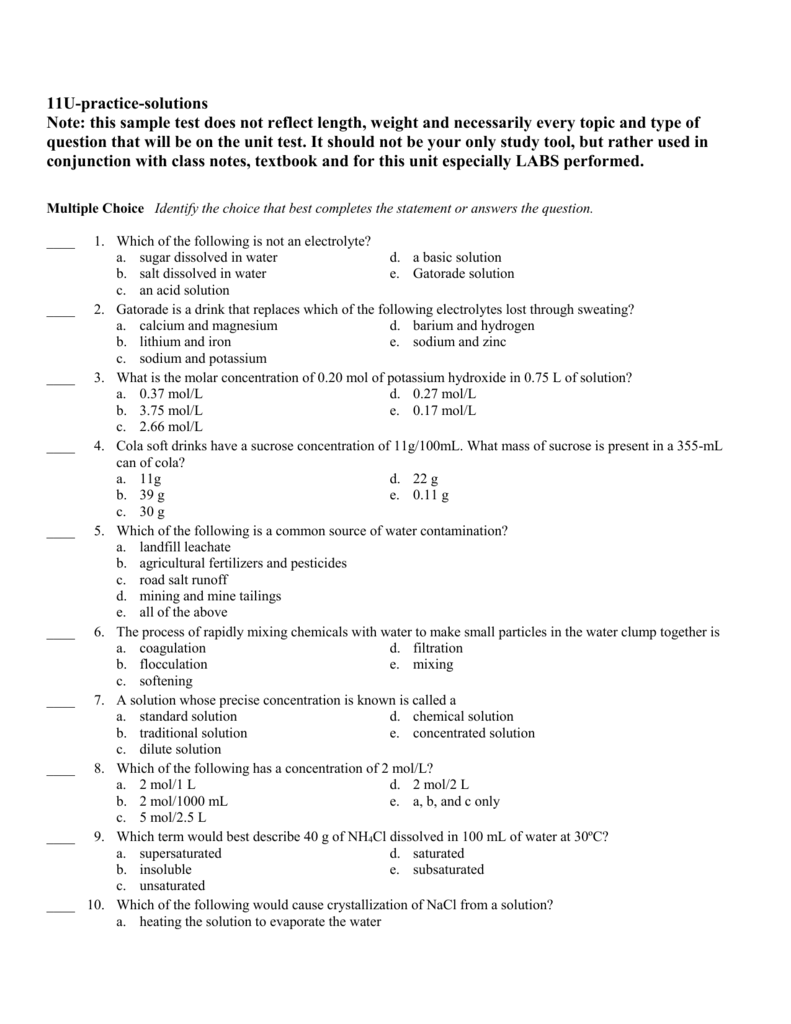 11U-practice-solutions
Note: this sample test does not reflect length, weight and necessarily every topic and type of
question that will be on the unit test. It should not be your only study tool, but rather used in
conjunction with class notes, textbook and for this unit especially LABS performed.
Multiple Choice Identify the choice that best completes the statement or answers the question.
____
____
____
____
____
____
____
____
____
____
1. Which of the following is not an electrolyte?
a. sugar dissolved in water
d. a basic solution
b. salt dissolved in water
e. Gatorade solution
c. an acid solution
2. Gatorade is a drink that replaces which of the following electrolytes lost through sweating?
a. calcium and magnesium
d. barium and hydrogen
b. lithium and iron
e. sodium and zinc
c. sodium and potassium
3. What is the molar concentration of 0.20 mol of potassium hydroxide in 0.75 L of solution?
a. 0.37 mol/L
d. 0.27 mol/L
b. 3.75 mol/L
e. 0.17 mol/L
c. 2.66 mol/L
4. Cola soft drinks have a sucrose concentration of 11g/100mL. What mass of sucrose is present in a 355-mL
can of cola?
a. 11g
d. 22 g
b. 39 g
e. 0.11 g
c. 30 g
5. Which of the following is a common source of water contamination?
a. landfill leachate
b. agricultural fertilizers and pesticides
c. road salt runoff
d. mining and mine tailings
e. all of the above
6. The process of rapidly mixing chemicals with water to make small particles in the water clump together is
a. coagulation
d. filtration
b. flocculation
e. mixing
c. softening
7. A solution whose precise concentration is known is called a
a. standard solution
d. chemical solution
b. traditional solution
e. concentrated solution
c. dilute solution
8. Which of the following has a concentration of 2 mol/L?
a. 2 mol/1 L
d. 2 mol/2 L
b. 2 mol/1000 mL
e. a, b, and c only
c. 5 mol/2.5 L
9. Which term would best describe 40 g of NH4Cl dissolved in 100 mL of water at 30ºC?
a. supersaturated
d. saturated
b. insoluble
e. subsaturated
c. unsaturated
10. Which of the following would cause crystallization of NaCl from a solution?
a. heating the solution to evaporate the water
2
____ 11.
____ 12.
____ 13.
____ 14.
____ 15.
____ 16.
____ 17.
____ 18.
____ 19.
____ 20.
b. dissolving more NaCl to cause supersaturation
c. cooling a saturated solution
d. diluting a saturated solution
e. a, b, and c only
Water hardness is caused by which of the following ions?
a. Mn2+
d. both b and c
2+
b. Ca
e. Fe3+
2+
c. Mg
The soda-lime process is a water-softening process involving the chemicals
a. potassium nitrate and sodium chloride
b. sodium carbonate and calcium hydroxide
c. lithium carbonate and barium hydroxide
d. all of the above
e. none of the above
If solutions of potassium chloride and silver nitrate are mixed, which of the following are spectator ions?
a. Ag+ and Cl–
d. K+ and NO3–
+
–
b. K and Cl
e. none of the above
c. Ag+ and NO3–
Which of the net ionic equations shown below is/are correct?
a. Fe3+(aq) + 3OH–(aq)  Fe(OH)3(s)
b. Hg+(aq) + 2Cl(aq)  HgCl(aq)
c. Ca2+(aq) + PO43–(aq)  Ca3(PO4)2(s)
d. all of the above
e. a and c only
Raw sewage discharged into rivers or lakes could cause which of the following problems?
a. disease transmission
d. poisons (pesticides)
b. high BOD
e. all of the above
c. nitrate and phosphate increase
Screening, flotation, settling, and filtering out of solid particles in wastewater occurs during the
a. secondary treatment
d. quaternary treatment
b. tertiary treatment
e. all of the above
c. primary treatment
Based on the solubility curve, _____ KNO3/100 mL of water at _____ would be a supersaturated solution.
a. 30 g , 10ºC
d. 100 g , 60ºC
b. 50 g , 40ºC
e. 100 g , 70ºC
c. 80 g , 50ºC
Which net ionic equation best represents the reaction between silver nitrate and potassium acetate?
a. 2Ag+(aq) + C2H3O2–(aq)  AgC2H3O2(s)
b. Au+(aq) + C2H4O2–(aq)  AgC2H3O2(s)
c. Ag2+aq) + C2H3O2–(aq)  AgC2H3O2(s)
d. Ag+(aq) + C2H3O22–(aq)  AgC2H3O2(s)
e. Ag+(aq) + C2H3O2–(aq)  AgC2H3O2(s)
Blackberries have a [H+(aq)] = 4.0  10–4 mol/L. What is their pH?
a. 3.4
d. 8.0
b. 4.0
e. 5.0
c. 2.0
Seawater has pH of 8.0. What is the hydrogen ion concentration?
a. 2  10–8 mol/L
d. 8  10–1 mol/L
3
____ 21.
____ 22.
____ 23.
____ 24.
____ 25.
b. 1  10–8 mol/L
e. 8.0 mol/L
c. 1  10–4 mol/L
Which of the following is NOT a property of bases?
a. They react with active metals.
d. They turn red litmus blue.
b. They taste bitter and feel slippery.
e. They neutralize acids.
c. They have a pH greater than 7.
Which statement about 0.1 mol/L acetic acid and 0.1 mol/L hydrochloric acid solutions is true?
a. HCl produces almost 100% H3O+(aq) ions.
b. HC2H3O2 produces 1.3% H3O+(aq) ions.
c. There is no difference in pH.
d. both a and b
e. none of the above
Which of the following is an application of titrations?
a. Determine the concentration of acetic acid in vinegar.
b. Determine the concentration of an acid in a commercial rust-remover solution.
c. Dilution of strong acids.
d. Lab acid-base neutralizations.
e. a, b, and d only
Which of the following careers would involve a lot of work with solutions?
a. chemistry teacher
d. quality control technician
b. water-quality analyst
e. all of the above
c. environmental chemist
An environmental chemist could specialize in which of the following areas?
a. air pollution
d. a, b, and c only
b. water pollution
e. psychlology
c. soil pollution
Short Answer
26. List three physical properties that you could measure to identify pure water.
27.
Explain how an ionic substance like KCl dissolves in water.
28. Why is dilution important as it relates to commercial products?
29. Using the solubility table below, state whether the following ionic compounds are soluble or insoluble in
water.
Compound
Soluble or insoluble
(a) PbI2
(b) KClO3
(c) CaCO3
(d) BaSO4
30. Consider the following reaction: Barium chloride solution is mixed with potassium sulphate solution to
produce a solid precipitate barium sulphate and a solution of potassium chloride.
4
For this reaction, write
(a) a balanced chemical equation
(b) a total ionic equation
(c) a net ionic equation
31. List three problems caused by hard water.
32. Explain why homeowners with septic systems should be especially careful about the substances they pour
down their drains.
33. List three important applications of neutralization reactions.
34. Write a balanced chemical reaction for sulfuric acid dissolving iron metal.
Problem
35. Concrete etch solution can be used to clean concrete before painting it. The directions tell you to dissolve 680
g of sodium bisulphate in 3.4 L of water. What is the concentration of this solution in g/100 mL?
36. What volume of a 17.4 mol/L acetic acid stock solution is required to make 2.0 L of a 1.5 mol/L acetic acid
solution?
37. What concentration results from mixing 400 mL of a 2.0 mol/L HNO3 solution with 600 mL of a 3.0 mol/L
HNO3 solution?
38. Standard solutions of sodium oxalate, Na2C2O4(aq), are required for certain types of chemical analyses. If 8.5 g
of sodium oxalate is dissolved in 500 mL of distilled water, calculate the concentration of the sodium ion and
the concentration of the oxalate ion dissolved in this solution.
39. 100 mL of 0.2 mol/L sodium carbonate solution and 200 mL of 0.1 mol/L calcium nitrate solution are mixed
together. Calculate the mass of calcium carbonate that would precipitate and the concentration of the sodium
nitrate solution that will be produced.
40. A student mixed 100.0 mL of a 0.100 mol/L solution of barium chloride with 100.0 mL of a 0.100 mol/L
solution of iron(III) sulphate. The barium sulphate precipitate was filtered, dried, and was measured to have a
mass of 2.0 g. Calculate the % yield of the barium sulphate.
41. Calculate the pH of vinegar which has a hydrogen ion concentration of 1  10–2 mol/L.
42. Coffee has a pH of 5.0 and grapefruit juice has a pH of 3.0. Calculate the hydrogen ion concentration for both
drinks and determine how many times more concentrated the hydrogen ion is in the juice compared to the
coffee.
43. Household ammonia has a pH of 11.0. Calculate the hydrogen ion concentration in this alkaline solution.
5
11U-practice-solutions
Answer Section
MULTIPLE CHOICE
1.
2.
3.
4.
5.
6.
7.
8.
9.
10.
11.
12.
13.
14.
15.
16.
17.
18.
19.
20.
21.
22.
23.
24.
25.
A
C
D
B
E
A
A
E
C
E
D
B
D
E
E
C
A
E
A
B
A
D
E
E
D
SHORT ANSWER
26. density: find the mass of a precise volume of the water
melting point: 0ºC
boiling point: 100ºC
27. Positive potassium ions attract the negatively charged oxygen atoms of water molecules, and negative
chloride ions attract the positively charged hydrogen atoms of the water molecules. The KCl is completely
dissociated when all of the potassium and chloride ions have become hydrated or surrounded by water
molecules.
28. Commercial products are purchased in concentrated form in smaller containers. People can dilute them
according to their needs.
29.
Compound
Soluble or insoluble
6
(a) PbI2
insoluble
(b) KClO3
soluble
(c) CaCO3
insoluble
(d) BaSO4
insoluble
30. (a) BaCl2(aq) + K2SO4(aq)  BaSO4(s) + 2KCl(aq)
(b) Ba2+(aq) + 2Cl–(aq) + 2K+(aq) + SO42– (aq)  BaSO4 (s) + 2K+(aq) + 2Cl–(aq)
(c) Ba2+(aq) + SO42– (aq)  BaSO4(s)
31. -accumulation of scale (CaCO3) in kettles and pipes
-soap doesn't produce a good lather
-soap reacts with water to form an insoluble scum (calcium stearate) in bathtubs and on shower walls
32. Oil-based paints, phosphates, and pesticides eventually end up in the gravel bed in the ground. From here,
they will trickle with the water into the water table and poison/pollute the ground water and potentially the
well water.
33. Neutralization reactions are important in cleaning up acid spills, adjusting the pH level in swimming pools,
and in the titration of consumer products to ensure proper quality control.
34. H2SO4(aq) + Fe(s)  FeSO4(aq) + H2(g)
3H2SO4(aq) + 2Fe(s)  Fe2(SO4)3(aq) + 3H2(g)
Both of these single displacement reactions are possible in this situation.
PROBLEM
35.
The concentration of NaHSO4 is 20 g/100 mL.
36.
7
The volume of the stock acetic solution needed is 1.7  102 mL.
37.
The concentration upon mixing the nitric acid solutions is 2.6 mol/L.
38.
8
The sodium ion concentration is 0.25 mol/L.
The oxalate ion concentration is 0.13 mol/L.
39. Na2CO3(aq) + Ca(NO3)2(aq)  CaCO3(s) + 2NaNO3(aq)
100 mL
200 mL
m
C
0.20 mol/L
0.10 mol/L
Since one mole of Na2CO3 reacts completely with one mole of Ca(NO3)2 from the equation, then this mixing
of solutions will be a complete reaction.
The mass of calcium carbonate that precipitates is 2 g.
The concentration of the sodium nitrate solution is 0.1 mol/L.
40. 3BaCl2(aq) + Fe2(SO4)3(aq)  3BaSO4(s) + 2FeCl3(aq)
100.0 mL
100.0 mL
m
0.100 mol/L 0.100 mol/L
9
The theoretical mass of barium sulphate is 2.3 g.
The % yield of the barium sulphate precipitate was 87%.
41.
The pH of vinegar solution is 2.0.
42.
coffee
grapefruit juice
The hydrogen ion concentration is 100 greater in grapefruit juice than it is in coffee.
Therefore, grapefruit juice is 100 more acidic than coffee.
43.
The hydrogen ion concentration in the ammonia solution is 1  10–11 mol/L.